History: More Old Time Pics From Long Island Villages
Check out these great old pictures of villages and towns across Long Island from back in the day. Recognize any of these areas?
Port Jefferson - C. P. and H. M. Randall, West Broadway, Port Jefferson, sold lumber and coal. Kenneth Brady Collection.
Courtesy of the Historical Society of Greater Port Jefferson
Smithtown - The Widow Blydenburg's Tavern which graced the northeast corner of Middle Country Road and North Country Road until it was razed in the early 1900s. In 1923, the newly created Village Green Corporation acquired the property in hopes of maintaining it as a public park. The town's gradual loss of interest in the site prompted the organization to donate the land to the Smithtown Library in 1947.
From The Collection of the Smithtown Historical Society.
Patchogue - Congregational Church under construction on East Main Street in 1892.
Photo: Patchogue Historical Society.
Montauk - Visitors to the Montauk Lighthouse in the 1920s. This image is not possible to duplicate today, because the land from which this photo was taken has eroded away over the years. A project begun in 1970 and lasting nearly 30 years successfully halted the onslaught of the erosion and is to be reconstructed starting in the spring of 2020.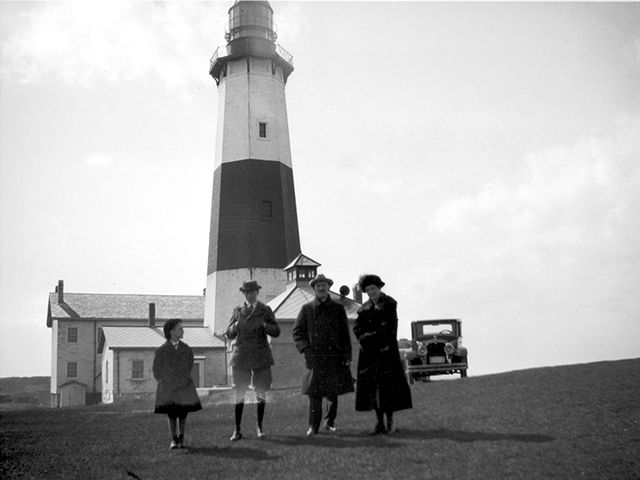 Photo: Montauk Historical Society.
Yaphank - Camp Upton had a major influence on the area, and Irving Berlin played a part in it with his revue Yip Yip Yaphank, which was an effort to contribute to the moral of the troops based there. The show went on to reach thousands across the country and put Yaphank on the map.
Photo: Courtesy Camp Upton History Collection.