After being cancelled last year due to COVID-19 concerns, Car Show Long Island's 2021 TOBAY BEACH Fall Classic, one of Long Island's premier classic car shows is back. This year, the car show will take place on Sunday, October 3 from 11am to 4pm (rain date October 10th). The Supervisor's TOBAY Beach Classic will be co-sponsored by Car Show Long Island and will feature hundreds of automobiles, trucks, military vehicles, and emergency service vehicles. A live concert performed by That 70's Band will take place during the day, followed by trophy presentations.
"Whether you're a proud classic car owner or you want to see the best cars in the region, the Car Show Long Island is the place to be," said Town Supervisor Joseph Saladino.
There will be trophies awarded in each class, and children will have a say when deeming which rides are their favorites in the Kids' Choice Award.
Classic Car enthusiasts and spectators can also grab a bite to eat from the food truck corral, and can also check out the many vendors and displays. Car owners can pre-register their vehicles at www.carshowli.com for $15 per car or register the day-of for $25 per car. The event is free to spectators. For more information or to become a sponsor or vendor at the event, call (516) 797-4121 or e-mail carshowli@oysterbay-ny.gov.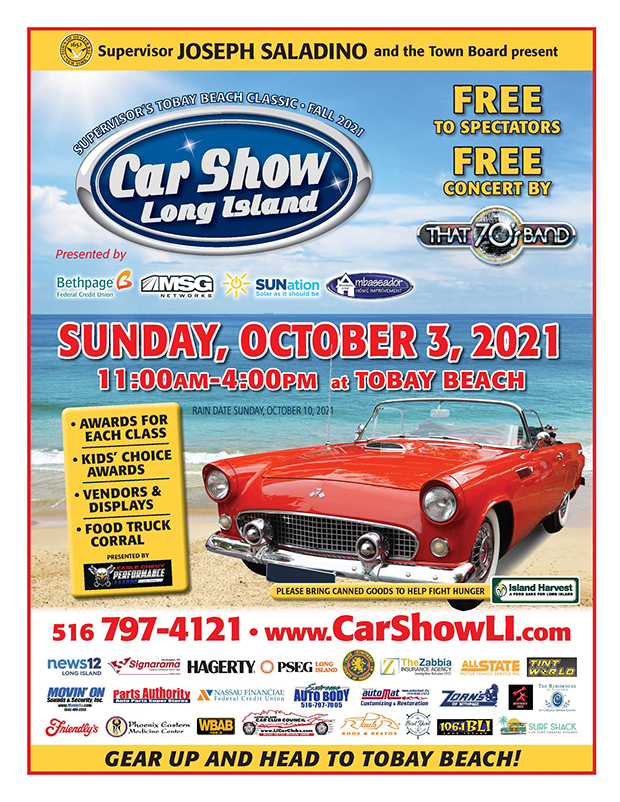 Photo: Town of Oyster Bay.