The Garden City Centennial Soccer Club, the largest club in both the Long Island Junior Soccer League (LIJSL) and Eastern New York Youth Soccer Association (ENYYSA), used its large size to set a Guinness World Record at the St. Paul's Recreation Complex last Sunday, September 15. Originally, the record-attempt was to be for simultaneously passing a soccer ball.
"But we realized that we would have experienced a logistical issue to have close to 2,000 people here at once as St. Paul's would not have enough parking to accommodate everybody, especially with soccer and lacrosse games going on here at the same time," said Matt Tepper, who helped organize the event.
So the decision was made to use the entire morning for the longest digital soccer pass, which was recorded on video. The previous Guinness World Record of 250 was shattered in Garden City as 421 passed a soccer ball. The participants came from Garden City as well as neighboring soccer players.
Also helping out were the Adelphi University men's soccer team and the Hofstra University women's soccer team. Sponsors included Adelphi University, TD Bank, Field Level, Garden City Pizza, La Bottega, Thundercat Technology, Rapp marketing agency, Sport Loft, Petschauer Insurance and Peanut Gallery Comics.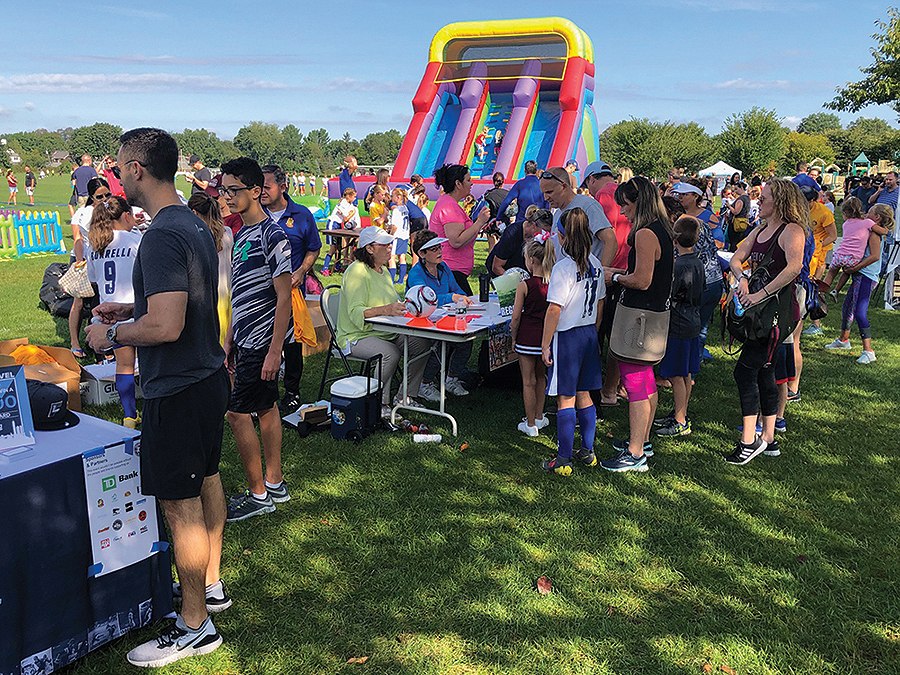 The proceeds went to Charity Ball, a charitable organization that sources and distributes soccer balls to children in impoverished communities around the world.
With approximately 100,000 youth soccer players––both boys and girls––and more than 25,000 volunteers, the non-profit Eastern New York Youth Soccer Association (ENYYSA) stretches from Montauk Point, Long Island to the Canadian border. Members are affiliated with nine leagues throughout the association, which covers the entire state of New York east of Route 81. ENYYSA exists to promote and enhance the game of soccer for children and teenagers between the ages of 5 and 19 years old, and to encourage the healthy development of youth players, coaches, referees and administrators. All levels of soccer are offered––from intramural, travel team and premier players as well as Children With Special Needs. No child who wants to play soccer is turned away. ENYYSA is a proud member of the United States Soccer Federation and United States Youth Soccer Association. For more information, please log on to http://www.enysoccer.com, which receives nearly 300,000 hits annually from the growing soccer community.