Bridgehampton, NY - September 1, 2016 - As kids gear up for back-to-school, hundreds of school-aged youth and parent volunteers assembled backpacks with school supplies for underprivileged children in the Hamptons communities during UJA-Federation of New York's 15th Annual Supplies for Success, at the The Ross Lower School Fieldhouse in, Bridgehampton, NY.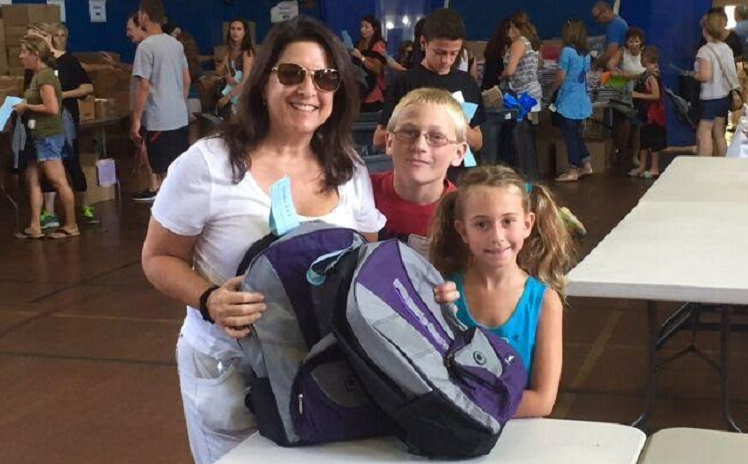 Approximately 200 volunteers packed 2,000 backpacks at this location for distribution to needy children living in the East End of Long Island. In 2016, a total of 11,000 backpacks will be distributed throughout Long Island and the metro NY area via UJA-Federation's beneficiary agencies, schools, and other local organizations, including Bread of Life Church, East Suffolk BOCES, Eastern Farmworkers, LI Cares/Haven House-Bridges, Kid-too-Kid, United Way/St. Francis de Sales Parish, and school districts in Bridgehampton, Riverhead, Southhampton, and Springs.



Since its inception, the Supplies for Success program has provided more than 46,000 filled backpacks, working to ensure that New York children return to school with the tools they need to succeed. Last year, the program provided filled backpacks to more than 10,000 disadvantaged children through UJA-Federation beneficiary agencies, local public schools from Riverhead to Montauk, homeless and battered women's shelters and other local organizations that provide help for people in need.

About UJA-Federation of New York
For nearly 100 years, UJA-Federation has inspired New Yorkers to act on their values and invest in our community for the biggest impact. Through UJA-Federation, more than 50,000 donors address issues that matter most to them, pooling their resources to care for New Yorkers of all backgrounds and Jews everywhere, to connect people to their Jewish communities, and to respond to crises close to home and around the globe. Working with nearly 100 beneficiary agencies, synagogues, and other Jewish organizations, UJA-Federation is the world's largest local philanthropy; our reach spans from New York to Israel to more than 70 other countries around the world, touching 4.5 million people each year. For more information on how to donate or volunteer, please visit our website at www.ujafedny.org.