Sag Harbor, NY - August 28, 2017 - Bay Street Theater is pleased to announce the Bay Street Under the Stars series FREE presentation of KISS ME, KATE took place on August 25 and 26 at Mashashimuet Park in Sag Harbor. Each night was attended by over 400 people. The concert reading featured a cast of 14, led by Broadway star and Tony Award-Nominee, Melissa Errico, and The Metropolitan Opera star, Richard Troxell. It was directed by Bay Street Theater associate artistic director Will Pomerantz. A guest appearance was made by Patron Jerry Cohen on Friday evening. Attendees enjoyed music and comedy on balmy summer evenings. Bay Street Theater Patrons were treated to picnic suppers provided by Alex Von Salad Catering.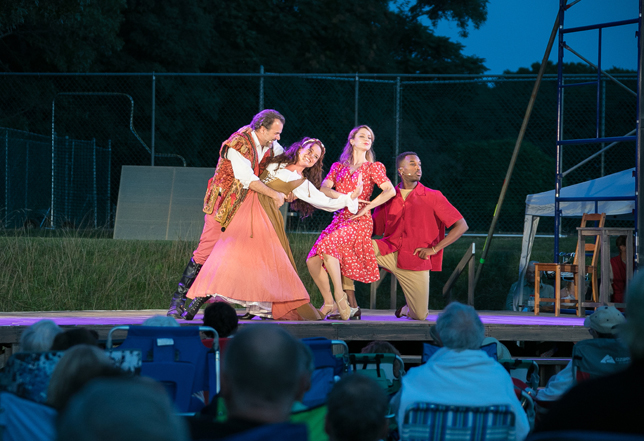 Richard Troxell, Melissa Errico and cast members. Photo Credit: Lenny Stucker
The cast also included Malik Alik (Holiday Inn), Al Bundonis (Ragtime, Whistle Down the Wind), Nick Cearley (All Shook Up), Megan LaFlam (Bay Street's My Fair Lady), Steve Rattazzi (Indecent), Ryann Redmond (If/Then, Bring It On The Musical, Escape to Margaritaville), John Shuman (La Cage aux Follies), Britton Smith (Shuffle Along, After Midnight), Cecelia Ticktin, David F. M. Vaughn (Shrek The Musical) and Aaron Young.
The Bay Street Under the Stars stage was at Mashashimuet Park in Sag Harbor. Photo Credit: Lenny Stucker
Bay Street Under the Stars is sponsored by Bridgehampton National Bank, PSEG LI, and Sylvester and Co. Public funding provided by Suffolk County. Media sponsors WEHM and WBAZ.
Bay Street Theater & Sag Harbor Center for the Arts is a year-round, not-for-profit professional theater and community cultural center which endeavors to innovate, educate, and entertain a diverse community through the practice of the performing arts. We serve as a social and cultural gathering place, an educational resource, and a home for a community of artists.