Ridge, NY - August 24, 2017 - The Suffolk County SPCA is offering a $1,000 reward for any information leading to the arrest and conviction of the individual(s) responsible for abandoning 2 dogs in the woods adjacent to the Baptist Church at 70 Smith Rd., Ridge, NY on August 21, 2017.
A call was received from The Town of Brookhaven Animal Control that the dogs were tied to a tree in the woods. A good samaritan spotted the dog and provided it with food and water. He originally heard the dogs crying on Aug. 21th and went to look in the woods on Aug. 22nd. At that time he called to report that the dogs were abandoned.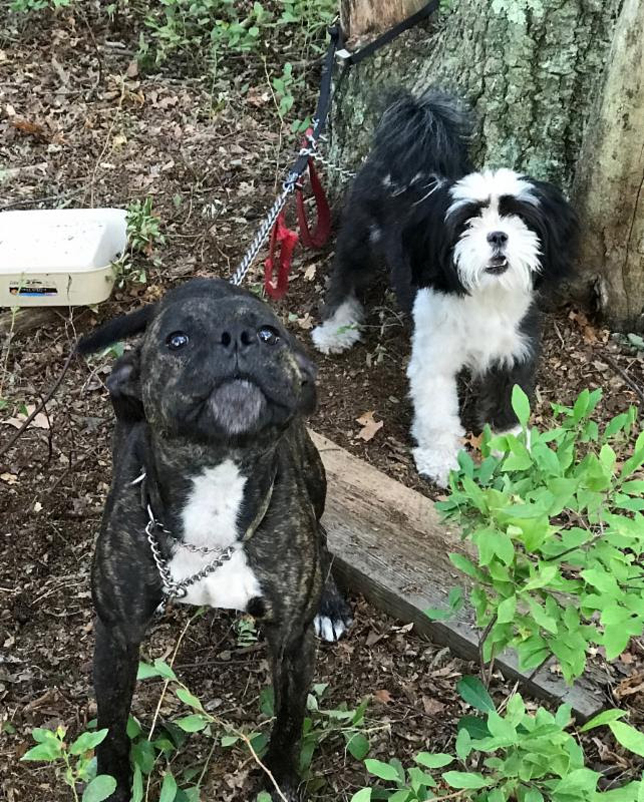 Photo Credit:
Suffolk County SPCA
A person convicted of abandonment of animals could be found guilty of a misdemeanor, punishable by imprisonment up to one year and/or a fine of up to $1,000. The individual could also be charged with neglect, failure to provide appropriate shelter and tethering violations.
If anyone recognizes these dogs, please contact the Suffolk County SPCA. We urge anyone with information to contact us so that we are able to bring the individual(s) responsible for this blatant act of animal cruelty to justice.
Anyone with information is asked to call the Suffolk County SPCA at 631-382-7722. All calls will be kept confidential.