Long Islanders who grew up in the age of suburban sprawl knew the dangers of the playground. Some of these pieces of equipment are so dangerous they are banned. For others, common sense thankfully took over. We have the scars to prove that we lived through the days of unchecked mayhem on the playground.
Shiny Silver Metal Slides
The Public Playground Safety Handbook from the U.S. Consumer Product Safety Commission is chock-full of great info on how to select and create a safe playground. Here's a question they asked in that 2015 handbook that no parent asked decades years ago: Is sun exposure sufficient to heat exposed bare metal slides, platforms, steps, & surfacing enough to burn children? How no one ever thought of this in the era of bell bottoms is beyond us. The heat of summer combined with short gym shorts meant some serious third degree burns on this torture device.
Real Tire Swings
Toxic chemical donuts or tires as we used to call them. Yes, we sat on them and used them as swings but we probably shouldn't. It might be nostalgic but it's probably just nasty. Nowadays they're more likely to be plastic and made especially for the playground.
Metal Jungle Gyms
Photo: Stock image
Still can't believe children played on these things without signing some kind of waiver or getting a booster shot. They look more like prison bars than playground equipment. In a Mad Max universe this was where winners and losers were sorted out.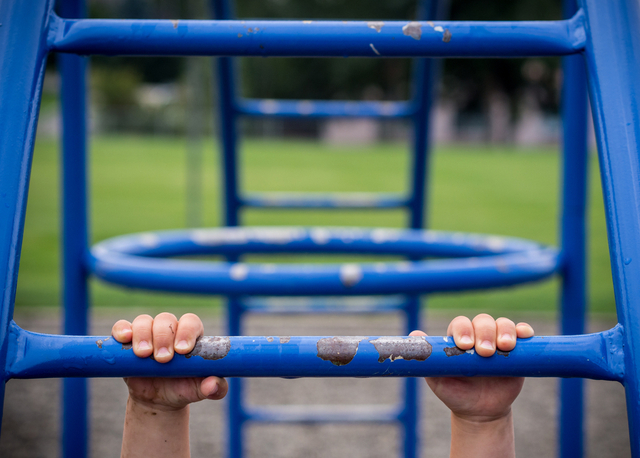 Photo:Shutterstock
Metal Monkey Bars
You might have gotten tendentious or serious calluses climbing on these. Unless it was winter and you were wearing thick mittens. Then you were guaranteed to fall into a crumpled heap when your grasp failed you.
Seesaws
Jumping off when another kid was way up in the air and watching them come crashing down was the highpoint of too many schoolyard bullys' afternoons. For the slightly less sadistic, the fear in your friend's face when you threatened to hop off at the bottom was enough of a thrill. Or there was the torture technique just squatting at the bottom while your companion was hoisted way up in the air suffering from vertigo and sweating it out as the minutes ticked by.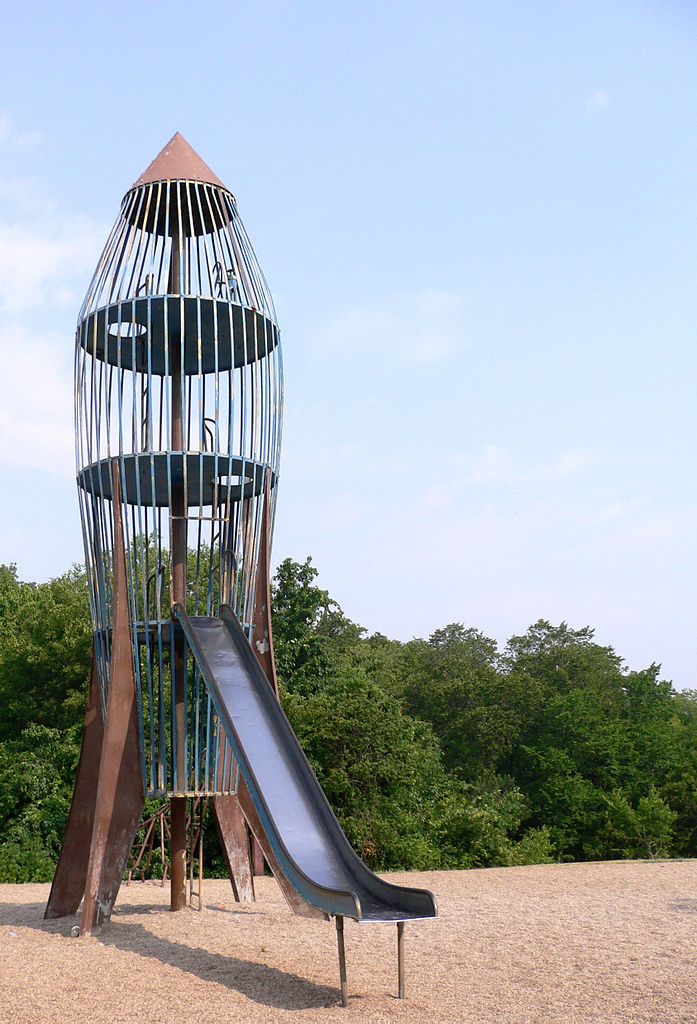 Photo by Nathan Beach [CC BY-SA (https://creativecommons.org/licenses/by-sa/2.5)]
Rocketship Slides
In the space race era these were all the rage and slightly less dangerous than an actual moon rocket ride. Photos of abandoned ones make for great nostalgia. Bonus points if you remember similar ones shaped like Mayor McCheese at McDonalds.
Mysterious Metal Apparatus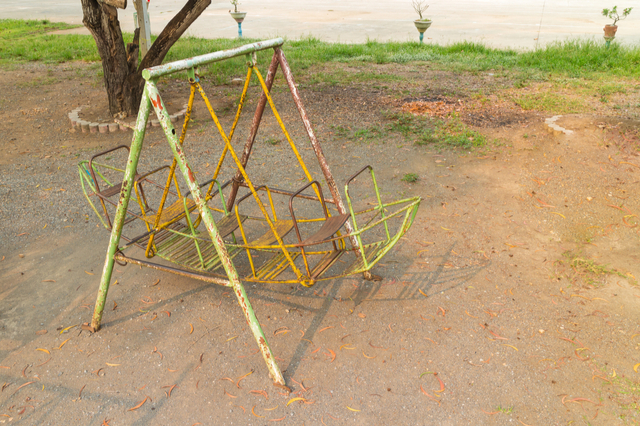 We don't even want to talk about this contraption.
Merry-Go-Round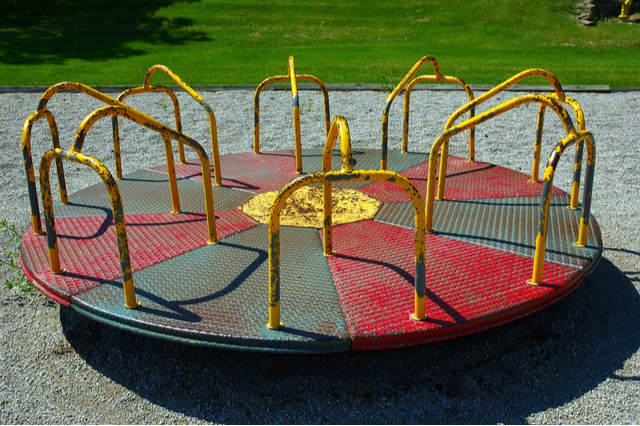 This radical device was invented to weed out the weak-stomached and soft-headed children of the playground. The reward of dizziness was both delightful and sickening if you didn't fly off and hit the deck first. But we always went back for more. Why not? No one ever thought to stop us. Some sickos on the sidelines spun these things as fast as they could and then just left you to centrifugal force. Some of those sickos were your parents and teachers.