When it comes to enjoying a night out while getting a taste of your favorite sporting event – and even inserting yourself into the action itself – there's no place on Long Island better to do so than
Simplay of Hauppauge, NY
.
Simplay originally opened their doors in 2015, with the current ownership group acquiring the establishment in June of 2020. Glen Carballo – graduate of Hofstra University, banker, and partner in the business – considers himself a Long Island guy through-and-through, and said that Simplay is an investment that he made that he feels has already paid off big-time.
"When my partner proposed that I come on board and go into business with him, it was almost a no-brainer for me in that the potential here is limitless," Carballo noted.
Simplay, simply put, is Long Island's premiere indoor sports simulator facility, featuring cutting-edge technology that can deliver a fun and immersive experience for guests of all ages.
"We have eight sports simulators that normally cater to golf…six in a public area that we call Sim Alley, which is our main room," Carballo said. "We also have two VIP rooms where our guests can host parties for groups up to eight people, and that comes with its own simulator, TV, and waiter or waitress service for food and drinks."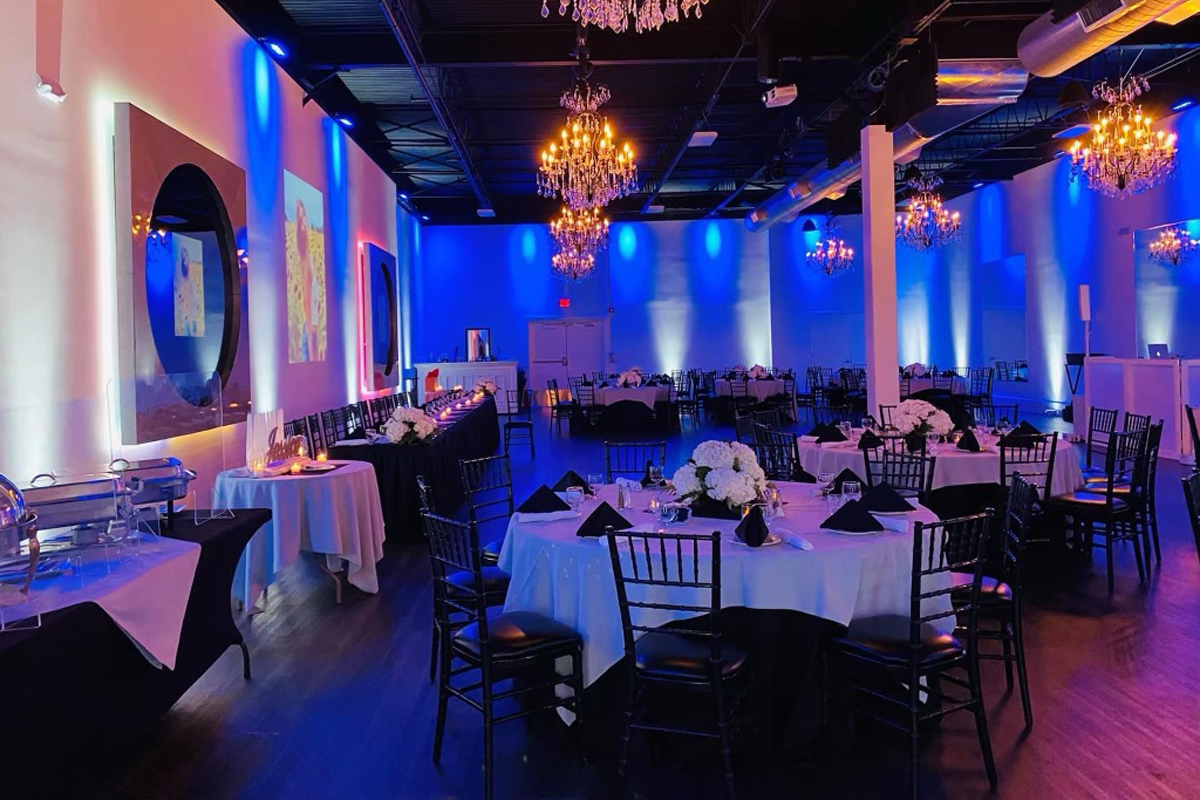 Simplay has three distinct aspects to their business; the sports simulators, their catering facility – featuring Studio 180, their main banquet room, and the Infinity Room, which is their secondary banquet room – and a dining barbeque cantina up front, serving the best of noted restaurant franchise
Dang BBQ
.
"What I really felt was so interesting about this particular facility was that it was really one-of-a-kind on Long Island," Carballo said. "Not only can you have a great bite to eat, or host a really out-of-this-world party, but you also have the ability to have an experience that no other catering hall or restaurant offers."
Carballo noted that what really gets people out the door in a modern world populated with countless apps and curbside delivery services is not only the ability to have some great food, but also to have a one-of-a-kind experience. And whether it's a date night, a night out with your friends, or a more formal occasion like a bar mitzvah, bat mitzvah, sweet 16, or even a wedding, only a venue like Simplay can deliver it all.
The sports simulators, which are the bread and butter of Simplay, can offer a realistic virtual recreation of not only golf, but a variety of other fun physical activities that are sure to appeal to any sporting fan.
"Our simulators appeal to folks across the entire spectrum," Carballo said. "Our simulators are an encompassing experience in that you get into a bay and you're presented with a beautiful golf green. Right in front of you is a giant movie-sized screen projecting a golf range. So whether you want to hit some balls and work on your swing, or just come with your friends and have a good time and have some great food, we really appeal to people of all ages and experience levels."
When it comes to Simplay's sports simulators, however, golf isn't the only game in town; indeed, their simulators are capable of handling a variety of different sports, so when you come to Simplay to play a game, come prepared to experience fun, no matter what your activity of choice is.
"There are many different sports that you can play here at Simplay. Our simulators can do baseball, basketball, zombie dodgeball, football, and more," Carballo said. "Our simulators are multi-sport, so whether you're out on a date night, or you're a sports fan and you just want to blow off some steam, you can easily change which sport you're playing. We have all of the equipment and you would need, including hockey sticks and baseball bats and things of that nature, so folks using our simulators can play whatever sport they wish."
Carballo noted that his decision to become a partner in the new ownership team at Simplay was clearly the right decision, based on the enthusiastic response of their many customers over the past year.
"Our clientele have been fantastic, and we've been lucky enough to take this business from a dedicated core group of golfers who enjoy our simulators to appealing to the general public," he said. "Our clients and customers are the best in the business, and we look forward to growing that. We also just launched
our new website
, which is more user-friendly than it ever has been. We also have an app for scheduling, so you can just go to the website and download the app straight to your phone on either Android or Apple."
Like many businesses throughout the COVID-19 pandemic, Simplay also suffered some hardship and setbacks; however, it didn't take long for them to bounce back, and with the pandemic finally winding down, things at Simplay are finally back to normal.
"The pandemic impacted us greatly like every other business, but we were able to get through it pretty well thanks to the leadership of our great partnership group and our general manager," Carballo said. "They made sure to keep within COVID guidelines and restrictions to ensure that our facility was always sanitary and safe and that we always observed occupancy limits. So because of great leadership, and good action, we were able to survive the pandemic by offering folks access to our simulators and, of course, our restaurant."
Despite the fact that New York State has lifted practically all COVID-related restrictions from businesses, Simplay nonetheless is still taking precautions to ensure that both staff and customers remain safe at all times.
"We make sure our facilities are professionally cleaned at least twice a week and we also wipe down all high-touch surfaces before, during, and after hours of business," Carballo said.
As for the future, if Simplay continues to be the runaway success that it has been, Carballo said that the possibility of expanding the business to other locations across Long Island is a distinct possibility.
"If this keeps on the trajectory that it's been on, I don't see why we wouldn't look into other locations," he said. "These simulators seem to be a part of an industry that is currently rising...we do see competition entering the market, but we welcome it because it brings brand awareness and the ability to have more people exposed to different experiences…the future, as of right now, we feel is very bright."
And if you're interested in hosting a catered event at Simplay, you'll have two separate halls to choose from; Studio 180, which can accommodate up to 250 guests, and the Infinity Room, which can accommodate up to 75. As for the food, catering isn't just limited to the delicious fare from Dang BBQ; instead, guests can order from an incredibly diverse menu covering just about anything they may desire.
Carballo noted that the ownership team at Simplay has greatly enjoyed being a member of the Hauppauge community, and have made a point of working with numerous neighborhood groups and civic organizations in order to help give back.
"We really are looking forward to building our brand awareness within Hauppauge and throughout Long Island," he said. "Simplay has given me the chance to employ people and to be part of the local economy…it's been a really great experience so far, and I can't wait to see what the future will bring."