When it comes to fun, the sky's the limit. Check out these ideas for getting your adrenaline pumping this summer.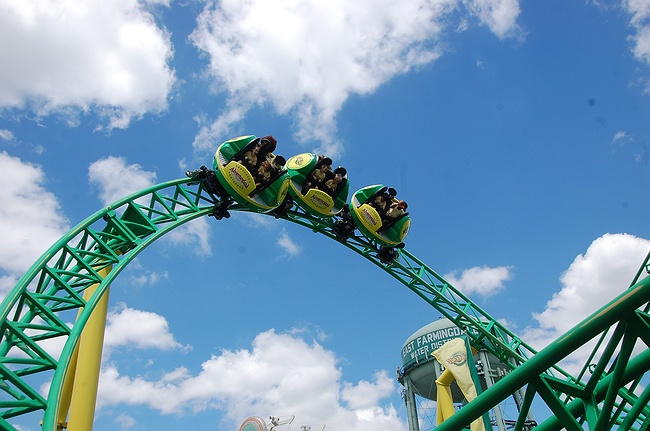 Photo courtesy Adventureland
Turbulence Coaster at Adventureland, Farmingdale
Adventureland has been Long Island's go-to place amusement park since 1962. While the park has several gravity-defying rides, thrill-seekers won't want to miss the Turbulence Coaster. It's LI's largest and only spinning roller coaster. It's fast and furious and will have you twirling and spinning through the air as it travels over bright green tracks.
Photo courtesy Splish Splash
Cliff Diver at Splish Splash, Calverton
According to its website, Splish Splash was voted "one of the Best Water Parks in America" by the Travel Channel. And with slides like Cliff Diver, it is easy to see why. On Cliff Diver you'll drop an incredible eight stories in three seconds.
WildPlay® Element Parks Jones Beach Zip Line and Adventure Course, Jones Beach, Wantagh
There's no need travel to a Costa Rican rainforest to try ziplining. Just head to Jones Beach for the brand new zip line and adventure course. Enjoy the beautiful ocean view as you speed through the air on the zip line or test your balance (and your nerves) on a high-in-the-sky adventure course filled with challenging obstacles.
Skydive Long Island, Shirley
If skydiving is on your bucket list, Skydive Long Island is your place. Skydive Long Island specializes in tandem skydiving which allows newbies to experience the thrill of skydiving while remaining securely attached to your instructor for the skydive, parachute flight and landing. All you have to do is take in the amazing views and enjoy the exhilarating experience of a lifetime.
The Adventure Park At Long Island, Wheatley Heights
Take the family on an exciting aerial forest adventure at the Adventure Park at Long Island. There are 10 trails of varying difficult levels. Have fun building confidence while conquering courses featuring zip lines and bridges made of rope, wood and cable. Everyone receives a harness, equipment and safety briefing.