When the Ginny Marie sailed into Port Jefferson Harbor this season the plan was to run daily trips into the Long Island Sound three times a day. One at 10am, and two others at 1pm and 4pm.
But, as everyone knows, sunsets on the Long Island Sound are spectacular.
"People kept asking if we'd do a twilight sail," said Captain Brian Murphy, of Northport, owner of the Ginny Marie.
Photo: The Ginny Marie.
The Ginny Marie is a 50-foot wooden schooner that harkens back to the old world marine elegance of a hand crafted, turn of the century ship. The Ginny Marie itself was built between 1980 and 2000 by a previous owner based on a design by William Atkins, a boatbuilder who made his name in the early 20th century.
Photo: The Ginny Marie.
Captain Murphy gave in to popular demand and recently added a sunset sail to the itinerary. Now, people can book a sail that leaves the dock in Harborfront Park in Port Jefferson at 6pm and comes back at sunset. The experience of watching the sun dip down toward the horizon aboard the Ginny Marie is a must-see this summer.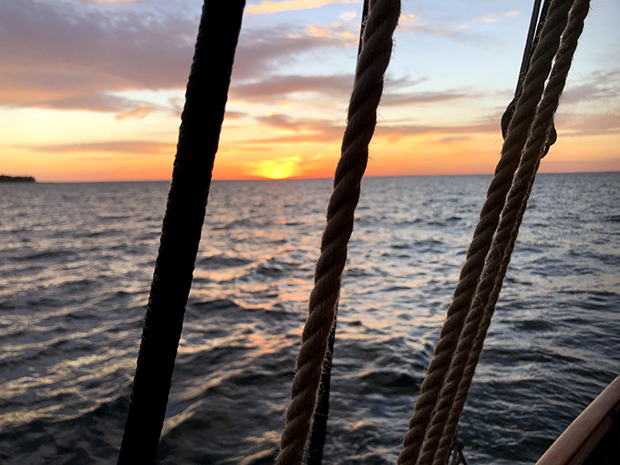 Photo: The Ginny Marie.
Captain Murphy said that bookings are booming right now and slots are starting to fill up on all sail times.
You can book a trip aboard The Ginny Marie online at ginnymarieschooner.com.
You can also follow The Ginny Marie Schooner on Facebook to see all the great pics and stay up to date on the latest information on upcoming events and special sailing adventures.
Photo: The Ginny Marie.