Five Historical Sites to See on Long Island This Summer
Long Island is chock full of historical places to visit. Grab the family and make a day out of visiting each of these historical sites to see with the family.
Jones Beach Water Tower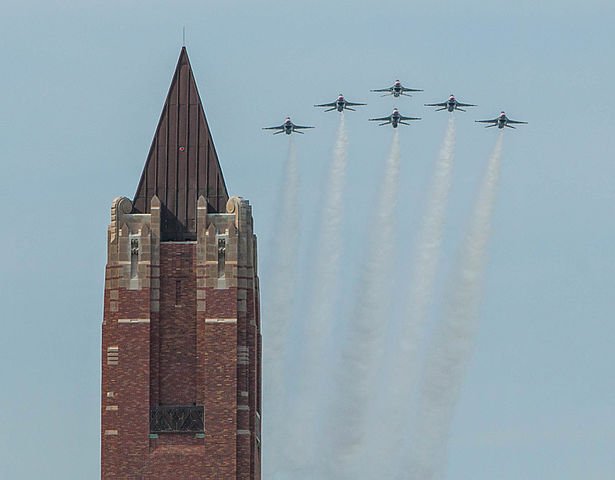 Anthony Quintano [CC BY 2.0 (https://creativecommons.org/licenses/by/2.0)]
Location: Intersection of Ocean Parkway and Wantagh Parkway.
This iconic structure has been mesmerizing beachgoers for almost 90 years. You might simply know it as "the pencil" or you might know the architectural inspiration for its design (spoiler alert: the bell tower of St Mark's Basilica) but this tower is more than a monument, it's a fully functioning water tower supplying the park with all its fresh water.
It was first built in 1930. The roof (the point) is made of copper and is 32 feet high. The tower measures 188 feet tall (or 231 feet tall depending on where you look up the info) and extends more than 1,000 feet underground.
Read more facts about the Jones Beach Water Tower here.
Nikola Tesla's Wardenclyffe Tower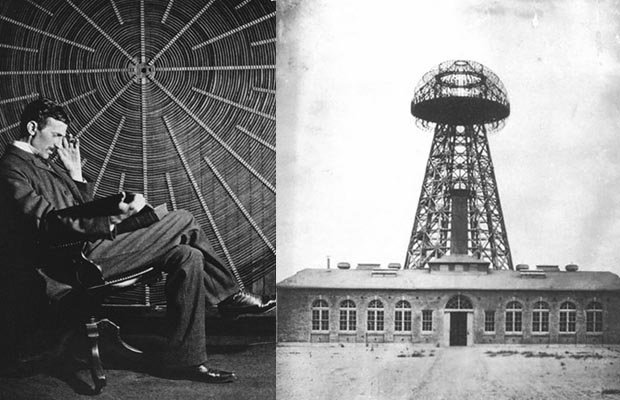 Left photo: Unknown author / Public domain. Right photo: Tower standing: Unknown author(Life time: Unattributed) / Public domain.
Location: 5 Randall Road, Shoreham.
Nikola Tesla chose a site in Shoreham for his visionary experiment to distribute electricity and information wirelessly in the early 20th century.
Around the turn of the century, potato farmers on the east end of Long Island along the North Shore could be seen driving their products past the looming tower of scientific achievement that was Nikola Tesla's Wardenclyffe Tower. Possibly confused or ignorant of the basic principles of the science - as was Tesla's dramatic nature to wax wistfully of the philosophical implications of his project without much hard evidence to back it up - the farmers probably shook their heads in disbelief at what was happening in their backyards.
What Tesla hoped to achieve was very clear: wireless communication and distribution of electricity by using the earth's surface as a conducting and transferring method. (Sounds slightly familiar.) How he hoped to accomplish this, or if it was feasible, will never be known as the project was doomed to fail, embattled by his increasing competition with fellow inventor Guglielmo Marconi and ultimately, financial strain.
It became his scientific and fiscal downfall.
Get more facts about the Tesla's Wardenclyffe Tower in Shoreham here.
George Washington Spy Trail
Setauket Presbyterian Church Cemetery. Photo: Traitor [CC BY-SA 3.0 (https://creativecommons.org/licenses/by-sa/3.0)]
Location: Mostly along the North Shore of Long Island
The Spy Ring is credited by General George Washington as being a leading factor in turning the tide of the American Revolution. Historic sites on Long Island take you back to the days of 1778 when Long Island was a hotbed of intrigue under British military occupation. A group of local patriots, determined to assist George Washington win the American Revolution, formed the Culper Spy Ring. Take the 4 day trip to uncover the sites of the Washington Spy Trail.
You can check out Discover Long Island's Washington Spy Trail itinerary here.The tour is fun for the whole family.
You can also try the Tri-Spy Tour in Setauket to travel this leg of the spy trail on foot, by bike or kayak. Local historian Margo Arceri guides cyclists, walkers and kayakers through the actual trails where the British and Patriots once roamed during the Revolutionary War on Long Island. Those participating will follow in the actual footsteps of the Culper Spy Ring, and along the way historical places of interest will be pointed out and discussed.
Want to read some crazy facts about George Washington's spies? Click here.
Fire Island Lighthouse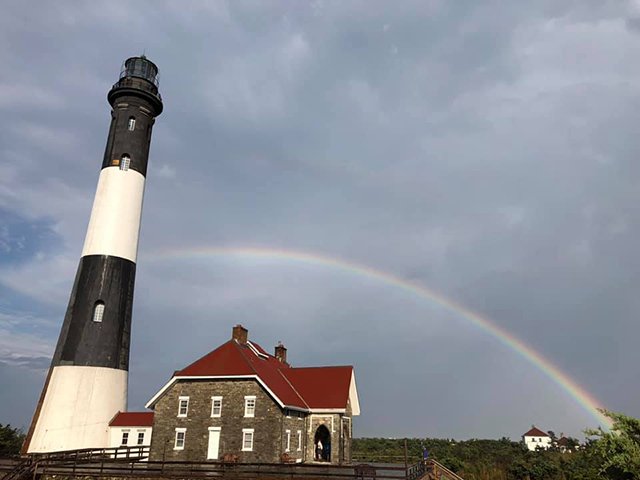 Photo: Fire Island Light House. From Fire Island Light House Preservation Society Facebook page.
Location: Field 5, Robert Moses State Park.
Long Island has more than 20 lighthouses. No wonder since we are an island - no matter what the politicians say about it really being a peninsula (click for story) - and our waterways are very well travelled by both commercial and recreational boaters.
While the Fire Island Lighthouse isn't the oldest on Long Island - that designation goes to Montauk's famous tower - the lighthouse has a unique and storied history of its own. It's also a movie star!
Check out this article where we list some crazy and interesting facts (and legends) about the Fire Island lighthouse. You might also want to read this popular article about Fire Island itself.
The Big Duck
Photograph by Mike Peel (www.mikepeel.net). [CC BY-SA 4.0 (https://creativecommons.org/licenses/by-sa/4.0)]
Location: 1012 Route 24, Flanders.
The Big Duck is more than just a quaint roadside attraction. It has influenced architecture and is on the National Register of Historic Places. You probably visited it once or twice as a kid and wondered at its gigantic size. It's definitely a part of Long Island history. Here we present some interesting and crazy facts about The Big Duck. For more information about The Big Duck go to the Friends of The Big Duck website.
For crazy facts about the Big Duck click here.