Farmingdale, NY - June 26, 2017 - The Farmingdale School District students recently come together to honor the life of beloved technology teacher and coach, Jim Anziano, who passed away unexpectedly at age 56. Jim, a class of 79' alumni, was a dedicated and passionate teacher who positively influenced the lives of his students, his colleagues and the Farmingdale community.
"Jim Anziano was a beloved and deeply valued member of the Farmingdale School District community," said Farmingdale School District Superintendent John Lorentz. "Although the entire District mourns his loss, his legacy will live on in the hearts and minds of the countless students he inspired."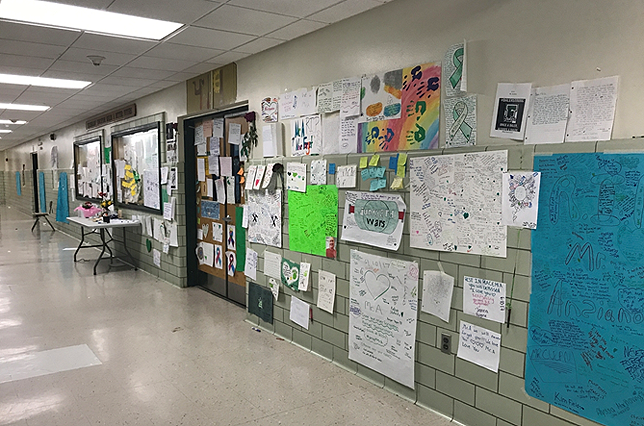 Student-made tribute to remember beloved teacher, Mr. Jim Anziano, at Howitt Middle School. Photo Credit: Farmingdale School District
"Mr. Anziano was a model teacher and an amazing role model who brought out the best in his students," said Howitt Middle School Principal Luis Pena. "We will honor his memory by seeking to embody the integrity and passion which were so integral to his character."
Mr. Anziano graduated from Farmingdale High School in 1979. He had been teaching 6th grade technology at Howitt Middle School since 2008. He also served as the school's girls softball coach, girls basketball coach, and the co-ed recreational basketball advisor. To celebrate his life and spirit, students have placed signs and posters around Howitt Middle School in his memory.
"Jim was the type of person whose smile could light up a room and his positive attitude could change your whole perspective," said Howitt Middle School Math Teacher, Jacqui Merlo. "He was nothing but a ray of sunshine, a breath of fresh air."
"Jim was always smiling, always positive. I loved watching him interact with the kids - it seemed like he had a special relationship with each one of them. I think each one thought they were his favorite because of the way he treated them," said Howitt Middle School Music Teacher Danielle Tucker. "If you didn't really know him, just stop down his hallway and see the tribute that his students have paid him. You'll get to know him quickly."