While the ongoing coronavirus pandemic has created a great deal of hardship for the vast majority of retailers on Long Island – and indeed, nationwide – Mel Feuerstein, owner of
Fred Chall Marine Supply in Freeport
noted that his goods have generated enough demand that they were able to ride out the worst of it, hopefully emerging bigger and better than ever in time for boating season.
"It's had a real effect on business, as the middle of March through the end of August is the height of our season," he said. "We've been doing curbside pickup and we had to shorten our hours. But the curbside has been much better than we anticipated, and it's really helped us enough to keep our employees and pay our bills."
In continuing to roll with the punches and evolve in order to better serve his customers, Feuerstein has announced the launch of a
new e-commerce website
this week. While Fred Chall Marine Supply has had a web presence for a number of years, the site in question was merely informational; customers were unable to actually look over inventory or place orders.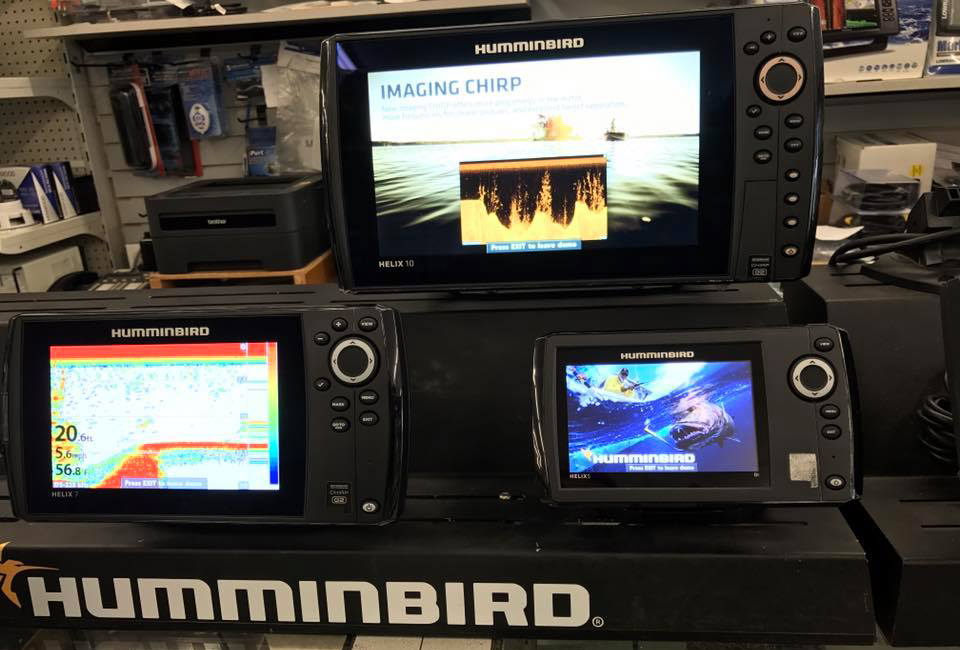 Humminbird Helix GPS/Fishfinders. Photo Credit: Fred Chall Marine Supply
The idea of transforming this website into a full-fledged e-commerce destination for his business had been brewing in his mind for some time, but the advent of the pandemic caused Feuerstein to accelerate his plans.
"For years we were so busy in the store that we didn't have time for shipping orders from a website, but last summer we started working on it…a lot of people were finding our old website online, and we felt we really needed people to be able to see our inventory," he said. "Had we known about the pandemic, we would have gotten the website up sooner, but now people can see our stock and our extremely competitive prices, and they can place orders. It's been a big help."
Fred Chall Marine Supply has been in business for 38 years and functions as a one-stop shop for anything and everything you could possibly need or want in a boating supply store.
"We sell anything from electronics, Mercury outboards, engine and mechanical parts, safety and watersport equipment, trailer parts, cleaning supplies, paint, BBQs…there's so many aspects to it," he said. "We really have a complete store…it's a comprehensive, hardcore marine supply business. If we don't have it, you don't need it. And if we don't have it, it can be available in a couple of days."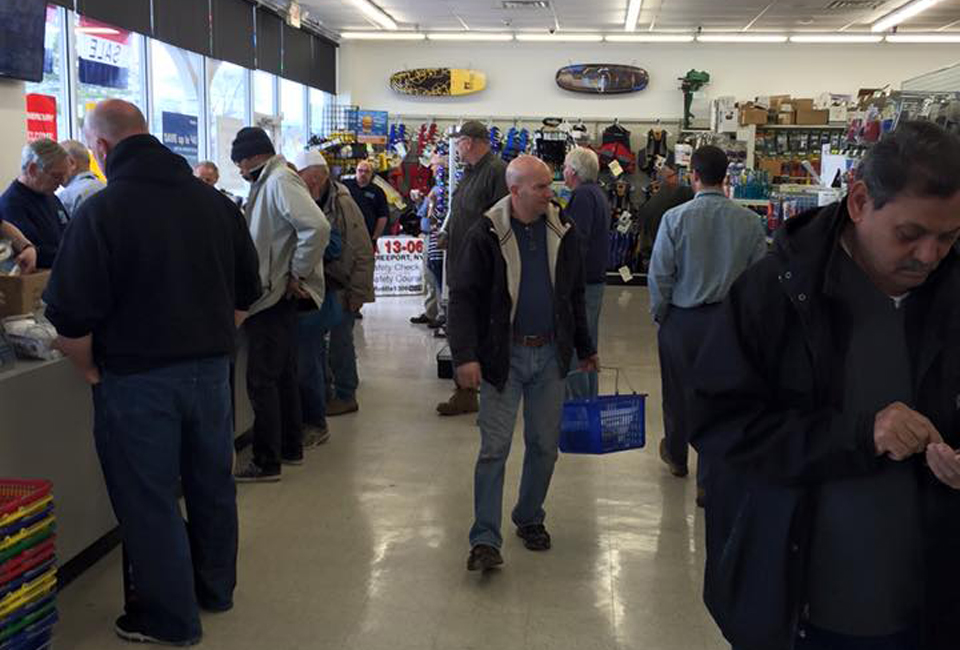 A busy open house held before the coronavirus pandemic. Photo Credit: Fred Chall Marine Supply
Feuerstein noted that he is especially proud of one particularly vital resource that he has access to- the helpful and dedicated workers that make it possible to open his doors each and every day.
"Our best feature is our extremely knowledgeable staff. Many of the people have been with us since the very beginning," he said. "Over the years we've had a very steady, informed sales staff that is willing to help and give you all the information that you need to get your boat underway, whether it be about safety, mechanical parts that need to be replaced, anything."
The launch of their new website has already yielded surprise success on that front- Feuerstein noted that they have already received a slew of orders, and Fred Chall Marine Supply's more prominent web profile is already getting noticed by people far and wide.
"The website has already generated multiple orders for shipping, and a bunch of orders where people came directly to pick them up," he said. "The website has been very effective in helping spread the word about what we offer boaters and getting us attention from people who may not have known who we were before."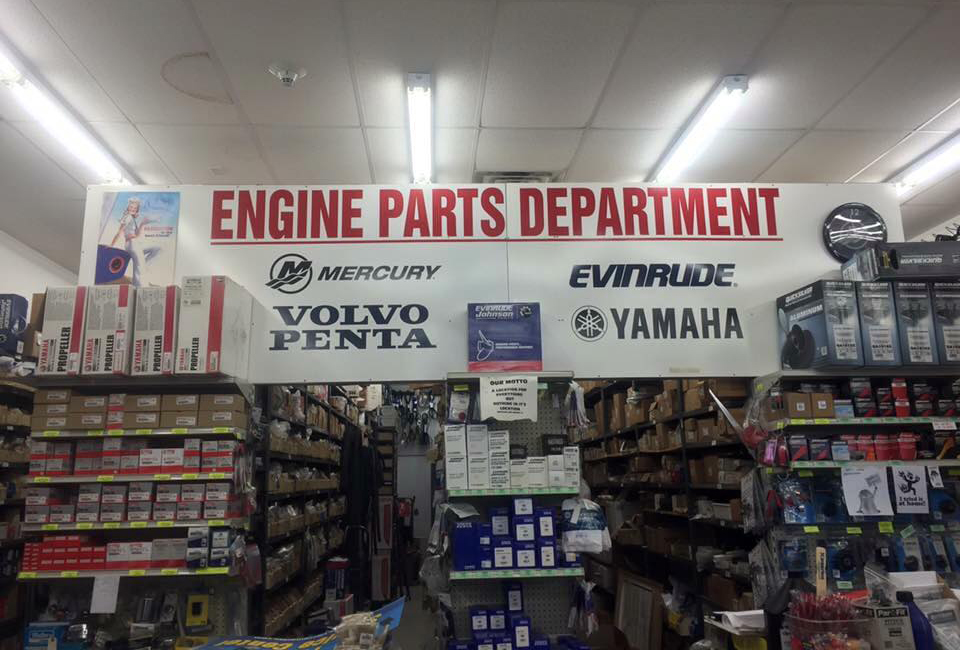 Fred Chall Marine Supply has everything you need to make your engine purr! Photo Credit: Fred Chall Marine Supply
In addition, due to Long Island officially entering Phase Two of reopening, retail establishments are now allowed to have customers enter their premises as they were able to prior to the pandemic. However, Feuerstein was quick to point out that all appropriate measures are being brought to bear in order to keep both his staff and patrons healthy and safe.
"You need to wear a mask to enter the store, and if you've forgotten to bring a mask we have them here for you," he said. "We're also sanitizing everything, we have one-way aisles so people aren't walking into each other, and we have a limit on how many people we're currently allowing in the store at any given time. We're being very safe."
Feuerstein pointed out that, due to restrictions still in place regarding vacationing and gathering in large groups, it appears that boating has become more popular this season as a result. After all, it's a fun activity that allows you to get away from it all, experience nature, and – most importantly – maintain social distancing. The benefit, of course, is an uptick in business that Feuerstein hopes will help to make up for his losses from the pandemic.
But in the end, Feuerstein is quite proud of what he and his employees have built Fred Chall Marine Supply into over the years, and with the launch of the new website, they are looking forward to many more years of seeing to the boating needs of their customers.
"It feels really good…it's great to finally be in the 21st century. We have everything that we need to be able to help the customer, and I think the website is a big part of that," he said. "A couple of our employees put a big effort into it and they did a great job. I'm proud that we have the website up now and hopefully it'll be a big part of the future business that we do."
To find out more about Fred Chall Marine Supply, as well as view its vast inventory and to place an order for all your boating needs, please visit
https://fcmsupply.com/
.