As businesses nationwide begin the slow process of reopening in the wake of the COVID-19 pandemic and adjusting to the "new normal" of safety precautions in the workplace in order to prevent a resurgence of the disease, a new company – based right here on Long Island – is stepping to the forefront of cause.
Workplace Safety Solutions
of Hauppauge opened for business early this year, but already they have made a name for themselves as purveyors of cutting-edge safety equipment that can help to keep both employees and customers of businesses safe while minimizing risk of the transmission of COVID-19.
And going forward, this is something that nearly every business and industry is going to need, in some form or another.
Workplace Safety Solutions owner Robert Watson has 36 years of experience operating companies that specialize in trade shows, corporate events, experiential visitor centers. Thus, already possessing the ability and resources to produce and distribute specialized products, Watson said that pivoting into the safety solutions field was simply a natural progression.
"Using our background in branding, displays, showrooms and corporate lobbies was a natural fit for helping clients meet the concerns and requirements for customer and employee safety," he said. "We're helping companies to reopen and the focus is on products to help with proper spacing and the protection of visitors and staff."
Photo Credit: Workplace Safety Solutions
Workplace Safety Solutions offers a plethora of options for establishing and maintaining social distancing in any workplace, all of which strictly adhere to official Centers for Disease Control (CDC) guidelines covering any type of industry.
"Different businesses have different guidelines in place by the CDC," Watson said. "Some need certain protections that others may not, and some companies will want to go even further than is required. It's about helping them to be compliant allowing staff and customers to feel comfortable."
Workplace Safety Solutions specializes in health protection including distancing and separation tools, starting with partitions. The company offers a variety of different room dividers of varying heights – from 4' to 7'6" – and with a high degree of mobility and configurability, allowing a business to establish perimeters between employees or customers, put together a makeshift meeting space, and much more.
Partitions can be used in any setting – for example, in an office, a restaurant, or a beauty salon – and come in many different styles and finishes, including polycarbonate, fabrics and acoustical materials in various colors and with varying degrees of visibility and noise reduction, Watson said.
"Our room dividers are on wheels and are very versatile," he said. "In addition to our regular partitions, we also have telescoping partitions and a '360 degree' room divider with a patented hinge mechanism that allows the panels to create a 360 degree swivel that can create angles, squares, a rounded space, anything you need. And everything is easy to set up and use."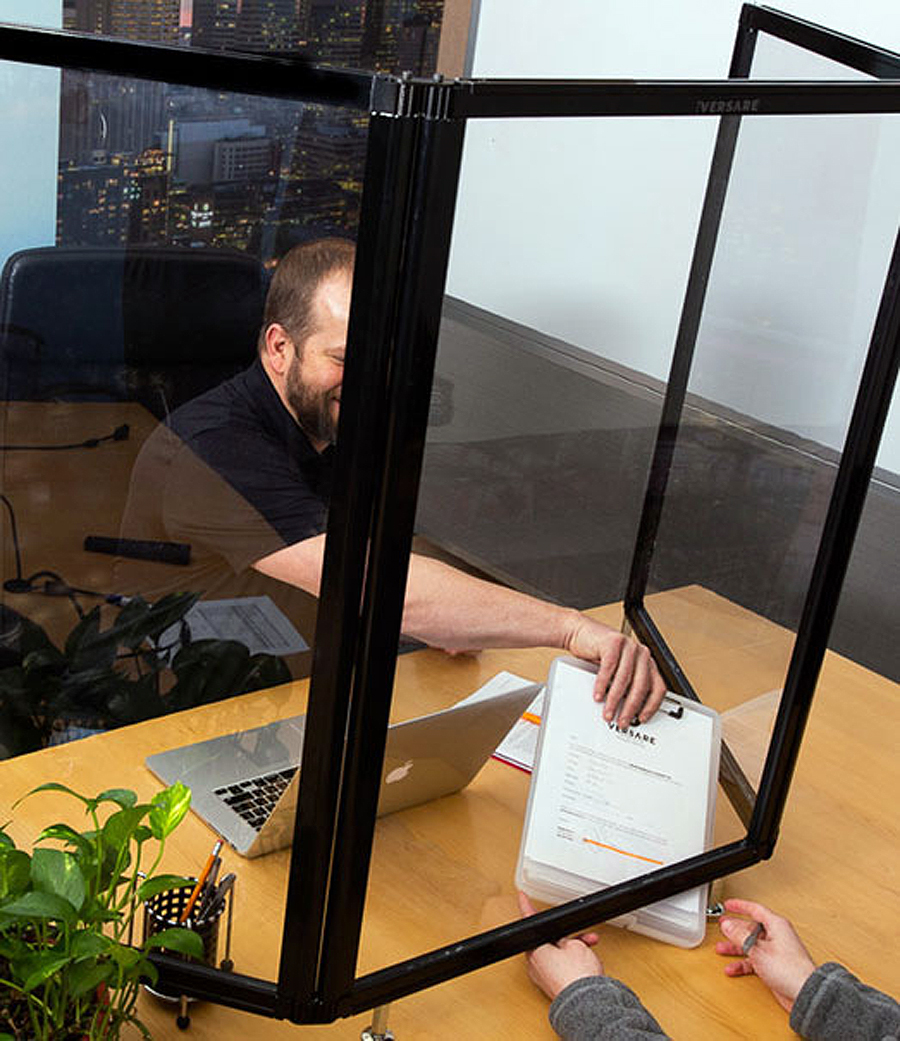 Photo Credit: Workplace Safety Solutions
The company also offers acrylic desktop and countertop versions of their partitions – both mounted and free-standing – which Watson said have been installed in businesses ranging from car dealerships, retail stores, schools, bars, hair and nail salons, and more.
Also available from Workplace Safety Solutions is a plethora of floor and industrial signage options to help inform and enforce social distancing regulations and assist customers with wayfinding, all of which are fully customizable terms of text and graphics and are designed for durability on any surface.
"With our trade show experience, we've developed floor graphics that can even affix to carpet that can withstand foot traffic," Watson said. "Our signage meets the safety requirements of a convention hall with secure application to avoid hazardous conditions."
Speed is also a paramount concern when it comes to getting the customers of Workplace Safety Solutions the equipment that they need in order to reopen their businesses; the company is able to handle any volume a client may need, and typically ships within 48 hours of receiving an order. However, Watson notes, due to increased demand generated by the COVID-19 pandemic, current shipment estimates have increased temporarily for most items to 72 hours and others up to 2 weeks; this is still much faster turnaround than most other companies can offer, especially given current circumstances.
"A lot of our competitors can take up to 4 to 6 weeks to ship, and that's not going to fly for people who need their safety equipment as quickly as possible so they can reopen," Watson said.
Photo Credit: Workplace Safety Solutions
Workplace Safety Solutions continues to grow and evolve to incorporate the latest technology into their offerings; an example involves ultraviolet lighting towers and hand held units that can be taken from room-to-room to completely disinfect the surroundings. Color-changing, wall stickers are able to determine when an appropriate level of UV light saturation has been achieved – typically within 5 to 10 minutes – rendering the environment completely safe and sanitized.
Watson said he is partnering with IT companies that offer infrared, body temperature-sensing cameras that are being installed in building lobbies, hospital atriums and employee entranceways. When combined with Workplace Safety Solutions' structural camera support archways, partitions as traffic funneling barriers, signage, audible and color lighting alerts– create an effective means of directing foot traffic and determining if people entering your building is running a temperature or not.
So far, reaction to Workplace Safety Solutions has been highly positive; Waston noted that he's often contacted by people who have seen his workplace safety equipment installed in a retail environment or elsewhere and have been so taken with its quality that they decided that they needed to find out where it came from.
"We've been installing our partitions in a number of different places, including retail environments like pharmacies, dry cleaners, and even ice cream parlors! We've been especially getting a lot of business via word of mouth," he said. "For example, a trade school president recently went into a pharmacy that we had installed acrylic partitions across the entire counter, insisted on finding out who did the work, and then contacted us."
"The quality of our product, especially when compared to what's out there, is what draws our customers in. Not only are our products effective, but they look tremendously professional, clean, and neat, and they're affordable as well," Watson continued. "Our history is in helping our clients with branding and visibility, but the health and safety of those businesses and their employees and customers is equally important to us. Workplace Safety Solutions continues to grow and innovate, and as CDC guidelines continue to evolve, we're constantly thinking of the products we can offer that meets the objectives of any given industry."