LI's Adorable Adoptables is a weekly column by Allison Matos, a lifelong Long Island resident who has been advocating animal adoption since 2012. Allison's weekly posts highlight local animals in need of adoption, and cover general animal welfare topics as well.
Baby Love is a gorgeous tan and white, 3 year old stunner who is looking for his new forever home. This handsome boy's owner surrendered him to the Town of Hempstead Animal Shelter because he was moving and couldn't take Baby Love along. Now hold on to your hats- Baby Love is house trained, crate trained and he knows the commands "sit", "down", "stay" and "come" (aka he's a genius!). Baby Love is affectionate, well behaved, playful, hyper and "loves attention". His past owner even said he lived with kids of all ages and is quite social with other dogs!
The cutest part about Baby Love says the TOH volunteers, is that he thinks he's a lap dog- it's always a great laugh when a 65 pound dog trying to crawl into your lap for cuddles. Baby Love is recommended for a home with kids 13 and up due to some playful jumping. Please call for more information (516-785-5220), or come visit him at 3320 Beltagh Avenue, Wantagh NY 11793.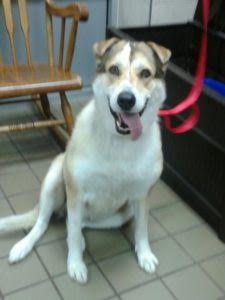 Jessie is in need of a new home after her previous owner was evicted.
"You know I wish that I had Jessie girl" which is what you'll be singing when you meet this awesome pooch. Jessie became homeless along with her Lab mix housemate when her dear owner faced eviction. Last Hope heard of their plight and met them at Brookhaven Town Shelter where they learned they are as delightful as their former owner declared.
Jessie's housemate was adopted quickly, but Jessie is still waiting patiently. She is 6 years old & about 70 lbs. Jessie is a smooth Collie mix, as lovable as can be. She knows SIT & PAW; socialized with kids, other dogs …and would make a fabulous addition to any family. For more information, check out Jessie's webpage.
Thanks for reading and always remember to adopt, never shop...pass it on!