A little girl from Syosset emptied her piggy bank and donated her life savings to frontline healthcare workers. Desiree Mohammodi, 7, wrote a letter to Michael Dowling, CEO of Northwell Health, to go along with her gift.
The total amount was $52.65.
Her letter she told Downling that she was donating "all her money" for essential items, including a little something for himself.
Photo: Northwell Health
"She suggested that Mr. Dowling might want to take a break and grab a snack from the vending machines with the money," Northwell Health said in a statement.
The letter came complete with original drawings and a photo of herself holding a piggy bank.
"I pray the world is free of all disease," she wrote.
Photo: Northwell Health
She ended her note by reminding Downling to wash his hands.
Desiree is interested in astronomy and was saving her money for three years to buy a telescope and an American Girl doll in an astronaut outfit.
Downling decided that her generosity should be rewarded and at a virtual press conference at Northwell's headquarters where Desiree read her letter and presented a bucket of loose change, he gifted the young philanthropist with an American Girl doll and a working telescope.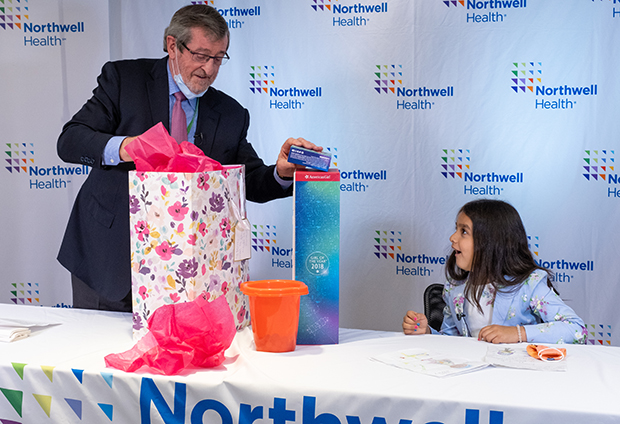 Photo: Northwell Health
"Because we think Desiree is a true superhero, we want to give her a special thank-you," he said. "Here at Northwell, we believe that now more than ever, the generosity and compassion of one special little girl should be rewarded."
For Desiree, the Northwell CEO is in rare company.
"He's a wonderful man," she said when asked how she felt about Dowling. "I love him even more than I love my dog."