County Executive Bellone Announces Major Traffic Improvement Project In Riverside
Riverside, NY - May 31, 2017 - Suffolk County Executive Steve Bellone today announced the beginning of a major traffic improvement project in Riverside that will convert a nearly 80-year old traffic circle into a modernized roundabout, which serves thousands of commuters each day on the East End. The $5 million infrastructure project, which is scheduled for completion by December 2018, is slated to begin construction this week. The work will be performed alongside normal traffic flow during the day, with evening work scheduled between the hours of 10PM – 6AM with limited traffic flow to avoid road closures.
The County Executive was joined by Southampton Town Supervisor Jay Schneiderman, Suffolk County Legislators Bridget Fleming and Al Krupski, community leaders and advocates to mark the official groundbreaking. The project, which is entirely funded by Suffolk County, will convert the existing five-legged, one-lane traffic circle into a modern two-lane roundabout to ease congestion and improve commuter safety.
"This project represents the future of the New Riverside and shows that we are committed to accomplishing major infrastructure projects that will help spur revitalization," said County Executive Bellone. "This project is about laying the foundation for the future by making smart investments that will serve as a model for what Long Island should become."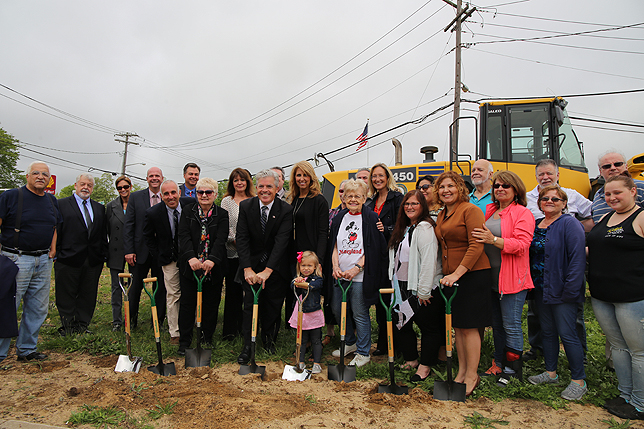 Riverside business & community members applaud county's leadership for funding critical project that will spur Riverside downtown economic development. Photo Credit: Suffolk County
Hailed as the most significant capital improvement project in more than 50 years, the highly-anticipated traffic mitigation project will also enable Suffolk County Department of Public Works to design and install a new storm sewer system that will mitigate flooding issues and treat storm water before it is discharged into the Peconic River.
"The existing traffic circle is inadequate to handle the current volume of traffic," said Southampton Town Supervisor Jay Schneiderman. "The circle backs up on a daily basis and is projected to get worse every year. The expansion of the circle into a two-lane oval roundabout is an essential project to improve traffic flow and support the local economy. I would like to thank Suffolk County for investing in the future of this area."
In 2011, Suffolk County DPW commissioned a study of the Riverside intersection. After a significant analysis was performed, DPW selected an option that involves reconstructing the existing traffic circle into a modern roundabout. There will be eight separate construction phases required so that traffic can be maintained in the existing traffic circle. Suffolk County DPW also worked closely with the all property owners adjacent to the existing traffic circle since each property and business had its own unique issues and challenges. DPW met individually with these property owners multiple times to develop an approach that would limit the impact during construction and achieve the goal of the project by eliminating driveways within the roundabout.
The project also involved the alienation of Town of Southampton Parks property that required home rule legislation to be passed in the New York State Legislature. Assemblyman Fred Thiele was instrumental in shepherding the legislation to final passage and worked closely with the County and Town throughout the process. The proposed roundabout required additional land to be provided by the Town of Southampton on the northwest corner of the intersection. The County dedicated a larger, more environmentally sensitive waterfront property in exchange for the sliver of former park property that is needed for the roadway. Ultimately, this was subject to a public referendum that was approved by local residents.
Assemblyman Fred Thiele said: "The Riverside Traffic Circle is a critical part of the economic re-vitalization of the Flanders, Riverside, Northampton community. It is a very busy and dangerous location where five major roads intersect. The current configuration results in considerable traffic delays and traffic congestion on all approaching roads. There is also a high incidence of rear-end collisions. Senator LaValle and I were able to gain state approval of a parkland swap between the County and the Town of Southampton that permits the County to construct the most desirable alternative for public safety and traffic flow. I am pleased that this project is moving forward."
Suffolk County Legislator Bridget Fleming said: "This important project is the result of a thine partnership/Town and County government working with the community and private industry. 100% County funded, it achieves a critical early goal of the Town's form-based zoning, which will allow private sector companies to successfully invest in the community, to achieve neighborhood revitalization that meets a triple bottom line by building the area economically, socially and environmentally. I am deeply gratefully to my colleagues on the Legislature for recognizing the importance of this project, and to Supervisor and the County Executive for their leadership".
Suffolk County Legislator Al Krupski, whose district includes Riverhead Town, said: "The traffic circle, which lies just outside of my district in Southampton, has seen huge increases in volume of traffic since it was first constructed. This important project will not only improve traffic flow , but it will make it more safe for both drivers and pedestrians. The added benefit is the enhancements will help revitalize the Riverside area whose residents have been working long and hard and for many years to achieve this goal."
Riverside community leaders and advocates have labelled this project as a critical component that will significantly benefit local business and play a key part in the broader Riverside Revitalization Action Plan adopted by the Town of Southampton in December 2015. Riverside is also a key part of County Executive Bellone's Connect Long Island initiative, a regional transportation and development plan designed to create economic growth through investments in housing, transportation and innovation.
Ron Fisher, President of the Flanders, Riverside & Northampton Community Association, said: "The Flanders, Riverside & Northampton Community Association is elated that the Suffolk County Legislature voted unanimously to invest over $5,000,000.00 in the redesign and development of the Riverside Traffic Circle. The new circle will significantly improve traffic, better treat storm water run-off, and represents the single biggest infrastructure investment in Riverside in a generation. We are excited for construction to begin and appreciate the efforts of the Suffolk County Legislature in improving the gateway to the East End."
Sean McLean, Principal at Renaissance Downtowns, said: "Renaissance Downtowns and Riverside Rediscovered are incredibly proud to have been included in this event. This is the first tangible step towards realizing the potential of such a great community. The leadership at the County has proven yet again that they really are partners with their constituents."