Hauppauge, NY - May 30, 2016 - More than 230 women representing over two dozen golf and country clubs across Long Island united to kick off the 2016 season of Babes Against Cancer with brunch and awards presentation at Cold Spring Country Club in Huntington on May 12, 2016.
In its 44th year, Babes Against Cancer tournaments will host events at 34 clubs in Nassau and Suffolk to support the American Cancer Society, according to June Ingraham, Senior Manager for Babes Against Cancer. "Last year 'the Babes' raised over $1.2 million dollars. We have lofty goals to meet, and know we can achieve them as a team," she said.
The coveted honor of "Top Earning Club" was presented to the Fresh Meadow Country Club who generated an astounding $237,507 in 2015 alone.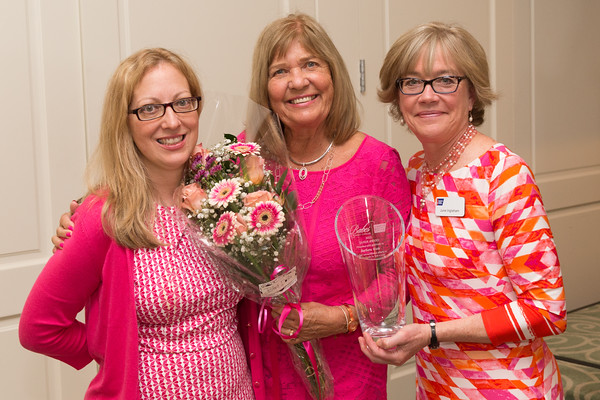 L-R: Beth-Ann Tolentino, Manager, American Cancer Society; Sandy Award winner Barbara Wade, with June Ingraham, Senior Manager, ACS.
Other awards included: Half Million Dollar Club presented to Andrea Jordano of Woodbury recognizing Tam O'Shanter Club's earnings of $570,888 since 1972 and to Diane Keller of Oakland Gardens accepting for North Hills Country Club's earnings of $539,854 since 1974. $100,000 Club awards went to: Old Westbury Golf and Country Club, The Greens and Glen Oaks Club. $50,000 Club awards were presented to The Hamlet Golf and Country Club and Pine Hollow Country Club. The Most Improved Club was Southward Ho Country Club in Bay Shore. Most Improved Tennis Club honors went to Piquet Lane Tennis Club.
One of the traditions of this annual event is the presentation of the Sandy Award, named in memory of Sandy Zuckerman Rothstein, a breast cancer survivor, who started the first tournament at Muttontown Club in 1972. Barbara Wade of Malverne was bestowed this year's award for her 19 years of volunteerism in leading the tournament at Hempstead Country Club. Her team went from raising $1,000 to over $14,000 on average. Wade attributed the honor to her steadfast committee as well as the support of her daughter, Kim.

L-R: Beth-Ann Tolentino, June Ingraham, and Fern Kwiat, Babes Against Cancer Chair at Glen Oaks Club.
Dollars raised through Babes Against Cancer supports the American Cancer Society's work to save lives and provide support to everyone impacted by cancer -- from research to education, prevention to diagnosis, and treatment to recovery. Babes Against Cancer provides players of all skill levels an outstanding golf experience and the opportunity to raise awareness and funds to support the American Cancer Society. Since 1972, the Babes Against Cancer program (formally the Babe Zaharias Tournaments) has generated over $26 million, including $1.2 million in 2015.
About the American Cancer Society
The American Cancer Society is a global grassroots force of 2.5 million volunteers saving lives and fighting for every birthday threatened by every cancer in every community. As the largest voluntary health organization, the Society's efforts have contributed to a 20 percent decline in cancer death rates in the U.S. since 1991, and a 50 percent drop in smoking rates. Thanks in part to our progress nearly 14 million Americans who have had cancer and countless more who have avoided it will celebrate more birthdays this year. We're determined to finish the fight against cancer. We're finding cures as the nation's largest private, not-for-profit investor in cancer research, ensuring people facing cancer have the help they need and continuing the fight for access to quality health care, lifesaving screenings, clean air, and more. For more information, to get help, or to join the fight, call us anytime, day or night, at 1-800-227-2345 or visit cancer.org.