GVS Students Shine During A "Knight" of Science
Old Brookville, NY - May 20, 2016 - On May 10, the Green Vale School celebrated A "Knight" of Science, an all-star exhibit where students from 1st to 8th grade showcased various projects for faculty, family and friends. This was the fourth straight year Green Vale and its community hosted a school-wide STEM event.
Green Vale, whose official school mascot is a knight, continues to be at the forefront of students' study of science, technology, engineering and math with its strong partnerships with the Brookhaven National Laboratory and the Cold Spring Harbor Laboratory.


"A 'Knight' of Science is a celebration of our students' excellent work in the fields of science, technology, engineering and math," Science Department Chair Dr. George Pasquale said. "It's an opportunity for our students to demonstrate creative ways of applying concepts they've learned to real world situations. The variety of work presented testifies to the depth of their understanding and the distinctive features of their interests and imaginations."

The award-winning Rocket Club had several rockets on display, while the Marine Science Program showed photos of its field work over the last year. First and second grade had weight bearing towers and marble runs on display, while third grade created unique animal posters and dioramas. Working with the Technology Department, fourth grade students demonstrated Arduino circuits, while fifth grade exhibited its engineering prowess via the construction of bridge models.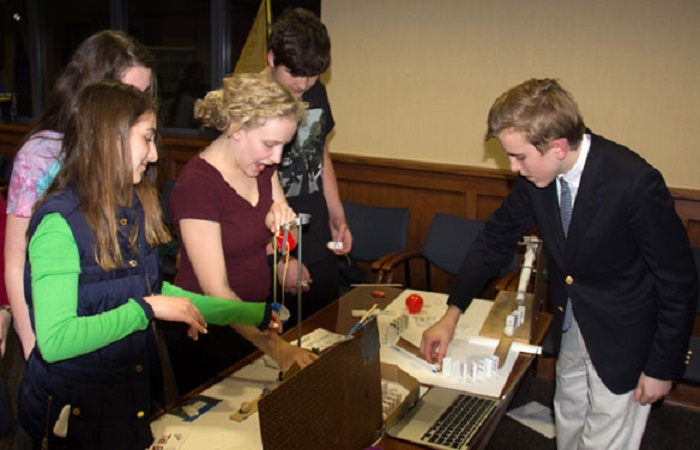 In the Upper School, sixth graders displayed and demonstrated their self-built underwater ROVs (Remotely Operated Vehicles), while the seventh grade showcased its science projects. Rounding out the exhibits was the eighth grade demonstrating its various Rube Goldberg projects.
The Green Vale School, located in Old Brookville, Long Island, is an independent school
specializing in Early Childhood through Middle School situated on a 40-acre campus on the doorstep of New York City. Green Vale has been providing students with an uncommon core of academic excellence and character development since 1923 – inspiring students to excel, to lead and to care.