Albany, NY - May 19, 2016 - The New York State Governor's Traffic Safety Committee (GTSC) today announced a new "Protect Your Melon" campaign to promote safe driving statewide. The campaign, made possible by a partnership between JD Motorsports and New York State, kicked off in conjunction with the annual Buckle Up New York seatbelt enforcement mobilization from May 23 to June 5, and a press event in Jefferson County featuring Xfinity driver Ross Chastain and his No. 4 Xfinity Series "Protect Your Melon" racecar. Additionally, to promote the campaign and raise awareness about the importance of wearing seatbelts, watermelons labeled with "Protect Your Melon" and "Buckle Up!" will be sold in grocery stores in Erie, Jefferson, and Niagara Counties through the spring and summer months.
"We never know what we might encounter on the road, but the easiest way to prevent fatalities and injuries is buckling our seatbelts," said Terri Egan, DMV Executive Deputy Commissioner and GTSC Acting Chair. "While we have made great strides in getting more New Yorkers to buckle up, we still have work to do through enforcement and education to make sure everyone is staying safe behind the wheel and as passengers. I urge all drivers and passengers to buckle their seatbelts — it will save their lives."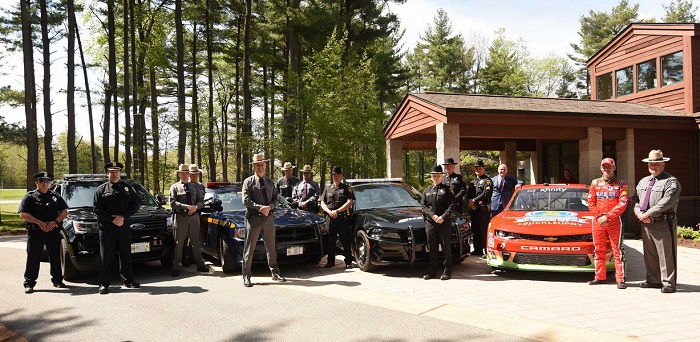 Photo courtesy of DMV NY, via Flickr.
The "Protect Your Melon" campaign, the product of a partnership among JD Motorsports, the GTSC, and Department of Motor Vehicles (DMV), helps the state to promote seatbelt compliance as part of its Buckle Up New York initiative, which is part of the National Highway Traffic Safety Administration (NHTSA)'s nationwide "Click It or Ticket" campaign. This enforcement period comes ahead of the Memorial Day holiday, one of the busiest travel weekends of the year.
Xfinity driver Ross Chastain said, "I know I'm protected and know what to expect when I climb in my racecar at one of NASCAR's fastest tracks, like Watkins Glen. It takes me several minutes once I'm in the seat to get everything set. But when I climb behind the wheel of my pickup truck, I simply have my seatbelt. That is the one thing keeping me safe and helping get me to the next race. I want all motorists to keep this in mind and make sure they're buckling up and staying safe."
Governor Cuomo announced in August that a record 92 percent of New Yorkers are buckling up and regularly using seat belts, making 2015 the sixth consecutive year that seat-belt use stayed at or above 90 percent, according to the New York State Seat Belt Observation Survey, conducted each year by the University at Albany Institute for Traffic Safety Management and Research. New York was among only 19 states and the District of Columbia with seat belt use rates of 90 percent or higher.
As part of the Buckle Up New York effort, the New York State Police and local law enforcement agencies will use marked and unmarked vehicles, checkpoints, and roving details to aggressively ticket unbelted drivers traveling the state's roadways. New York's seat belt law is a "primary enforcement law," which means that a law enforcement officer may stop motorists for not having a seat belt on.
New York State Police Superintendent Joseph A. D'Amico said, "Our Troopers see first-hand the injuries suffered by those who don't buckle up when they climb into a vehicle. During this campaign, we will be looking for those who are not using seatbelts and making certain they understand that taking just a few seconds to buckle up could be a life-saving decision."
Jefferson County Sheriff Colleen O'Neill said, "For 32 years, we have seen solid proof that New York's seatbelt laws have been saving lives. It is hard to imagine the thought of someone who still chooses not to buckle up. We've seen case after case where a seatbelt clearly saved a life. And, sadly, we've investigated unnecessary injuries and deaths because of a foolish decision not to 'click it'. From May 23rd to June 5th, Jefferson County Sheriff's Deputies will be out in full force reminding New York motorists that seat belts save lives."
Buckling up also means ensuring that children are restrained properly. As part of the GTSC's Child Passenger Safety Program, state and local police agencies, along with various community safety partners, offer free child car seat inspections by certified child passenger safety technicians year-round. In November, Governor Cuomo announced the alarming results of Child Passenger Safety Week seat check events, during which 88 percent of the 931 seats inspected were found to be improperly installed. Technicians found that only 112 had been installed correctly, which demonstrates the importance of learning how to properly install car seats and taking advantage of the state and locally sponsored safety check events. More information about upcoming child safety seat checks can be found here.
Additionally, GTSC recently supported the launch of a new "Save Face: Buckle Up" electronic billboard displayed across the state to remind New Yorkers of the dangers of not using seatbelts. The billboard image can be viewed here.
For more information about New York State law and buckling up correctly, click here.