Moriches, NY - May 12, 2016 - Seventh-grade students at William Floyd Middle School have been making a difference both in their community and for communities more than 4,500 miles away through recycling and raising funds to construct two water wells in the impoverished west African nation of Liberia. When completed, these wells will provide clean water to more than 6,000 people.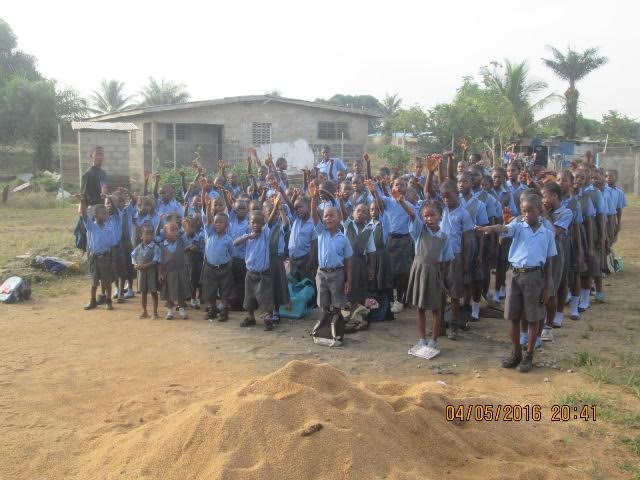 Students from The New Hope School who will benefit from the water wells. Photo courtesy of William Floyd Middle School.
This effort began with Zoe Rivera, a Sayville High School student and the daughter of William Floyd Middle School math teacher, Michael Rivera, and William Floyd High School music teacher, Donia Rivera. Zoe, a 10th-grader, was brainstorming ways to help others locally and on a global scale for her Girl Scouts Gold Award project. She decided upon the idea of building wells to help people in Africa because her brother, Yirdaw, was adopted from the east African nation of Ethiopia, and the Rivera family has supported well water projects in the past.
William Floyd Middle School seventh graders, as part of their curriculum, read Linda Sue Park's A Long Walk to Water which details the struggles that people in third-world countries face in order to get clean water, particularly the true story of Salva Dut, as well as the fictional story of a girl named Nya. After reading about the difficulties many face throughout the world and learning about Zoe's efforts, Mr. Rivera's classes, as well as the entire seventh grade along with Mrs. Jessica McHale's classes, decided to collaborate.
To help fund the project, William Floyd Middle School students collected bottles for recycling and deposit redemption; hosted a pancake fundraiser; and held a collaborative benefit concert between Sayville High School music groups and William Floyd's Tri-M Music Honor Society and two William Floyd singing groups, "The Soundsations" under Barbara D'Orio and "The Acabellas" under Mrs. Rivera. Students at Sunrise Drive Elementary School in Sayville also contributed to the project through various fundraising events.
Through their collaborative efforts, students raised more than $6,200 – enough to fund two wells in Liberia through Strides for Africa.
"I wanted students to know that they have the ability to impact people's lives in a positive way," said Mr. Rivera. "Even recycling and redeeming that five cent bottle in the cafeteria can go a long way toward changing someone's life."
One of the wells is being constructed for residents in Caldwell, Liberia, where it will provide clean water for more than 3,000 residents and 157 students at the New Hope School. The other well will be located in the community of Bonjal and bring water to an additional 3,000 residents.