My Grandmother's Kitchen Opens in Farmingdale
Homestyle breakfast and lunch place My Grandmother's Kitchen opened recently in Farmingdale featuring a menu of breakfast items that will fill your belly and warm your heart.
Eggs are prepped in every style and combination you can think of that will leave you more than full like the The Grandmother Egg Combo, which is two eggs any style, one sausage and two strips of bacon with a choice of two pancakes or french toast or the many omelettes, one served up with real lobster, tomato, scallions, and chipotle gouda cheese ($15.25) and the Grandmother Omelette made from egg white, fresh spinach, oven gold turkey, sauteed onion and muenster cheese ($13.75). They also have French Toast and Pancake options that are just as sumptuous.
Photo: My Grandmother's Kitchen Facebook page.
Lunch includes a Grandparent Sandwich featuring a chicken cutlet, roasted pepper, caramelized onion, spinach, mozzarella cheese on grilled pita bread ($13.75) and their corned beef sandwich of first cut pastrami with swiss cheese, coleslaw and russian dressing on a grilled rye bread ($13.75). They also offer cheeseburgers and platters like the Chef Salad on a bed of lettuce, hard-boiled eggs, vegetables, roast beef, honey turkey, ham, and American and swiss cheese ($16.25) and the cranberry chicken salad, served with lettuce, tomato, coleslaw and potato salad ($15.50).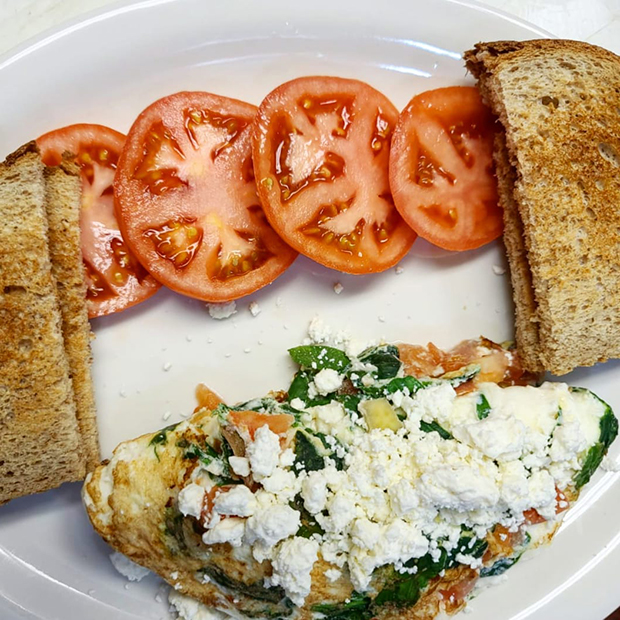 Photo: My Grandmother's Kitchen Facebook page.
On Yelp, Jennifer S, from Huntington, said she had an "excellent meal!"
"We will def be back," she wrote. "staff was friendly and told us all about the future decorating plans for this cozy place."
Sheri D, from Patchogue, said it was a great place.
"So far I have only been here a few times to get breakfast and I have to say the sandwiches are the best I've had in a long time," she said. "The staff are extremely friendly and welcoming, and that's one of the reasons I give them 5 stars. It really makes a difference when you are greeted with a happy employee. Start to finish they are on point."
Location: 169 Main St Farmingdale, (516) 586-4289.