To Start…
Homemade Salsa
Whether traditional, peach and tomato, or chipotle bacon corn, all Cinco de Mayo party menus should feature a homemade salsa for dipping purposes
Guacamole
Now onto salsas counterpart, Guacamole! Avocado supplies healthy fat, though moderating its consumption is important related to its high calorie content. So rather than countless chips, keep servings and portions in check with these tasty guacamole cups.
Taco Dip
Bursting with tasty ingredients and nutrients, this taco dip is sure to be a hit this Cinco de Mayo! Serve with tortilla or crispy plantain chips.
Ceviche
Fresh, colorful, and nutritious, this ceviche recipe is perfect for your Cinco de Mayo party menu. For those trying to keep it on the lighter side, ceviche is packed with fresh seafood and lots of citrusy goodness.
For the Side…
Mexican Street Corn
Liven up traditional corn on the cob with a flavorful Mexican twist. This street corn recipe features the fresh flavors of crema, lime and lemon juice, and cilantro, guaranteed to excite the taste buds.
Mexican Rice
Low in sodium and ample in fresh veggies, this quick Mexican brown rice is a simple, nourishing side dish for your Cinco de Mayo party.
Spicy Beans & Veggies
With just a few common ingredients, transform a can of black beans into a savory, nutritious side dish. This spicy black beans and vegetables recipe can easily be thrown together and easily adapted, including the addition of other favorite veggies or tweaked heat level.
The Main Course…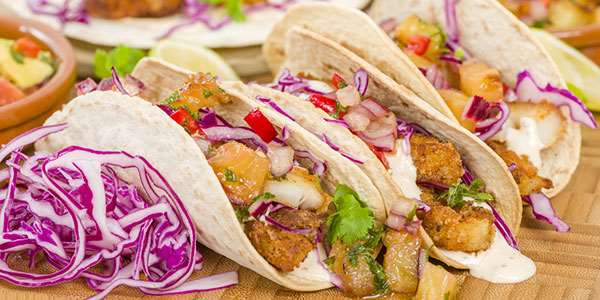 Tacos
Okay, what is Cinco de Mayo without tacos? From Thai chicken, to carne asada, to chickpea, try these 11 taco variations for your Cinco de Mayo menu.
Fajitas
Healthy and easy, this beef fajita recipe can be prepared in a quick 15 minutes. Feel free to swap out beef with chicken and shrimp or tofu for a vegetarian option.
Chicken Enchiladas
These chicken enchiladas are a lighter rendition of that traditional favorite. Chicken can be swapped with lean beef or shrimp or with beans and quinoa for a vegetarian option.
Farmer's Market Veggie Quesadilla
This vegetarian quesadilla is bursting with color and nutrients. Swap out or add veggies based on preference, including tomatoes, mushrooms, and spinach.
Mexican Lasagna
The traditions of Mexico and Italy harmonize into this Mexican lasagna. Chicken can be swapped for ground turkey or beef based on preference, including the dismissal of meat altogether. Top with sour cream or plain Greek yogurt, scallions, and shredded lettuce.
Sweet Temptations…
Fried Ice Cream
Skip the deep fryer and mimic the taste of traditional Mexican fried ice cream with this healthier-for-you dessert recipe.
Mexican Chocolate Cake
Featuring cayenne pepper or chili powder, celebrate Cinco de Mayo by relishing on a slice of this Mexican chocolate cake!
Whats a Party Without Cocktails?…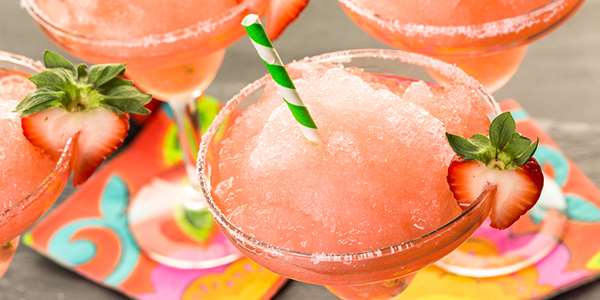 Strawberry Margarita
The average frozen margarita packs on 300 to 600 calories, primarily coming from added sugars. However, this guilt-free strawberry margarita recipe features five natural ingredients and a only 150 calories per serving. Cheers!
Pomegranate Mojito
This purely pomegranate mojito is mixed with light rum, fresh mint leaves and pomegranate juice giving you a fretting cocktail that pairs perfectly with all your Cinco de Mayo fare.
Horchata
This cinnamon-flavored rice drink is a quick alternative to traditional horchata and imitates the same desirable flavors. Although the recipe is nonalcoholic, feel free to add a splash of rum if you'd like.