Wyandanch, NY - April 30, 2018 - On Friday, April 27, 2018 a Blanca Andrade of Wyandanch, 49, was charged with animal cruelty by Suffolk County SPCA detectives.
Suffolk County SPCA Officers responded to a call from the Babylon Animal Shelter that two (2) dogs were severely matted, filthy and suffering from various untreated health issues. The dogs had been picked up as strays.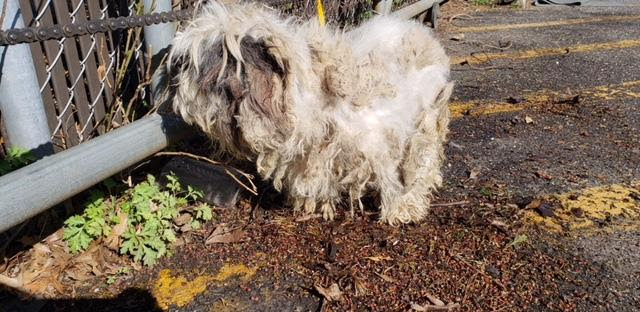 One matted, filthy dogs belonging to Blanca Andrade of Wyandanch, 49. Photo Credit: Suffolk County SPCA.
Blanca Andrade, 49, of
Wyandanch
, was charged with two (2) counts of failure to provide proper sustenance which includes veterinary care. The animals were signed over to the
Town of Babylon
Animal Shelter by the Suffolk County SPCA.
Andrade is scheduled to appear in First District Court in Central Islip on July 2, 2018.
Chief Gross said that animal cruelty will not be tolerated in Suffolk County. If you witness any incident of animal cruelty or neglect in Suffolk County please contact the Suffolk County SPCA at (631) 382-7722. All calls will be kept confidential.
A criminal charge is an accusation. A defendant is presumed innocent until and unless proven guilty.