Suffolk County, NY - April 25, 2018 - The Suffolk County Police Department is mourning the loss of active duty Detective William Maldonado who died on Monday after a nearly three-year battle with colon cancer.
Detective Maldonado joined the department in September 1987 and worked several years in the Fifth Precinct before rising to the rank of detective in 1994. He spent much of his career working in Major Case, a unit that investigates bank robberies. Most recently, he was assigned to the FBI Long Island Gang Task Force where he focused on combatting gang violence. He was involved in the prosecution of more than 40 MS-13 gang members which cleared more than a dozen homicides and 25 robberies.
Detective Maldonado was an outstanding member of the department and received numerous awards including 12 department recognitions, two command recognitions and two Meritorious Awards. He was named Cop of the Year in 1990 and in May 2017 he was given the Police Commissioner's Extraordinary Service Award for his leadership skills while battling a life-threatening disease.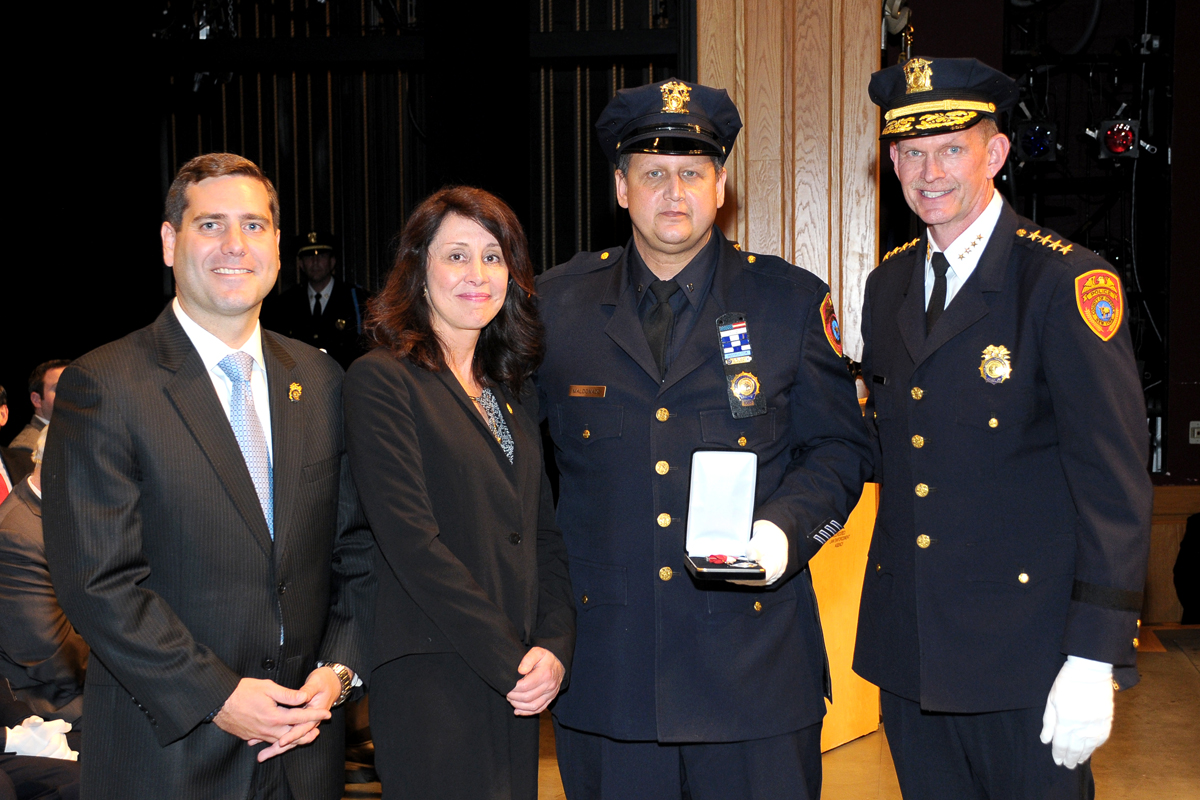 Detective William Maldonado (second from right) at an awards ceremony. Photo Credit: SCPD
Even during his courageous battle with cancer, Detective Maldonado, 53, continued to work to serve the community taking limited sick time. According to his wife, Second Precinct Detective Christine Tamaro, who he has been with for 17 years, being a cop was in Detective Maldonado's blood. "No matter the detail, Willie gave 1000 percent. He was always on the side of right and no money or influence could ever make him compromise his integrity."
In a department of 2500 members, Detective Maldonado had a standout personality and his good humor and smile will be missed by all. According to Tamaro, socializing was his hobby.
"Willie had a larger than life personality, which would command a room," said Detective Michael Soto, who has been Detective Maldonado's partner throughout most of his career. He added, "People would gravitate toward him to hear his jokes and stories. His motto was 'Never let the truth get in the way of a good story."
"He loved being the center of attention. He was a great story teller and you would always look forward to his next one," said Inspector Robert Waring, who has been friends with Detective Maldonado since 1987 when they met while working at the Fifth Precinct. "Willie brought everyone together. In the end, he had friends from every stage of his life supporting him because he would have been there supporting us."
"We lost a remarkable detective and a remarkable human being, who served this department with distinction for more than 30 years," Suffolk Acting Commissioner Geraldine Hart said. "His most recent assignment was on the FBI Long Island Gang Task Force where he was instrumental in our fight to eradicate MS-13 from Suffolk County. He was proud to be a cop and worked tirelessly and selflessly doing what he loved to the end. We extend our sincerest condolences to Detective Maldonado's family."
"Detective William "Willie" Maldonado truly represented the very finest that our department had to offer," Chief of Department Stuart Cameron said. "He battled cancer with an exceptional dignity and grace that was inspirational and without complaint. His work ethic was extraordinary and his efforts made Suffolk County a safer place. His good humor and smiling face will forever be etched into our memories."
Detective Maldonado was diagnosed with colon cancer in June 2015 after a routine colonoscopy. Tamaro loved Willie's positivity and said it was an honor to go on this journey with him. Tamaro is hoping Willie's death will be a reminder of the importance of early detection.
In addition to Tamaro, Detective Maldonado is survived by his daughters, Nicole, 23, and Brooke, 19.