Assemblywoman Jean-Pierre: State Budget Includes Funding for Two Local Addiction-Fighting Organizations
Babylon, NY - April 13, 2016 - Assemblywoman Kimberly Jean-Pierre (D-Babylon) announced that she helped secure funding for two local organizations on the front lines of the fight against addiction. The two nonprofits, Copiague Community Cares Coalition and Lindenhurst Community Cares Coalition, deliver important education and services to help prevent and treat alcohol and substance abuse in our community.
"Substance abuse and underage drinking are everywhere, and our community is no exception," Jean-Pierre said. "The dedication and compassion these community groups demonstrate are our best chance to reach people who need help most."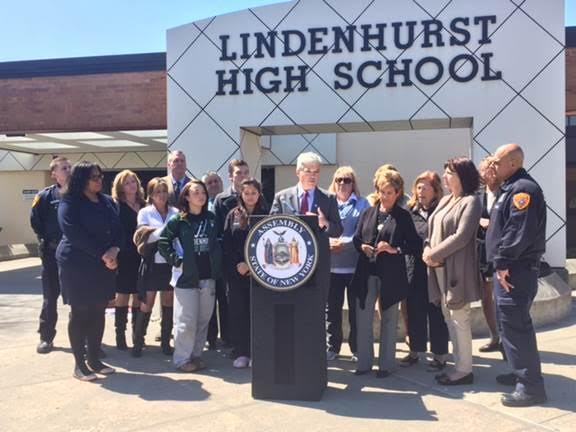 Suffolk County Executive Steve Bellone speaking of the importance of state funding for heroin and opiate abuse education.
Jean-Pierre helped secure $30,000 for each of the two community organizations in the 2016 state budget. The Community Cares groups use a coalition model to make their regions safer, healthier and drug-free. They focus on helping young people make smart choices by providing education and building their self-esteem. The 2016 budget also included $25 million for the Office of Alcoholism and Substance Abuse Services to help fight heroin and opioid addiction.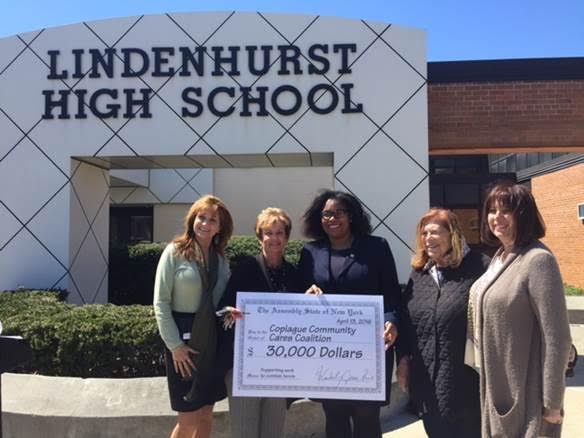 Assemblywoman Kimberly Jean-Pierre presenting a $30,000 check to Copiague Community Cares Coalition Members.
"We are excited to be a part of the team that sets in motion the campaigns and events that will provide educational resources and inspire collective ideas to help develop plans and solutions to local issues and problems that our youth and residents face each day," said Lori-Ann Novello, Project Coordinator of Lindenhurst Community Cares Coalition. "This kind of support from Assemblywoman Kimberly Jean-Pierre is evidence that together we can effect community level change to benefit all."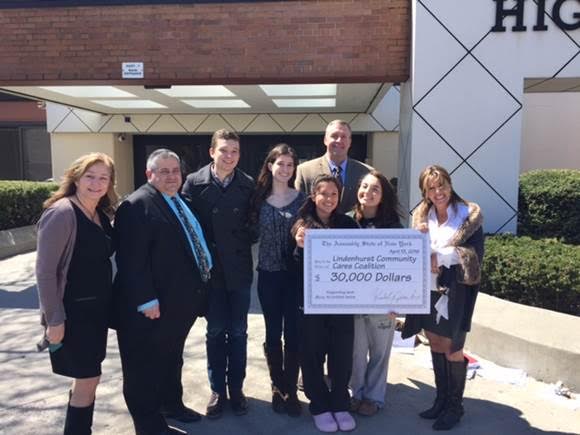 Assemblywoman Kimberly Jean-Pierre presenting a $30,000 check to Lindenhurst Community Cares Coalition Members.
"Copiague Community Cares is planning on using this money to work with the schools in our district to help implement an evidence-based education program for K-12 levels and to collaborate with other organizations within our community to advance awareness and education throughout Copiague," said Teri Kroll, Secretary of Copiague Community Cares Coalition.