2018 Long Island Business Expo Gearing Up to Be Biggest Ever; Offers Networking, Education, and More for Small Business Owners
Originally held in its inaugural year of 2016 at Hofstra University in Hempstead, and then moving the next year – following a major growth spurt – to the newly-renovated Nassau Coliseum, the Long Island Business Expo is an offshoot of the New York Business Expo, an event held annually at the Jacob Javits Center in Manhattan. The Business Expo will feature 175 individual exhibitors, with specific types of businesses divvied up into individual pavilions, covering fields such as marketing, technology, and finance; in addition, the day will be filled to the brim with special programming, guest speakers, seminars, classes, and more.
Event Management LLC President Marc P. Sherer, creator of the Long Island Business Expo, said that the experience at the Nassau Coliseum in 2017 was so positive that he decided to hold the event there again this year; however, considering the massive growth of the Business Expo in such a short amount of time, the resulting choice of possible venues that could accommodate such an event this year was actually limited by its increased scope.
"The show doubled in size when it went from year one over at Hofstra to year two when we moved it into the Coliseum...we experienced growth by our two major metrics, which are the exhibitors who participated and more importantly, the attendance," he said. "That means we're attracting a wider audience, and there are no other buildings on Long Island that could have hosted an event of this size, nor any that have the capabilities of the Nassau Veterans Memorial Coliseum."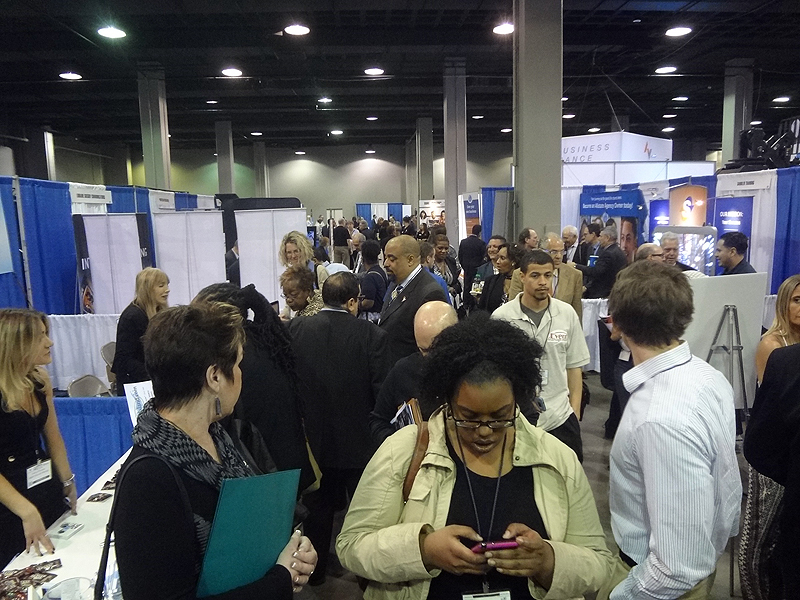 The Long Island Business Expo is a huge amalgamation of programming targeted specifically at and for the Long Island business community. Photo Credit: Chris Boyle
"When you do a first show in a building - such as the
Coliseum -
that hasn't been open in a number of years, there's always going to be some growing pains. It was an experience that was really exciting for most people there," Sherer continued. "We used the space in such a way that attendees got to see a lot of the new building, so it was a very cool experience for those who were in attendance. I think a lot of people walked out on a very high note."
Moving to the Coliseum not only gave Sherer the ability to expand the physical size of the Expo itself, but to also see to the continued improvement and evolution of the content that the event offers attendees as well.
"A major way the Coliseum improved the experience was with the deliverability of the content...our attendees are coming to our shows to access intellectual capital through our educational sessions. We had better meeting rooms, and the opportunity to do more sessions that were more accessible to the show floor," he said. "That's really where the value is for our attendees...many of them are small business owners who are looking for strategies to grow their business, and that's what our sessions are all about. We run about 30 sessions, we have two major keynote speakers, and two show floor theaters happening throughout the day. There's a ton of content that we have available and the capacity of Nassau Coliseum allows us to fit even more in.
The approach to the 2018 Long Island Business Expo was similar to the one Sherer took last year; give people more of what they liked and what worked, but at the same time find new and exciting ways to push the envelope and break new ground as far as the programming and resources that are made available.
"We try to do a healthy mix of Long Island talent, including a tremendous amount of very smart business educators. But because we also do the New York Business Expo at the Jacob Javits Center in Manhattan, we're able to access talent that comes from outside of Long Island as well," he said. "So we have great content, and that changes from year to year. The seminars that we had last year are not the same as the seminars we have this year, and I encourage everyone to go on to our website to see the full schedule, and on there is a full list of the speakers as well. The content this year is different, and there's a lot more of it."
The Long Island Business Expo will offer more vendor booths, speakers, seminars, and networking opportunities than any other business-specific event in the regiony. Photo Credit: Chris Boyle
Sherer also made a point of going in-depth into some of the more notable new additions to the Expo this year, ones that are sure to appeal to anyone looking to get head in the cutthroat world of modern business.
"We have one new event in particular that's really a good hand-in-glove fit for Long Island...we're doing a facilitated networking room. On Long Island there is a ton of networking opportunities, but a lot of people go to them and leave thinking they didn't get as much from that event as they wanted," he said. "We're going to have a whole room dedicated to facilitated networking this year, run by three expert networkers. And the cool thing is that it will not just be a seminar on networking…there will actually be networking AT that session. People will come, learn from the experts on what to do, and then they'll be able to actually implement those lessons directly in that room, during that session."
Another new innovation that is coming to the show this year is something called "A Taste of Long Island," which is essentially a food and networking event that starts late in the day. A Taste of Long Island will see some of the top restaurants in caterers from across the region offering samplings of their wares; in addition, there will be wine and beer stations setup throughout the hall, essentially a turning the entire Expo at that point into an business after-hours event.
The highlight of the 2018 Long Island Business Expo, however, will be the two exciting keynote speakers who will be sharing their personal expertise and experiences with attendees. Scott Duffy, founder of S1Media Studios, is ranked by Entrepreneur and Fortune magazines as one of the top 10 keynote speakers in the United States today; the other speaker, Jen Groover, is considered by many as a rock star in the field of business growth,
Sherer
said.
"Scott Duffy is a serial entrepreneur, but more importantly he's a great educator into how effectively to build a business and be successful," he said. "Jen Groover, meanwhile, has published seven books and has been on pretty much all of the major news television shows as a recognized go-to expert on small business."
The Long Island Business Expo has found it's permanent home at the Nassau Coliseum for not only for 2018, but hopefully for many years to come. Photo Credit: Chris Boyle
In addition to the keynote speakers, the Business Expo will also be offering a whopping 30 additional business and educational opportunities on the show floor throughout the day. One of the major programs is the Social Media Lab, where professionals can learn about the importance of platforms such as Facebook, Twitter, Instagram, LinkedIn and other websites and applications that could be used to promote their businesses.
The 2017 Long Island Business Expo hosted of a grand total of 4875 attendees; Sherer noted that this year's Expo is already on track to exceed that amount, easily making it the most successful outing yet for the auspicious event, signaling that the sky is the limit for the Long Island Business Expo going into 2019 and beyond.
"Shows are like the ocean- they tend to have tides. The tide's either coming in on a trade show or its it's going out. The tide for us is clearly coming in, and it's obviously not crested because our pre-registration is currently tracking about 30% higher than it was last year at this point," he said. "We're really excited about the new additions to our show this year, and we really think the Long Island Business Expo is the place for local business people and entrepreneurs to come, learn, grow, and become successful."