Governor Cuomo Announces Crackdown On Distracted Driving
Albany, NY - April 6, 2017 - Governor Andrew M. Cuomo today announced a statewide crackdown on distracted driving as part of April's National Distracted Driving Awareness Month. The crackdown, called Operation Hang Up, is a special enforcement effort to step up patrols and checkpoints targeting drivers on electronic devices from April 6 through April 10. Preliminary data indicates a 918 percent increase in tickets for texting while driving in New York State from 2011 to 2016. While tickets for cell phone use continue to decline, the proliferation of smartphones have caused texting tickets to rise every year since 2011.
"Distracted driving is dangerous and illegal, ad with this crackdown we are once again sending the message that making calls or texting behind the wheel will not be tolerated in New York," Governor Cuomo said. "State Police and local law enforcement will be out in force to ensure our roadways are safe, and I urge all drivers to act responsibly and put their devices down to prevent tragedy and heartbreak."
April traditionally marks the start of the spring driving season. In order to minimize tragedies as the traffic volume increases, State Police and local law enforcement agencies will be cracking down on distracted driving, along with other vehicle and traffic law infractions. In addition, the Governor's Traffic Safety Committee has released a new, animated Public Service Announcement highlighting the importance of keeping your eyes on the road while driving, which can be viewed here.
According to the National Highway Traffic Safety Administration, nationwide in 2015, 3,477 people were killed in distracted driving crashes and an estimated 391,000 were injured in motor vehicle crashes involving distracted drivers. In addition, according to a study conducted by the Institute for Traffic Safety Management and Research, in 2015, 160 persons were killed and more than 33,000 persons were injured in crashes in New York that had "driver inattention/distraction" reported as a contributing factor. The same report noted that 21 to 22 percent of police-reported fatal and personal injury crashes had "driver inattention/distraction" reported as a contributing factor each year.
New York State Police Superintendent George P. Beach II said, "Cell phone use and texting are responsible for a significant proportion of traffic crashes, injuries and deaths. If you're texting, you're not driving. While the New York State Police enforces New York's hand held cell phone and electronic device laws at all times, Troopers will crack down on violators during the Operation Hang-Up campaign."
Troopers will be using both marked State Police vehicles and Concealed Identity Traffic Enforcement vehicles as part of the operation in order to more easily identify motorists who are using handheld devices while driving. CITE vehicles allow the Trooper to better observe distracted driving violations. These vehicles blend in with every day traffic but are unmistakable as emergency vehicles once the emergency lighting is activated.
DMV Executive Deputy Commissioner and Acting Chair of the Governor's Traffic Safety Committee Terri Egansaid, "One call or one text can lead to one horrible mistake on the road, which in turn can have lifelong repercussions for motorists, cyclists or pedestrians. Through enforcement and awareness campaigns such as Operation Hang Up, New York continues to make progress in combating distracted driving. Our law enforcement officers are second to none, and I thank them for their continued efforts to enforce New York's traffic safety laws every day of the year."
During the April 2016 Operation Hang Up campaign, State Police issued more than 18,000 tickets, including more than 2,000 tickets for distracted driving. The tickets written were a combination of talking on a cell phone without a hands free device, texting, or using an electronic device while driving.
Distracted Driving Tickets Issued in New York: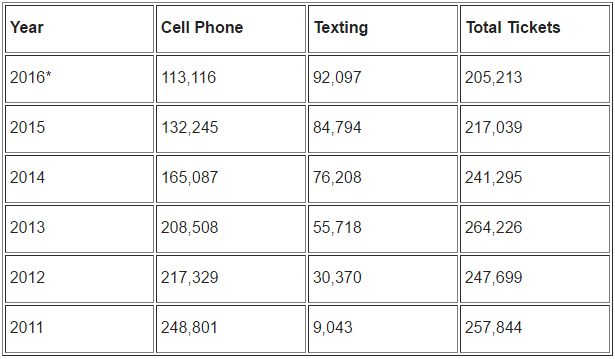 * Final counts for 2016 will be available in May 2017.
Current New York State law includes the following penalties for distracted drivers:
For a first offense, the minimum fine is $50 and the maximum is $200

A second offense in 18 months increases the maximum fine to $250

A third offense in 18 months results in a maximum fine of $450

Probationary and junior drivers face a 120-day suspension of their license for a first offense, and one year revocation of their permit or license if a second offense is committed within six months.