Long Island, NY - April 3, 2018 - Sadly, we're still not getting the spring weather that's practically owned to Long Island as a whole after all the nor'easters that we have been through as of late; instead, what we ARE getting is yet another storm…though, thankfully, there's no snow in the forecast this time. But according to the National Weather Service (NWS), what residents can expect, however, is rain and wind…and a great deal of it.
The NWS has issued a Wind Advisory which is in effect on Wednesday, April 4, from 12 p.m. to midnight. Potentially heavy rain and western winds with a strength of 20 to 25 MPH – with gusts of up to 50 MPH possible – will be developing behind a cold frontal passage Wednesday afternoon and reaching their zenith by Wednesday evening, according to the NWS. Strong winds will be capable of blowing down tree limbs, whole trees, and power lines, with isolated to scattered power outages being possible as a result.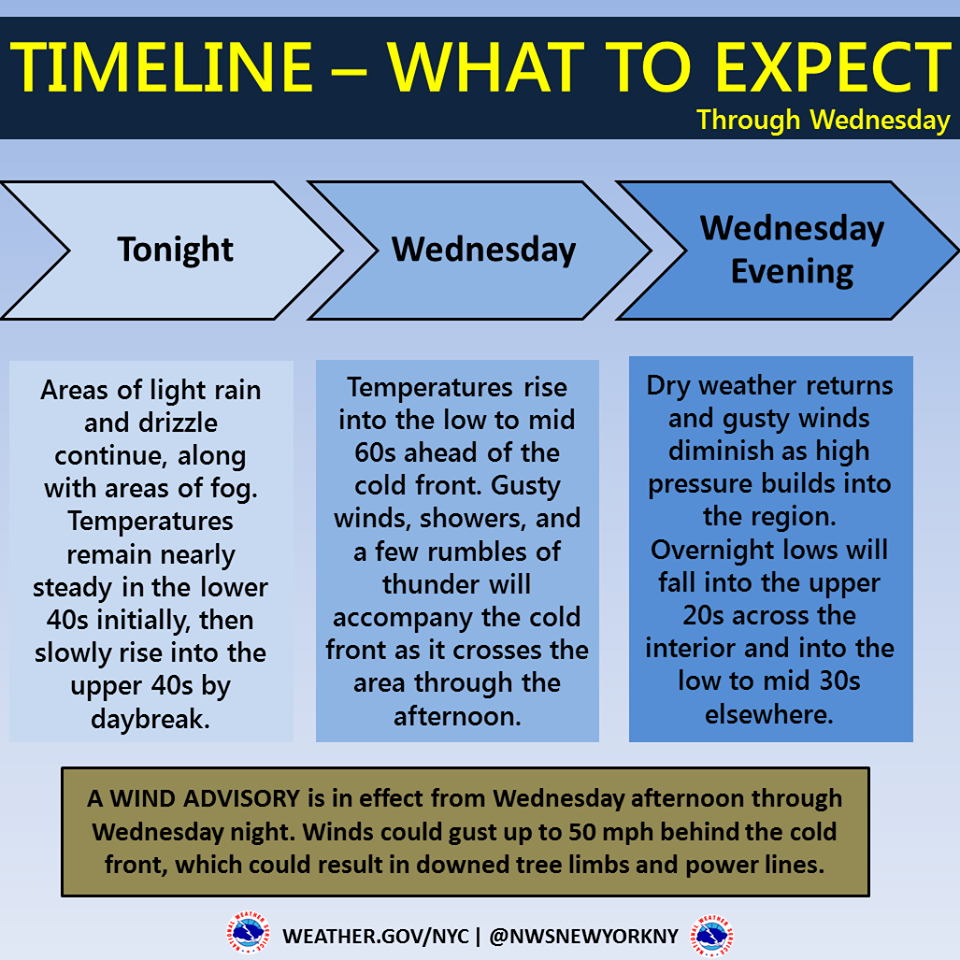 Typically, the NWS issues a Wind Advisory when sustained winds of 31 to 39 mph, or gusts of 46 to 57 mph, are expected or occurring. Winds this strong can make driving difficult, especially for high profile vehicles, in open areas, and on elevated roads and bridges. Residents are advised to use extra caution when venturing outside or traveling in such conditions.
John O'Connell, Vice President of Transmission and Distribution at PSEG Long Island, issued a statement that the utility company is prepared for the heavy rain and strong winds forecast to hit the region on Wednesday, with workers at the ready to respond to any issues or power outages that may occur.
"This storm has the potential to cause tree limbs to break and pull down wires," he said. "We are closely monitoring the weather. Our crews are ready to once again respond to any service interruptions experienced by our customers as quickly and safely as possible."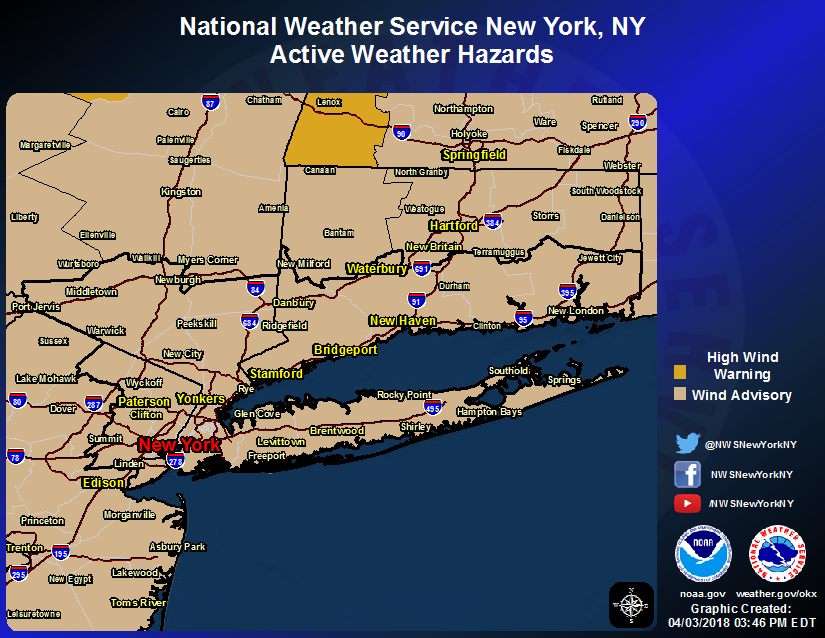 Residents are advised to prepare for possible power outages with blankets, flashlights, non-perishable food, water, and battery operated radios for storm and news updates.
Be prepared and stay safe during extreme weather:
To report and receive status updates on an outage Text OUT to PSEGLI (773454) or to report an outage online visit www.psegliny.com.

Follow PSEG Long Island on Facebook and Twitter to report an outage and to get updates before, during and after the storm.

Downed wires should always be considered "live." Do not approach or drive over a downed line and do not touch anything contacting the wire. To report a downed wire call PSEG Long Island's 24-hour Electric Service number: 1-800-490-0075.

Visit PSEG Long Island's outage map to view outage information across Long Island and the Rockaways at https://outagemap.psegliny.com.
Make sure everyone in the family is prepared and knows what to do if there is an emergency. Visit https://www.psegliny.com/page.cfm/Home/Safety to learn about safety tips, YouTube safety videos, and more.
The full forecast for the next several days, as per the NWS, is as follows:
Tonight: Light rain before 7pm, then areas of drizzle with a chance of light rain after 7pm. Patchy fog. Temperature rising to around 47 by 5am. East wind 5 to 8 mph becoming calm after midnight. Chance of precipitation is 80%. New precipitation amounts between a tenth and quarter of an inch possible.
Wednesday: Showers likely before 2pm, then showers and possibly a thunderstorm between 2pm and 5pm, then a chance of showers and thunderstorms after 5pm. Areas of fog before 2pm. High near 61. Windy, with a southwest wind 11 to 16 mph increasing to 21 to 26 mph in the afternoon. Chance of precipitation is 90%. New rainfall amounts between a tenth and quarter of an inch, except higher amounts possible in thunderstorms.
Wednesday Night: A 30 percent chance of showers before 7pm. Mostly cloudy, then gradually becoming mostly clear, with a low around 32. Wind chill values between 25 and 30. Breezy, with a northwest wind 16 to 23 mph, with gusts as high as 50 mph.
Thursday: Sunny, with a high near 46. Wind chill values between 25 and 35 early. West wind around 15 mph, with gusts as high as 29 mph.
Thursday Night: A 20 percent chance of snow after 3am. Partly cloudy, with a low around 35. West wind 6 to 11 mph becoming light southwest after midnight.
Friday: A chance of rain before 7am, then a chance of rain and snow between 7am and 9am, then a chance of rain after 9am. Mostly cloudy, with a high near 52. Breezy. Chance of precipitation is 50%.
Friday Night: A chance of rain showers before 3am, then a chance of snow showers. Mostly cloudy, with a low around 32. Chance of precipitation is 40%.