John Kouminas, owner of Karvers Grille in Holbrook, knew that he had to lend a helping hand during the coronavirus (COVID-19) pandemic. With frontline medical staff working in strenuous and dangerous conditions Kouminas decided that it was important that people stick together and lend a helping hand wherever they could.
A statement sent to LongIsland.com by the restaurant about their charity work described the work that the staff at Karvers Grille has been doing to donate food to local medical facilities to "keep their workers fed as they take the frontline through all of this."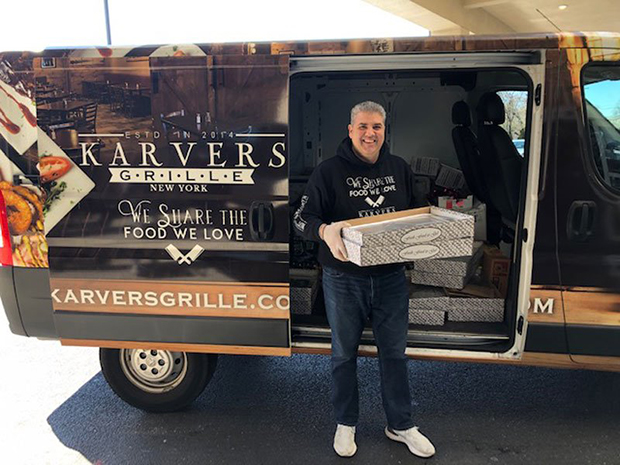 John Kouminas, owner of Karvers Grille. Photo: Courtesy of Karvers Grille.
Kouminas has delivered food to The Arbors Assisted Living in Westbury, Mather Hospital in Port Jefferson, and Sunrise Living in Holbrook so their employees can enjoy a hot meal during their shifts.
"All of these drop offs have been donated by Karvers out of the kindness of their heart to give back to the community that's loved and supported them over the past six years," the statement said.
Since the start of the stay at home order issued by New York State, the restaurant has offered a menu of special family meal deals for takeout and delivery for customers.
Kouminas said that anyone who needs help during this time can reach out to Karvers so they can help in any way possible.
Location: 480 Patchogue-Holbrook Road, Holbrook, (631) 868-7300.