White House Correspondent Maggie Haberman Headlines FMC's 2018 Folio Awards, Honoring the Best in News and Media
Garden City, NY – March 30, 2018 – The Garden City Hotel was host to the cream of the crop in journalism as the Fair Media Council presented its 2018 Folio Awards on March 29, an extravaganza highlighting and honoring the very best in news and media as determined by the very pickiest of critics- the public at large.
The Fair Media Council (FMC) is a non-profit media watchdog organization that works towards two very important goals- quality news to make for a better community, and creating a media-savvy society. Fair Media Council CEO and Executive Director Jaci Clement hosted the Folio Awards luncheon, and explained the FMC's overall mission to the audience- to develop a strong synergy between the media and the public they serve in order to create a more informed and knowledgeable society overall.
(L to R): Maggie Haberman, Jaci Clement. Photo Credit: Chris Boyle
"The Fair Media Council is all about advocating for quality news, because you deserve to know what's actually happening in the world. We focus on local news, but we look at national news as well. Local news is really all about what happens in your backyard, so we make the argument that it's the most important information you need to know," she said. "We want our news media to shine light in the dark places...we want our audience to know where our tax dollars are going, we want them to know their drinking water is safe, we want them to know if their schools are safe for their children. Those are the kind of stories that we push for. And by being here today, you're saying that those are also the stories that you want and value."
"And in turn," Clement added, "helping to make our public more media-savvy, to teach them to pick apart and examine the news instead of just accepting it at face value, results in an audience that's demanding better news, and that in turn makes are news better locally."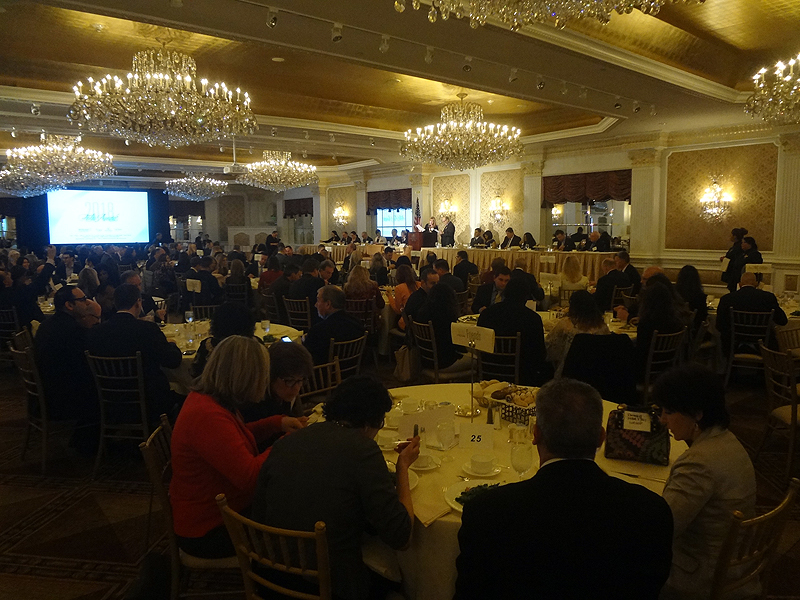 The Garden City Hotel was host to the Fair Media Council's 2018 Folio Awards. Photo Creidt: Chris Boyle
Clement lauded the tireless work of the news media that the Folio Award judges – hand-picked from local communities – were gathered to bestow honors upon that day; work that she noted is more important than ever in this day and age of so-called "Fake News," or news that is biased and often completely false, but passed off as the real thing by disreputable news outlets and politicians.
"As I'm sure you know, the news landscape of today has changed dramatically. It's not the news you grew up with," she said. "Today we have thousands of digital channels and social media with fake news. We have all those things going on out there, and we need to be actively teaching people what the difference is and what they need to know to be able to accurately gauge these things so they can find the news they need to live a better life."
This year's Folio Awards, which was co-hosted by award-winning news anchors Lea Tyrrell and Drew Scott and held memory of late Long Island journalism icon John Kominicki, was highlighted by Clement's sit-down interview with a very special guest- New York Times' White House Correspondent and CNN Political Analyst Maggie Haberman, who relayed fascinating tales of her busy and hectic life while covering the fast-moving presidency of Donald J. Trump.
Folio Awards were co-hosted by (L to R) Lea Tyrrell and Drew Scott. Photo Credit: Chris Boyle
Clement noted that Haberman – one of the few press corps members that have been with the Trump Administration from the campaign trail to the present day – was responsible for breaking more stories about the Trump White House than any other reporter going today. Clement and Haberman covered numerous topics relating to her experiences, including the temperament and transparency of President Trump; his accomplishments, foibles, and controversies; and his proclivity to Tweet about anything and everything that may be on his mind at any given moment, and the consequences - both good and bad - that always follow.
After the interview was complete, the awards ceremony began in earnest, with categories that included recognition for Breaking News, Feature Stories, Economic or Business News, Historical Features, Health and Wellness and more. In addition, the intense high-tech nature of today's news landscape was taken into consideration, with awards presented for notable Podcasts, Social Media, and coverage of technological phenomena such as Cyberbullying as well; indeed, the Folio Awards covered the complete spectrum of news in all its myriad and expansive forms.
(L to R): Maggie Haberman, Jaci Clement. Photo Credit: Chris Boyle
"The Folios cover life as we knew it for the past year. We witnessed unprecedented gang violence, election upsets, a drug epidemic that knows no mercy, political corruption, and progress in closing the door on parts of our history," said event co-host Lea Tyrrell. "Today you're going to see and hear the winning stories that achieve the highest scores from our judges, who felt that all entries were of exceptional quality this year, and all who participated should be congratulated."
To find out more about the Fair Media Council and the 2018 Folio Awards (to view a complete list of this year's winners, click here), visit their website at www.fairmediacouncil.org.