1. Old Fashioned: This American classic predates the motorcar and conjures images of smoky post-war speakeasies, which seems apt on our one day of prohibition.
You'll need
:
60ml (2oz) blended whiskey (Jameson etc)

A splash of simple syrup (or agave, maple etc)

2 dashes of bitters

Orange

Cherry
If you don't have bitter and have no intention of buying any, mix together 2 tablespoons of vodka or rum with a pinch of cloves, cinnamon, nutmeg, prunes and orange or lemon peel. Combine all the ingredients, pour over ice and garnish with a slice of orange or a cherry.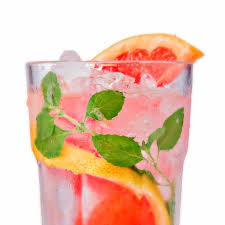 2. Grapefruit Mojito: If the ubiquitous mojito doesn't do it for you anymore then add some five-a-day to the equation. I've suggested a grapefruit but you could opt for an orange instead.
You'll need:
½ grapefruit

1 or 2 sprigs of fresh mint

Honey

40-60ml (1-2oz) white rum (to taste)

Club soda

Crushed ice
Muddle the grapefruit juice, mint and honey in a highball glass until everything's broken down. Add some cracked ice and top with rum and club soda for taste.
3. Cuba Libre: You probably know this one offhand. Your mind's probably whirring right now and going, 'Rum and coke, right?' And yes, it's basically rum and coke.
You'll need:
60ml (2oz) white rum

Juice and fruit of 1 lime (cut into quarters)

Coke (regular, diet, non-branded, whatever)
Squeeze your lime and drop your fruit into a glass, then add the rum and fill with coke. Simple as that!
4. Margarita: If you're the kind of person who likes to abstain from sugary liqueurs then ditch the triple sec and opt for a natural sweetener like agave. If you find you've some spare fruit juice in the fridge – I'd recommend cranberry – then make a pitcher by increasing the measurements and topping with juice.
You'll need:
35ml (1 – ½oz) Tequila

20ml (½oz) Triple sec

Juice of ½ fresh lemon or lime

Lime to garnish
Pour the ingredients with some ice into a cocktail shaker and shake for 20-ish seconds. Tip your concoction into a salted glass and garnish with a lemon or lime wedge. Pro Tip: No one likes stray salt in their drink; rub some lemon along the edges then dip the rim in salt.