Lynbrook Apartment Project Now Called The Cornerstone at Yorkshire
The builder of a proposed Lynbrook apartment building at 5 Freer Street released the name for their new project, The Cornerstone at Yorkshire. As previously reported in LongIsland.com, Farmingdale-based Terwilliger & Bartone Properties is planning a 4-story luxury rental apartment complex for the Lynbrook Motor Inn site at 5 Freer Street in Lynbrook, also known as the Capri Motel.
"We are thrilled to be preparing for construction of The Cornerstone at Yorkshire to begin this spring," said Anthony Bartone, Managing Partner of Terwilliger & Bartone Properties in a statement announcing the name change.
Bartone said he appreciated the input form the community and officials.
"...and we look forward to bringing a first-class residential community that will help support local businesses and contribute significant revenue to help strengthen the Village for years to come," he added.
The name of the project was derived from the section of the Lynbrook where the project will be located.
"After much discussion with village officials, the Chamber of Commerce, and local residents we decided to move forward with the Cornerstone at Yorkshire since the area we are located in is known as the Yorkshire portion of Lynbrook," the developer told LongIsland.com in an email.
The builder's statement included details about the project:
The Cornerstone at Yorkshire includes 80 sophisticated rental residences, comprising 28 studios, 44 one- and 8 two-bedroom units. Luxury amenities will offer the convenience of elevated apartment living attractive to a variety of lifestyles, from young professionals to empty nesters, including a modern fitness center, clubroom, courtyard, high ceilings, Quartz counters, stainless appliances, elevator, washer/dryer in all units and central air. Parking is provided on-site.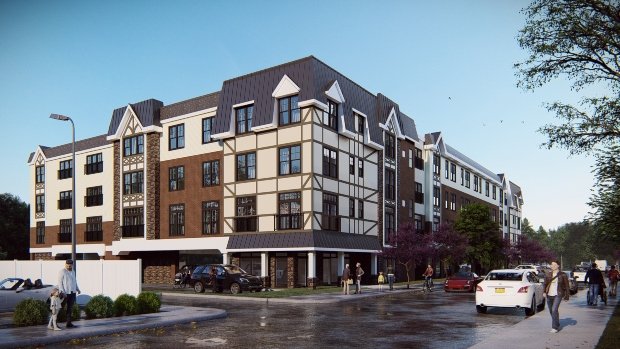 Rendering of the proposed Lynbrook apartment complex. Photo: Terwilliger & Bartone Properties.
Demolition of the current structure will begin this spring. The Cornerstone Yorkshire is anticipated to open in Fall 2021. Leasing is expected to begin in the Summer 2021.
A a pre-construction public meeting is being planned for Spring. A new website has also been created where the public can look for updates: www.cornerstoneyorkshire.com.