Suffolk Girl Scouts, Long Island Cares, and Local Officials Join Melville McDonald's for Grand Re-Opening
Melville, NY - February 28, 2019 - The Melville McDonald's restaurant located at 729 Route 110 recently held its Grand Re-Opening ribbon-cutting celebration, with the world-famous fast food franchise celebrating a new beginning after a period of renovation that saw the establishment receive a cutting-edge, 21st century coat of paint.
And to help usher in the new-and-improved eatery, members of Girl Scouts of Suffolk County, in partnership with McDonald's and local food bank Long Island Cares, concluded a long-standing food drive aimed at assisting the needy in the community.
McDonald's franchise owner/operator Carlos Morales originally purchased the Melville location in 2004, and in mid-2018 he presided over a floor-to-ceiling renovation of the entire establishment, updating the kitchen, furnishings, and technology to meet the demands of the modern customer, he said.
"Years back, the company decided that the brand needed to be refreshed to stay relevant with our guests. We started the renovations in early September 2018 and finished up in late November 2018," he said. "Among the additions are the new digital kiosks, which are available for folks who are on the go and just want to get in and take care of their orders themselves. As for the restaurant itself, it was really gutted…new glass, new walls, ceilings, tile, bathrooms...everything was upgraded, inside and out."
The renovated McDonald's now features
touch screen order kiosks.

Photo Credit: Chris Boyle
One of the new additions to McDonald's of Melville are large touch screen order kiosks that are situated in the front of the store, enabling customers to walk in and immediately place an amazingly customizable order simply using the tips of their fingers. But fear not- help is available if you're inexperienced and of course the counter – with real, live people – is still just a few feet away if you prefer that personal, human touch.
Once the renovations were complete, Morales did what is known in the industry as a "soft" opening, taking several months to iron out the kinks and to make sure that everything was running smoothly before the pomp and circumstance of a Grand Re-Opening celebration, which was held on February 27.
To help with the celebration, the Girl Scouts pitched in to do their part in helping their community by holding a food drive at the Melville McDonald's. This particular drive was held in partnership with Long Island Cares to assist furloughed federal workers affected by the recent month-long government shutdown, according to Karin Jensen-Mirabile, director of community engagement for the Girl Scouts of Suffolk County.
"We're just so thrilled to have a relationship with Long Island Cares, and we do several food drives for them throughout the year," she said. "This particular drive was terrific because it helped the local community. The Girl Scouts' mission is to build girls of courage, confidence, and character to make the world a better place, and what better way to do that than to help your neighbors?"
Posing with food collected by Girl Scouts during the food drive. Photo Credit: Chris Boyle
Paule Pachter, CEO of Long Island Cares, lauded the Girl Scouts and McDonald's for their assistance with his organization's vital mission.
"The Girl Scouts are a great partner with the regional Food Bank. In fact, five years ago we initiated an anti-hunger merit patch, where the Girl Scouts would do certain activities such as hosting food drives to earn the patch," he said. The partnership between the Girl Scouts, McDonald's, and Long Island Cares has been going on for a while now, and we really do appreciate what they do."
Huntington Town Supervisor Chad Lupinacci was also on-hand at the Grand Re-Opening, and before the ribbon-cutting was held in the restaurant's parking lot, he handed out certificates of merit to all involved in the food drive as a token of appreciation from the Town Board of Trustees.
"I just want to congratulate the Girl Scouts for being such young leaders and really giving back to the community and everything else that they do. That's very important to us," he said. "And you picked a good partner in McDonald's of Melville…Carlos Morales, the owner, has been here for many years, and he really gives back to the community, and it's important to have such good neighbors, people who help others throughout good times and bad times."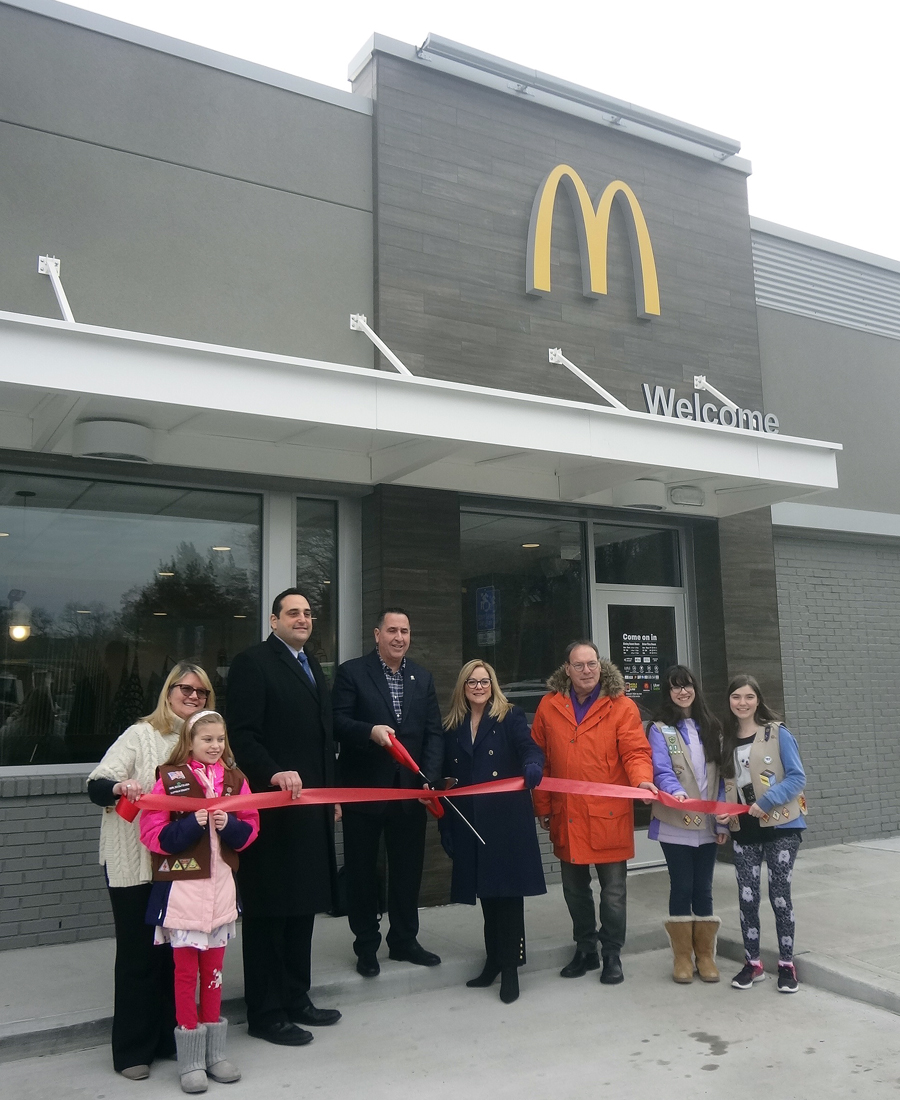 The ribbon-cutting was held on Febrary 27. Photo Credit: Chris Boyle
Overall, public reaction to the brand-spanking-new McDonald's has been overwhelmingly positive, Morales said, although a few regulars were initially perplexed by the new additions to their favorite meeting and eating spot. However, they were quickly won over, and are now enjoying their neighborhood McDonald's restaurant more than ever, he said.
"Some of the old-timers love the old McDonald's and what they were familiar with, and sometimes they don't like things like that to change," he said. "But when they started coming back in and they saw the same old faces saying 'hi' and remembering how they take their coffee or burger…then they know they're back home."