St. James, NY - February 16, 2017 - On February 15, award-winning journalist Eric Westervelt visited Harbor Country Day School to share his thoughts about the state of education today, gleaned from his experience as NPR's National Education Correspondent. The gymnasium of the nonprofit independent school in St. James was filled with parents, current and former educators and school administrators, students, and others eager to hear Mr. Westervelt's perspective on topics ranging from technology in schools to environmental education. The event was made possible by WSHU Public Radio.



Pictured: Eric Westervelt and WSHU Long Island Bureau Chief Terry Sheridan. Photo by Harbor Country Day School.
Terry Sheridan, Bureau Chief of the Long Island News Bureau of WSHU, moderated the discussion, which included a lively audience Q&A session. The event was part of WSHU's acclaimed "Join the Conversation" lecture series, which brings together thought leaders and public radio listeners for engaging discussions.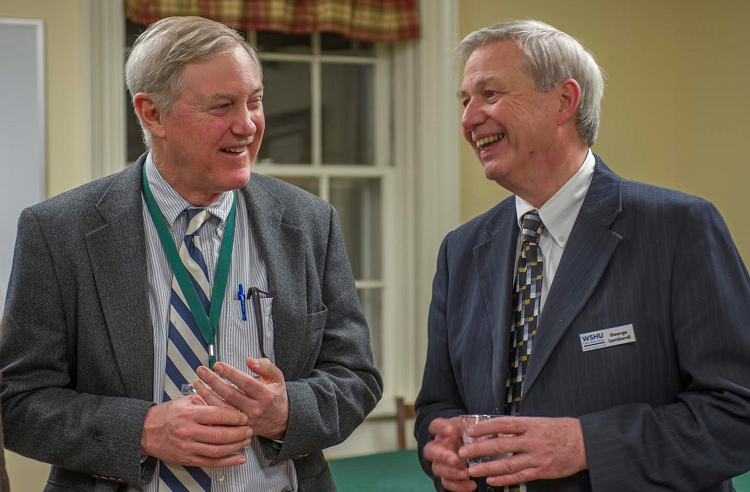 Picture: Harbor Country Day School John Cissel speaking with WSHU Public Radio General Manager. Photo by Harbor Country Day School.
"We are so pleased to have been able to bring NPR's Eric Westervelt to Harbor County Day School," said George Lombardi, WSHU Public Radio General Manager. "An important part of WSHU's mission is to engage with our community on important topics, and the discussion we had last night is a wonderful example of that."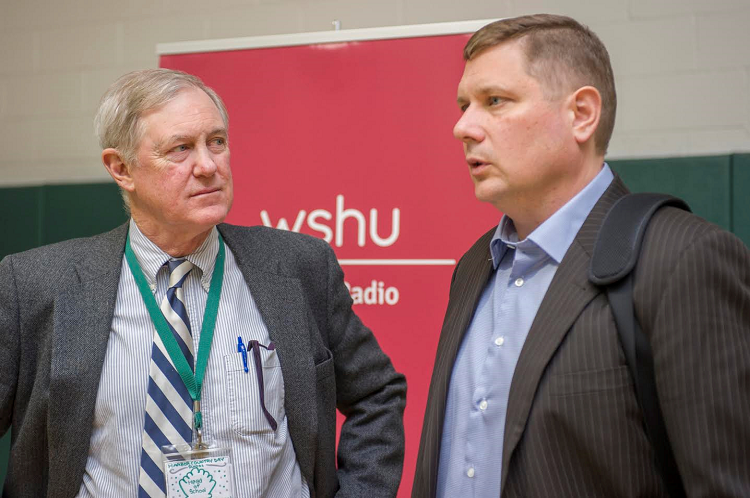 Pictured: Harbor Country Day School John Cissel speaking with NPR award-winning journalist Eric Westervelt. Photo by Harbor Country Day School.
John Cissel, Head of School at Harbor Country Day, added, "We were honored to have had this opportunity to host such distinguished guests as Eric and his colleagues from NPR. Eric incited an engaging, spirited and inspiring discussion. And much to my delight, the audience reinforced the value of many of the things we're already invested in at Harbor Country Day – professional development, project-based learning, the thoughtful use of technology in the classroom – while at the same time prompting us to think about other approaches. Opportunities like this to connect with our parents and the general public are invaluable, as we are continually evaluating and fine-tuning our program here at Harbor."

This event was the second public outreach event to take place at Harbor Country Day this school year. In November, the school hosted a public screening of the documentary film Screenagers: Growing Up in the Digital Age.
About Harbor Country Day School
Founded in 1958 by conscientious parents, Harbor Country Day School is an independent, co-educational day school for children from preschool through 8 th grade situated in St. James' Village of Head of the Harbor. The school employs a whole-child approach to education, wherein its rigorous curriculum is supported by a broad program in its academic, athletic, advisory, and visual and performing arts departments designed to develop all aspects of each child's talents and interests. Harbor Country Day School's summer camp program, Camp Harbor, is among the leading summer camp programs on Long Island. The school's mission to "cherish childhood, cultivate wonder, and inspire confident learners and leaders" underscores every child's experience at Harbor Country Day School and ensures that all of its graduates are prepared to lead fulfilling lives filled with wonder, confidence, and many successes.
Harbor Country Day School is chartered by the New York State Board of Regents and is accredited by and a member of the New York State Association of Independent Schools (NYSAIS). It is a non-sectarian, nonprofit organization under section 501(c) (3) of the IRS Code governed by a self-perpetuating board of trustees. For more information, visit www.hcdsny.org.

About WSHU Public Radio
WSHU Public Radio is a group of not-for- profit, member-supported stations that bring the best in public broadcasting to more than 272,000* listeners on Long Island and Connecticut. An NPR member since 1984, the station airs highly regarded national programs such as Morning Edition, All Things Considered, Wait Wait…Don't Tell Me!, and Marketplace; locally-produced classical music; and its own regional news coverage for which it has won eight Edward R. Murrow Awards and scores of other prizes. Its classical music program Sunday Baroque is syndicated and heard on over 100 stations nationwide. In addition to broadcasting on 12 traditional radio frequencies, it streams all of its programs at www.wshu.org.