Islip Terrace, NY - February 14, 2019 - On February 12, 2019, the New York State Police arrested Paul F. Rizzo Jr., age 57, of Centereach, for Criminal Possession of a Weapon 2nd degree, Reckless Endangerment 1st degree, Criminal Mischief 2nd degree, Menacing 2nd degree, Reckless Endangerment of property and Unlawful possession of marihuana.
An investigation revealed that at approximately 5:20AM, Rizzo was involved in a road rage incident that originated at a Gulf gas station on Sunrise Hwy in Islip Terrace, when the other party involved exited the gas station in the path of Rizzo.
The incident continued onto the Southern State Parkway westbound, both vehicles swerving at each other until exit 43, where Rizzo grabbed his loaded handgun and fired one round from the driver's window striking the front passenger side of the other vehicle.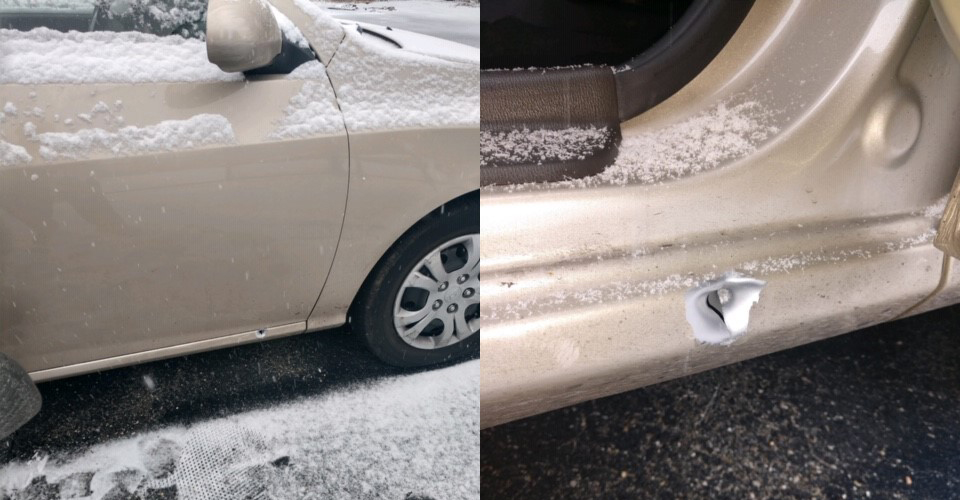 Photos of the vehicle struck by the alleged gunshot. Photo Credit: New York State Police
The other driver contacted 911 and followed Rizzo until members of the State Police pulled over both on the Long Island Expressway at Commack Road, and Rizzo was taken into custody.
The other driver was not charged.
Rizzo is being held for arraignment at Suffolk County First District Court.
A criminal charge is an accusation. A defendant is presumed innocent until and unless proven guilty.