Looking to harness a holistic and spiritual approach to health and healing in ways you never thought possible? The answer lies not online or in books, but right here within the confines of our very own Long Island;
The Healing Center at Port Jefferson Salt Cave
offers a plethora of unique and fascinating options to address both your inner and outer well-being, and it's waiting for you to try it out today.
Having opened their doors for business four years ago at 320 Main Street in Port Jefferson, New York, the Port Jeff Salt Cave is centered around, as the name would suggest, the intense healing and therapeutic benefits of an actual salt cave – a cool and darkly atmospheric man-made alcove comprised of three tons of pure salt – located right on the premises.
"The salt cave is a room constructed out of several tons of pink Himalayan salt, for aesthetics. There are fiber optic lights on the ceiling to produce a starry night effect along with a full moon mural, and it's very soothing," said owner Marcy Guzman. "In addition, the floor is covered with several inches of granular pink Himalayan salt in addition to being heated, and around the room they're also 1-to-200 pound salt boulders that are also heated."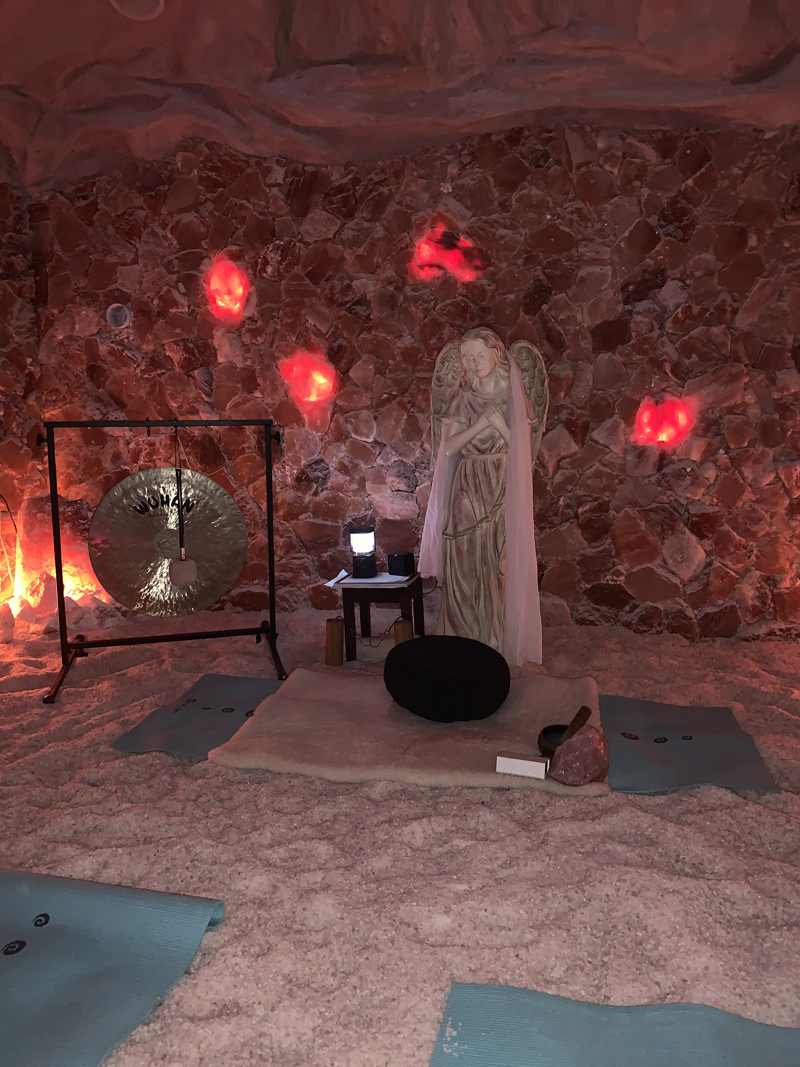 When you breathe in a concentrated amount of salt air, it has numerous therapeutic effects, as reported by theNew England Journal of Medicine. Photo Credit: Port Jeff Salt Cave
All of this combines to make for an otherworldly and soothing environment. However, Guzman notes, all of that would be for naught if it were not for the heart of the salt cave- the halo generator.
"If there's no halo generator, there's no therapy in the room aside from the aesthetic portion of it. The Halo generator channels micro-particularized, purified, pharmaceutical grade salt into the air for inhalation therapy, also known as halotherapy," she said. "When you breathe in a concentrated amount of salt air, it has numerous therapeutic effects. The salt air is antibacterial, antiviral, antifungal, and even antimicrobial. It eases congestion in the respiratory tract, so it will clean out the sinuses, the lungs, and even bring down inflammation, in addition to boosting the immune system. It's pretty powerful stuff."
In addition, the heated salt in the cave provides additional benefits- it causes the salt to release negative electrical ions that will subsequently capture anything in the air that is positively charged; this, Guzman said, would include most bacteria, viruses, molds, dust, and other things harmful to your well-being.
The typical salt cave session consists of the participant reclining into one of the comfy chairs within the dimly-lit cave; the door is closed, and they are left to the sounds of soothing music throughout the course of their stay as aerosolized salt gently fills the air. It makes for an immensely relaxing experience in a variety of ways- mentally, physically, and even spiritually.
Guzman has a background in the medical field, being a registered nurse; formerly employed by a private company in Manhattan, she began finding her busy job very stressful, and vowed to start making more downtime for herself. To that end she took the suggestion of an acquaintance to check out the benefits offered by salt caves; after experiencing one first-hand with her husband, she began to do research and decided to open up one of her own.
"I'd been working in the city with its poor air quality, and here I was in the cave and I could finally breathe through both of my nostrils. And my husband is allergic to pretty much everything and that stopped, and we noticed these effects continue for a couple of days," she said. "And so we decided to do our homework and open up our own salt cave. My husband had been pushing me to do something along these lines already, since I'm a Reiki Master and I'm very holistic, and when we found the salt cave we both knew that this was it."
In addition to the salt cave, the establishment also offers many other holistic services, including yoga, cryoskin fat-loss therapy, Reiki, and more. Photo Credit: Port Jeff Salt Cave
A local resident, Marcy wanted to remain in the Port Jefferson area due to its ideal location. She discovered a good storefront to set up in on Main Street, and began the long process of renovating it to suit her needs.
"I wanted to be close to the water, but not too close for insurance reasons, and Port Jeff is my town so to be able to work where I live is a blessing," she said. "The building we found was from the early 1800's, so we had to improve the support to hold up the weight of the salt cave, and then we began the process of building the cave itself with a professional cave builder...every stone you see in there was placed by hand, all three tons of it."
While the centerpiece of the Port Jeff Salt Cave is, of course, the salt cave, the establishment also offers a plethora of other helpful and holistic services, including yoga, cryoskin fat-loss therapy, soundtherapies, naturopathic remedies, and an array of body treatments, including Reiki, aroma touch therapy, EFT/tapping, salt bed skin therapy, facials, and much, much more.
Due to the success of the Port Jeff Salt Cave, Guzman opened up a second location this past September in Riverhead called
Float Away Emotional Wellness Spa
. A slight departure from her Port Jefferson location, Float Away features a "salt lounge" with color-changing LED lighting, putting a sleek and modern spin on the salt cave concept. The establishment also has salt float pods, which allows participants to float in an Epsom salt-heavy solution of water, providing an incredible sense of relaxation to the body's musculature while decompressing the joints and removing tension overall.
The response to the Port Jeff Salt Cave has been overwhelmingly positive, Guzman said, and the joy she feels for being able to get out of the big-city rat race and make a living embracing her true love and passion is immense.
"It's so humbling...we've literally served thousands and thousands of people here. People actually come to us from the boroughs. We're here to serve, heart, mind, and soul," she said. "I'm doing what I love and I love what I'm doing...it's hard to feel stressed out when all you're doing is giving yoga classes and sound healings in a salt cave. It's a really nice life...I'm blessed."