Farmingdale, NY - January 10, 2017 - Governor Andrew M. Cuomo today proposed a bold, multi-faceted proposal to combat every angle of the heroin and opioid crisis in New York State. The Governor's proposal builds on the success of the legislative package he signed in June to increase access to treatment, expand community prevention strategies and limit the over-prescription of opioids in New York. The proposals aim to eliminate insurance barriers and further expand access to effective treatment, curb overprescribing, and get fentanyl and other synthetic opioids off the streets.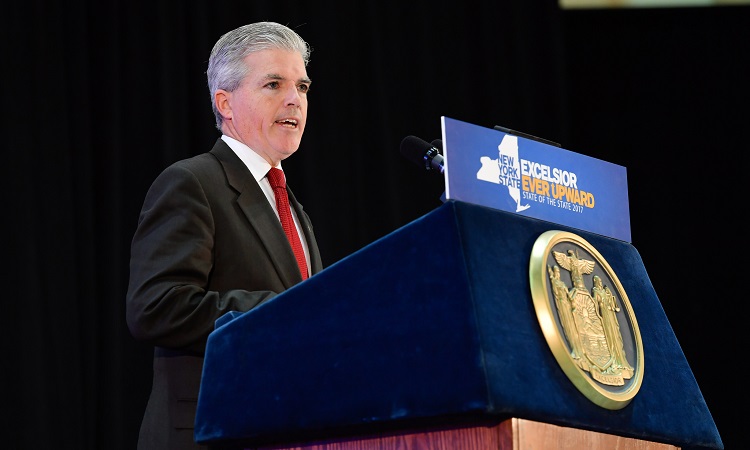 Suffolk County Executive Steve Bellone at 2017 State of the State Address on Long Island. Photo Credit: Governor Cuomo's Press Office, via Flickr.
"New York has made great strides in combatting the devastating epidemic of heroin and opioid addiction, but this crisis continues and we must continue to do everything in our power to combat each facet of this complex health emergency," Governor Cuomo said. "This multipronged plan addresses each component of heroin and opioid addiction – prevention, treatment, and recovery – in order to help break this cycle of misery and save lives."
The six-point plan put forward in Governor Cuomo's State of the State address is outlined below:
Eliminate prior authorization requirements to make substance use disorder treatment available to all

Add fentanyl analogs to the New York controlled substances schedule to subject emerging synthetic drugs to criminal drug penalties\

Increase access to life-saving buprenorphine treatment by recruiting health care providers to become prescribers.

Establish 24/7 crisis treatment centers to ensure access to critical support services

Require emergency department prescribers to consult the Prescription Monitoring Program registry to combat "doctor shopping"

Create New York's first recovery high schools to help young people in recovery finish school
Eliminate Prior Authorization Requirements to Make Substance Use Disorder Treatment Available to All
The historic legislation signed by Governor Cuomo last year dramatically improved access to inpatient treatment for New Yorkers facing addiction. However, not all patients are appropriate for inpatient treatment, and still need immediate access to services. Many can recover in outpatient treatment programs, including individual, group, and family counseling, relapse prevention, and cognitive and behavioral interventions.

To make immediate access to all types of treatment possible, the Governor proposes expanding on the legislation signed in June 2016 to eliminate insurance prior authorization for inpatient treatment to include outpatient treatment.

Add Fentanyl Analogs to the New York Controlled Substances Schedule to Subject Emerging Synthetic Drugs to Criminal Drug Penalties
Fentanyl is a synthetic opioid more potent than heroin that is responsible for an alarming number of overdose deaths in New York and across the country. Overdose deaths from synthetic opioids like fentanyl have increased by 135 percent in New York State from 2014 to 2015. Many drug dealers sell heroin mixed with fentanyl, or pure fentanyl sold as another type of less potent opioid – much of the time unknown to the users. Often, however, these drugs are not on New York's schedule of controlled substances because there are minor tweaks to their chemical structures that make them slightly different but equally, if not more, dangerous than their illegal counterparts.

To get fentanyl off the streets, Governor Cuomo calls for the subjecting of fentanyl analogs to drug penalties and adding eight variations of the substance into the New York controlled substances schedule, which would subject them to criminal drug penalties.

Governor Cuomo also proposes legislation to create an emergency Executive Authority to add new substances to our controlled substance schedule based on risk to public health and the recommendations of experts and the Commissioner of Health. The Executive Authority will help law enforcement fight threats like fentanyl as they emerge.

Increase Access to Life-Saving Buprenorphine Treatment by Recruiting Health Care Providers to Become Prescribers
Buprenorphine is a medication used to treat opioid addiction that, when taken as prescribed and combined with counseling, is safe and effective. However, access to buprenorphine is limited by the number of health providers who are registered, as required by federal law, to prescribe it.

To increase access to this highly effective treatment, the Governor proposes a concerted effort by the Department of Health to recruit more doctors, physician's assistants, and nurse practitioners to become buprenorphine prescribers. The Department will do this by offering regional trainings for providers to become registered, offering mentoring for new buprenorphine prescribers, and expanding the number of locations where buprenorphine is available.

Establish 24/7 Crisis Treatment Centers to Ensure Access to Critical Support Services
This year, based on recommendations from his Heroin and Opioid Task Force, Governor Cuomo advanced legislation that removed insurance barriers to treatment such as prior authorizations for inpatient services and multiple, confusing rubrics for determining the level of care a patient needs.

Too often, however, access to treatment is delayed by the need to make an appointment during weekday business hours. This means a person in crisis, such as someone at a hospital emergency department, cannot access addiction treatment services when they are ready to make the commitment to care.

To ensure access to treatment for all New Yorkers in need, Governor Cuomo will direct the Office of Alcoholism and Substance Abuse Services to develop ten 24/7 urgent access centers with crisis intervention on-call services, one in each region of the state. The centers will provide individuals in crisis with access to clinical staff who will perform assessments and level of care determinations 24 hours a day, seven days a week, and connect individuals to care immediately.

Require Emergency Department Prescribers to Consult the Prescription Monitoring Program Registry to Combat "Doctor Shopping"
The link between the overprescribing of painkillers and the opioid addiction epidemic is well established. In 2012, Governor Cuomo signed legislation enhancing the State's Prescription Monitoring Program and requiring health care providers to consult the Registry before writing opioid prescriptions. Since 2013 the State has reduced "doctor shopping" by more than 90 percent and implemented the first electronic prescribing mandate in the nation.

Patient prescription histories contain critical information for healthcare providers to prevent or identify addiction to opioid painkillers. However, certain health care providers are exempt from the requirement to check the PMP before writing a prescription. To address this critical gap, Governor Cuomo will advance legislation amending the 2012 law, to require the use of the Registry before controlled substances are prescribed in the emergency department of a general hospital.

Create New York's First Recovery High Schools to Help Young People in Recovery Finish School
One of the greatest challenges during a young person's time in recovery is returning to school. Virtually all youth in recovery reported being offered drugs their first day back at school. Recovery schools are "schools within school" where students in recovery can learn in a substance-free and supportive environment and have proven to be an effective model to help youth in recovery stay healthy and graduate.

The Governor will propose legislation to create New York's first recovery high schools in regions of the State hit especially by the disease of addiction. Boards of Cooperative Educational Services will submit proposals to the Office for Alcoholism and Substance Abuse to establish the first schools, one upstate and one downstate, in partnership with local social service agencies. The new schools will be operated by the Board of Cooperative Educational Services, which are funded by sponsoring school districts. Enrollment will be open to all high school students with a diagnosis of a substance abuse disorder and a commitment to recovery.

Governor Cuomo's Previous Initiatives
Since 2014, Governor Cuomo has implemented a series of aggressive reforms to combat heroin and opioid addiction, including:
Limiting initial opioid prescriptions for acute pain from 30 to 7 days

Expanding insurance coverage for substance use disorder treatment

Increasing access and enhancing treatment capacity across the state, including a major expansion of opioid treatment and recovery services

Implementing the comprehensive I-STOP law to curb prescription drug abuse

Launching a public awareness and prevention campaign to inform New Yorkers about the dangers of heroin use and opioid misuse and the disease of addiction

Assembling a task force to propose initiatives to tackle the heroin and opioid epidemic