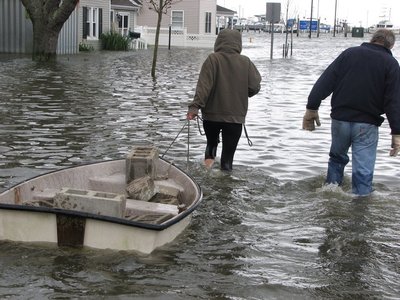 Longtime residents did not expect to have to use their flood insurance or lose their homes when Superstorm Sandy tore through the New York tri state area on October 29, 2012. The damage from this storm was devastating and has been completely life altering for thousands upon thousands of families in New York, New Jersey, Connecticut, Staten Island and on Long Island.

Many homes with extreme damage have been condemned. Yet even with flood insurance policies, some families have not received appropriate compensation to start to rebuild their homes and their lives.

The home of Jason Crea of Woodbridge stands out on his block. The house's basement walls were blown out and a foot of water still stands inside. After he received his insurance check, he hung a big sign right over his demolished basement and view of his homes damages. The sign says "Allstate Gave Us $37.74 and All We Got Was This Lousy Sign", the Woodbridge Patch reports.

His home was hard hit on Watson Avenue, as Sandy's flood waters caused a nearby river to destroy most of the homes on his block. Despite having flood insurance, he received a check from Allstate for only $37.74, after his deductible was met. He's been battling the insurance adjuster who according to Crea, "smiled constantly" while telling him that nothing in his home was covered.

Because the basement was unfinished and under the flood zone, none of the valuables being stored there were covered. The adjuster told him that the mudroom would be covered, but the storm surge upended and dumped most of the items that were there into the water. Crea says when he purchased the contents insurance policy he explained that he would be using the basement to store valuable items and, "They just smiled and took my money."

He isn't eligible for much else. The Federal Emergency Management Agency (FEMA) gave him some money to replace a washer and dryer, but that's been pretty much it. Crea says he isn't even eligible for rental assistance because, "FEMA said I make too much money."

Facing a mandatory evacuation during the storm, Crea and his wife stayed at a nearby community evacuation center. The day after the storm he spent swimming to his home to try to salvage whatever valuables he could. The next day, he was back at work as a senior substation operator for Con Edison in New York, working to get the lights back on for New York and Staten Island residents. He and his wife are staying at his parent's home and are currently hoping the building department will declare their home irreparable so they qualify for the full amount to rebuild.

Sadly, many of the homeowners affected by this storm have faced similar issues with their insurance policies, or with delays that have prevented them from getting the money they need to start making repairs to their home.

Governor Andrew Cuomo has pushed for New York residents who have had their homes damaged by Sandy to receive faster access to payments from insurance companies to rebuild and repair. He has said that several leading banks and mortgage providers have agreed to remove the "stringent" requirements that have delayed money from being released.

"Homeowners need help now and that's why insurers are sending advance checks to meet their immediate needs," said Cuomo. "Any delay in making these types of critical home repairs can mean the difference between a family being able to live safely in their home or remaining needlessly displaced for weeks or even months."

Residents in New Jersey are facing similar issues as well, like this man whose house is currently floating in the bay off of Mantoloking. Meanwhile, House republicans have failed to pass the $60.4 billion Sandy relief package to help the affected communities begin to rebuild.

Have you dealt with Sandy damages and faced similar issues with your insurance company? We would love to hear your story. Share your thoughts on this article by submitting your comments below or in our Long Island Living discussion forum.