It's hard to miss. The big sign hanging off the roof with five letters: LUNCH. That's what many people just call the famed restaurant on Montauk Highway on the East End of Long Island.
Simply, Lunch.
The original Lobster Roll location on Montauk Highway in Amagansett. Photo: Lobster Roll AKA Lunch Facebook page.
Smaller, but unmistakably, underneath the signs says the real name of the place, Lobster Roll. As much of a premier menu item as it is a name.
For almost 60 years this shack in Amagansett has been serving locals and visitors alike, typically stopping on their way out or back from Montauk. And for most of that time, this has been a singular experience, one that shuts down every winter.
All that changed in December.
Co-owners Fred Terry, Andrea Anthony, and Paul DeAngelis have teamed up with a business development company to expand the iconic brand beyond just one small - yet legendary - location on the South Fork.
And they have big plans, the first of which is the opening of a second, year-round, location in Southampton. Sticking with what they called their "modern nostalgic shack vibe" for this new spot, the restaurant will keep to its roots as a seafood hot spot for East End visitors.
Expansion plans of the brand will eventually include everything from new merchandise to grab-and-go food items to doggy apparel.
Interior of new Lobster Roll Southampton location. Photo: Lobster Roll AKA Lunch.
"We go for a retro vibe, we're from the '60s, and we embrace that," said Anthony of their Southampton restaurant.
She said they plan on bringing those nostalgic vibes all year long for day-trippers and vacationers alike to stop for lunch, dinner, and even just grab a few cocktails.
Lobster Roll in Southampton will still offer their classic hot or cold lobster rolls. But the menu will include additional items like steamers and broth, a quart of South Fork classic "soft shell" clams and the classic fish n' chips, lightly battered Atlantic cold-water cod fried to crispy perfection and accompanied by tartar sauce. They will also serve a hearty Manhattan seafood chowder, tomato-based soup with fresh clams, shrimp, scallops, and cod and the soup-n-slider, a cup of either Manhattan or New England chowder accompanied with a classic lobster salad slider.
Lobster Grilled Cheese, fresh lobster meat with your choice of cheese, is also being offered.
Main courses include, baked stuffed flounder, which is a house favorite, featuring crabmeat stuffing with mild melted cheese and finished with scampi butter, and Paul's famous seafood chili, a blend of shrimp, lobster, scallops, and beans topped with melted cheddar cheese, sour cream, and scallions.
Those who still have room for dessert should try the caramel apple crisp a la mode, cinnamon-spiced fresh apples baked with a buttery oat crumb topping, drizzled with gooey caramel and served with a choice of vanilla, cookies, and cream, or butter pecan ice cream.
Cocktails include Bacardi rum splashes, frozen daiquiris, Basil Hayden Manhattans and Belvedere cosmopolitans. Lobster Roll will also be debuting a finely-tuned wine menu that features a local Long Island favorite such as Wölffer Estate.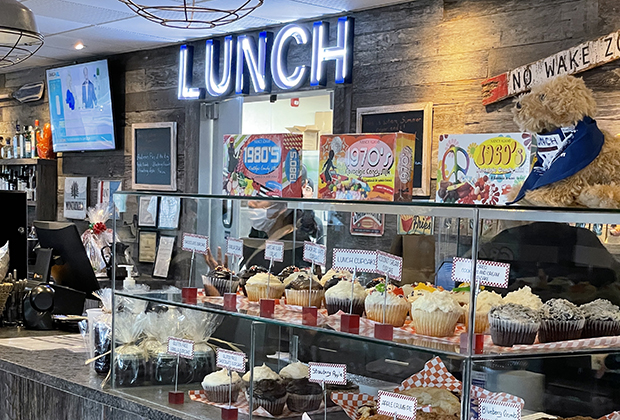 Interior of new Lobster Roll Southampton location. Photo: Lobster Roll AKA Lunch.
Lobster Roll Southampton will be open on Monday from 11:45am to 4:45pm, and Thursday, Friday, Saturday, and Sunday from 11:45 am to 9pm. They will be closed on Tuesday and Wednesday.
Location: 32 Montauk Highway, Southampton, (631) 283-3460.