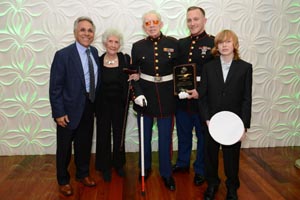 Scotto Brothers' Third Annual Toys for Tots Holiday Gift Drive and Celebration held at the Fox Hollow Catering, in Woodbury, was a record breaking success. Over 1,000 toys were donated by hundreds of people leading up to and attending the celebration. In keeping with the Scotto Bothers' holiday tradition of honoring a member of the armed forces, Mr. James Gerald Dillon of Lynbrook, NY, a highly decorated World War II United States Marine Corps veteran, was saluted as the honoree and recognized for his exemplary military service. Marines of the 2nd Battalion, 25th Marines reserve infantry battalion, 25th Marine Regiment and the 4th Marine Division United States Marine Corps headquartered in Garden City received the collection of toys to distribute through its Toys for Tots program to underprivileged children.
"The holiday spirit was truly alive at this year's holiday celebration. It was a wonderful opportunity to honor James Dillon, an American hero who served our nation with distinction as a United States Marine during WWII. The Marines were elated to learn that so many toys were donated to our Toys for Tots drive which resulted in the collection of 1,000 toys. We are thankful for the generosity of so many people. The toys will bring much joy to children across Long Island. It was heartwarming to see all the children at the event enjoying the tree lighting, the entertainment and having their pictures taken with Santa," said Anthony Scotto, President of Scotto Brothers.
The celebration included the U.S. Marine Color Guard based in Garden City as well as firefighters of the Syosset Fire Department who parked fire trucks onsite for families and children to explore. Entertainment was provided by North Shore Studio of Dance, Top Hat Entertainment and VaVoom Events. ADA Studios donated the photos with Santa. Complimentary desserts were provided by Fox Hollow.