Brooklyn Underperforms, but New York Shines Bright
Jets Rise Above Jaguars
Time Tebow replaced Greg McElory on the active roster as the Jets journeyed to the former Bronco's hometown of Jacksonville, but neither backup would be given an opportunity to stir up New York's ongoing quarterback controversy this weekend.
Mark Sanchez was a sufficient 12/19 for 111 yards (and ran for an additional 11 between three plays) on Sunday. He did fumble once, and there was not a single touchdown to be found in the air, but he did not toss an interception this week. The Jets let their ground game do most the work with Bilal Powell and Shonn Greene rushing for 78 and 77 yards on 19 and 20 carries respectively. The duo was also responsible for both of the Jet's touchdowns.
The game was not pretty (both teams punted early and often—a total of 15 times, in fact) nor was it particularly impressive on the offesnsive side of the ball, but it was enough to topple a 2-10 Jaguars team by a final score of 17-10.
Coupled with last week's win over the equally beleaguered Arizona Cardinals, this game actually preserves an outside chance of a wildcard berth for the Jets. Now 6-7, Gang Green closes the season with three very winnable games against the Titans (4-9), Chargers (5-8), and Bills (5-8). If the Jets can manage to win out and either of the frontrunners for the second wildcard—Pittsburgh and Cincinnati, both 7-6—New York could find themselves on a playoff run in much the same fashion as their first year with Sanchez and Rex Ryan.
The Jets will play the Titans during next week's Monday Night game.
Giants Roll Over the Saints
At several points throughout the night, the reigning Super Bowl champs looked as though they would be playing as sloppy a game as their green counterparts, but Big Blue would eventually win under much more striking terms.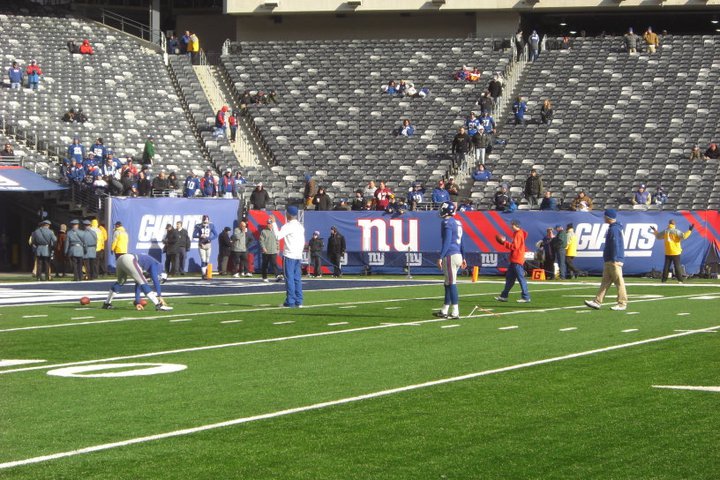 The first points of the game came at the hands of an Eli Manning interception, but the Giants evened the scoreboard with a 97 yard kickoff return courtesy of rookie David Wilson. New York would see their good fortune rise with a Saints fumble on the ensuing drive, which Eli capitalized upon for his first TD on the night.
A pair of Hartley field goals closed the first half gap to within 1 and, despite a 55 yard return from Wilson, Tynes could not put up a FG of his own on his first attempt. This was only the beginning for Wilson, however, as he rushed for 100 yards and racked up over 200 off kickoff returns for a team-record 327 all-purpose yards (and two touchdowns to boot).
Despite two interceptions, Eli was not to be completely outshined. He went 22/35 for 259 yards and four touchdowns. Victor Cruz took 121 of those yards, but the TD's were equally distributed between himself, Nicks, Bennett, and Hixon. Manning and Wilson's combined 6 touchdowns helped put the Giants over the Saints, 52-27.
The win was sorely needed, as the Giants lead the East by only a single game and both the Cowboys and Redskins had pulled off last-second victories earlier in the day. They play 11-2 Atlanta, who lost a shocker to the Panthers this week, at 1 o'clock on Sunday.
Nets Skid Without Lopez
Brooklyn's new basketball team defeated the Celtics handily in a game that cost them Brook Lopez, and they even won the following showdown against Orlando, but that was their last success without the star center. Miami defeated them, unsurprisingly, for a second time this season. Oklahoma City was not any kinder.
Trailing by 13 at the half, the Nets began to claw their way back into the game with a 38-29 third quarter; unfortunately it would not be enough to prevent a 117-111 Thunder victory. Deron Williams' 33 points, 7 assists, and 4 rebounds overshadowed event Kevin Durant last Tuesday, but the rest of the team could not keep pace with him.
Despite leading 63-55 after two periods, Friday's game against Golden State did not end any better for Brooklyn. Joe Johnson put up 32 points while Williams scored 23 and Blatche 22, however, the rest of the team stayed in the single digits en route to a 102-109 loss at home. For the second time this year the Nets failed to contain David Lee, who netted 30 points of his own alongside Stephen Curry's 28.
Brooklyn did manage to hold the Bucks under 100 points on Sunday, though their own offensive production suffered as well—there was even a seven minute gap during the second quarter in which they could not sink a single shot. No Net would reach 20 points on the night as Milwaukie won 97-88.
The Nets have only won one of five games without Brook Lopez, and now must try to rally against their new crosstown rivals in the second Battle of the Boroughs, tonight at 7 PM.
Knicks Stay Atop East
The Knicks would see their own star fall at the end of last Wednesday's game, which Carmelo Anthony left with a lacerated finger. Despite his fourth quarter departure, Anthony's 23 points and Chandler's double-double (he recovered a whopping 17 rebounds) propelled the team to a 100-98 win over Charlotte.
Despite being without Anthony, New York played a remarkable game against Miami when they met on Thursday. Felton led the way with 27 points and 7 assists; LeBron James scored 31, but every other Heat player was held under 14 points. For the second time in as many games, the Knicks defeated the NBA champs by 20 points, this time with a score of 112-92.
The Melo-less team could only stay productive for so long, though, as they faced off against the Bulls on Saturday. The team's field goal percentage was a pathetic 32% in their 85-93 road loss. Felton, who did string together 27 points, took 30 shots to do it; JR Smith was the second most productive player with 15 points off 14 shots.
Anthony rejoined the team as they returned home to battle the Nuggets. He scored 34 points while Chandler had yet another double-double (15 points and 12 rebounds) as the Knicks rallied past Denver. Down by 8 in the fourth quarter, New York went on a 12-0 tear which would eventually give way to a 112-106 victory.
Now 15-5, the Knicks stand a half game above the Heat as they head into tonight's game against Brooklyn.
Are you going to watch tonight's Knicks-Nets game? Let us know on the Long Island Sports Forum!