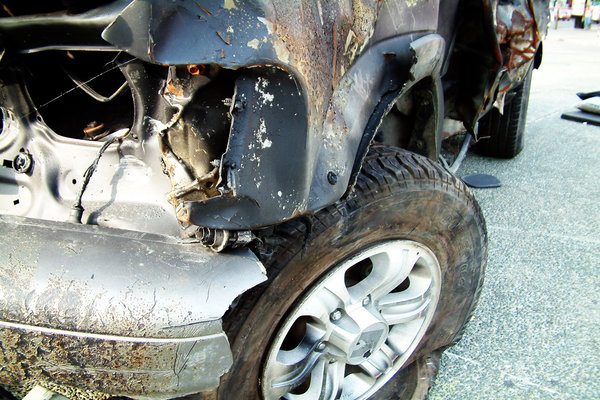 On Wednesday afternoon around 3:11 p.m., a 15-year-old male driver was critically injured when his vehicle collided into two other vehicles at the intersection of Brier Street and Route 111 in Central Islip.
The unidentified teen was driving a 1998 Honda on Brier Street when he attempted to make a left turn onto Route 111 – turning into southbound lanes. His vehicle collided with a National Grid truck that was traveling northbound. The teen's car also collided with a 1998 Mazda driven by a 32-year-old man.
The teenager was airlifted by Suffolk Police helicopter to Stony Brook Hospital in serious condition. There were also three passengers in the Mazda and one passenger from the teen's car that were treated for minor injuries at Southside Hospital. The driver of the National Grid truck did not face injuries.
According to Det. Lt. Matt Sullivan, it appears the teen had taken the car keys from home and went on a joy ride when his mom was at work.
An investigation is ongoing with no charges brought to the teen at this time. Anyone who witnessed the accident is asked to call 631-854-8352 or the Suffolk Crime Stoppers anonymously at 1-800-220-TIPS. All calls remain confidential.
In related news to teen driving, just last week, a 17-year old Queens driver was charged with manslaughter for the death of his four friends in a fatal car ride. Driver, Joseph Beer, only had a learner's permit when he lost control of a new Subaru Impreza that was received as a graduation gift from his parents.
The incident took place on the Southern State Parkway on October 16. Beer was also reported to be high on marijuana and traveling at 110 MPH during the incident at 3:45 a.m. Beer lost control of the car near Exit 17, resulting in it barreling into the woods and shearing the car in half. The four friend passengers who died were between the age of 17 and 18.
Drivers with a learner's permit are not allowed to drive between 9 p.m. and 5 a.m. There must also be no more than one passenger. Driving is not allowed without a licensed driver age 21 years or older.