The $27.5 million renovation project at the Statue of Liberty is scheduled to be completed early next year, but visitors can already catch a glimpse of a rejuvenated Lady Liberty from the top of the staircase. The waiting-list may cause a bit of a hold up, however, since tickets for the crown are already sold out through the end of the year.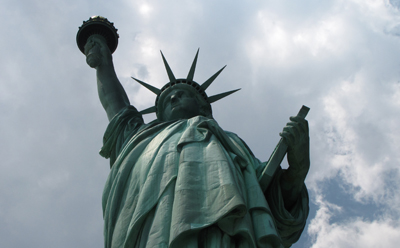 The Statue of Liberty, dedicated in 1886, is celebrating the 126th anniversary of its dedication this year, and the renovation was designed to make the national landmark safer and more accessible to handicapped visitors, as well as repair fire alarms and sprinkler systems.
An elevator has been installed so wheelchair-bound visitors will be able to view inside the statue, although the interior of the statue is not handicapped accessible. 39 stairs have been added to the ascent. An air conditioning system was installed to mitigate the temperature inside the copper statue. Bathrooms at the facility were also upgraded for the first time in nearly thirty years.
According to the National Park Service, 3.5 million people visit the park each year but don't climb the statue. Now officials estimate that 26,000 visitors will be able to climb the statue's tower each year.
The crown was closed for eight years, following the Sept. 11 attacks.
Unfortunately, Hurricane Sandy has offset some of the fanfare surrounding the reopening, and due to inclement weather, the crown has been closed for Monday and Tuesday.
Share your thoughts on this article by posting a comment below or visiting our Long Island Living discussion forum.