Massapequa, NY -- In conjunction with this year's Grandparents Day, more than 100 family members from across Long Island recently gathered to celebrate their beloved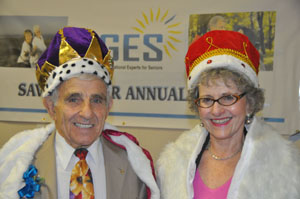 seniors during the Third Annual "Savvy Senior Day," presented by Long Island senior advocacy and resource group, Association of Generational Experts for Seniors (AGES), held at The American Legion Post 1066 in Massapequa, NY.
Featuring food, music and entertainment, the event rolled out the royal carpet for all seniors who were nominated for Savvy Senior over the summer, all of whom were awarded certificates of appreciation. For the first time ever, the event also revealed and announced Long Island's first-ever Savvy Senior King and Queen, with 82-year-old Peter Vannucci of Northport, NY and 74-year old Sondra Rose of Cedarhurst, NY each donning royal crowns and robes while receiving gift certificates toward professional studio portraits, complements of Bradford Renaissance Portraits. Additionally, 93-year-old Michael Montelione of Nassau County, NY, a veteran and Pearl Harbor survivor who is past commander of Veterans of Foreign Wars Post 3211 of Hicksville, NY, was recognized and awarded an American Legion commemorative challenge coin as well as an American Legion/American Flag cross flag from The American Legion Post 1066 Commander, Jack Hipp.
Rose, who became a community activist after her grandson was diagnosed with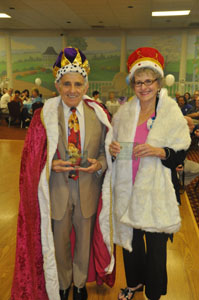 non-Hodgkin's lymphoma stage three and trained with The Leukemia & Lymphoma Society' Team In Training program so she could regularly raise funds for the organization through her participation in hiking, biking and half marathon events, says she is delighted to be named this year's Queen. "It was great to receive this honor and be able to share my experience and passion for being an active senior," says Rose, who has completed 13 half marathons and one full marathon to date. "It is my hope that other seniors will consider ways in which they too can enjoy being active while making a difference for community causes that are near and dear to their hearts."
While spending much of his life rescuing others during his 18-year stint as a Jones Beach lifeguard and a Korean War veteran, Vannucci, an avid skier, was designated "King" for his personal of triumph over illness. After suffering a heart attack in 1993 at 63 years of age and 210 pounds, which forced Vannucci to restrict his skiing altitudes, he changed his diet and applied a natural, holistic approach, reversing his cardiac heart disease without surgery and dropping his weight to 180 pounds. Still skiing today at altitudes of up to 12,000 feet in zero below temperatures, Vannucci, who is a member of Suffolk Skidaddlers Ski Club as well as the national 70 Plus Ski Club and regularly lectures at senior centers and events to promote alternative medicine, wellness and anti-aging, is proud to assume the title of Long Island's first-ever Savvy Senior King.
"It is a great honor to be named this year's Savvy Senior King," says Vannucci. "There are so many seniors out there doing great things who deserve to be recognized and
appreciated and I share this honor with all of them. What is so wonderful about Savvy Senior Day is that it reinforces the great camaraderie that we as seniors share with one another. We all experience a tremendous sense of solidarity and pride whenever any senior is celebrated."
While Bradford Renaissance Portraits sponsored the Savvy Senior Day King and Queen prizes, several other businesses and organizations aligned with AGES this year as event contributors to provide food, entertainment, gifts and raffle prizes. Among this Savvy Senior Day sponsors were Senior Helpers of Garden City, Stuff A Bagel of Bethpage, Ciao Baby of Massapequa, Big Daddy's Restaurant of Massapequa, Butera's of Massapequa, Party-Rific of Seaford, Monarge' & Co. Salon of Wantagh, We Care Physical Therapy, P.C. of Manorville and Nonna Bella Pizza Café of North Babylon.
"It has been so uplifting to see so many people working together to ensure this event's success so every senior nominated received their day to shine," says AGES Chairperson Rita Medaglio-Barrera. "Thanks to their support, many of today's exceptional seniors living on Long Island were recognized for the countless contributions they've made and continue to make. It was with great honor and admiration that we received the opportunity to celebrate each and every one of them."
The Association of Generational Experts for Seniors (AGES) is an independent network of highly qualified, caring and knowledgeable professionals from family and senior related fields. AGES has been created in the New York Metropolitan area for the purpose of addressing the needs and challenges that face many families today. Working within a cohesive resource team that addresses the concerns and needs of today's senior citizens and "sandwiched" generation (adult children caregivers), AGES members apply their personal skill-sets to help guide seniors and family caregivers toward an improved quality of life. For more information, please visit www.agesresourcenetwork.com.