9/11 Memorials Remember Those We Lost on September 11th
It is hard to believe that it has been 11 years since the terrorist attacks of September 11, 2001. I am sure that everyone knows exactly where they were and what they were doing when they heard the news. The horrific images are permanently etched in my mind.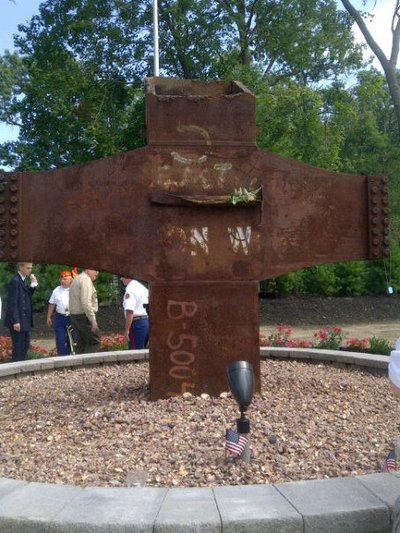 Over 2,000 pieces of World Trade Center steel have been recovered and made into memorials around the world. We have 80 of them right here on Long Island. Many are located at fire houses or in the center of towns. These memorials are a peaceful haven for families to gather and keep their loved ones memories alive. A sanctuary for hearts to heal and souls to rest. A celebration of life and a testament of our love for all those who were lost. And a place for all to go to reflect on yesterday, today and tomorrow.
9/11 Day is the international non-profit movement to observe September 11 every year as a day of charitable service and doing good deeds. They created this observance soon after 9/11 to provide a positive way to forever remember and pay tribute to the 9/11 victims, honor those that rose in service in response to the attacks, and remind people of the importance of working more closely together in peace to improve our world. Today millions participate annually by taking time out on 9/11 to help others in need, in their own way. Look at www.911Day.org to find local even more local events and tributes.
There are many events to commemorate the 11th year of remembrance of 9/11, here are some of the tributes happening on Long Island:

St. James 9/11 Memorial - A candlelight service will be held at 7:30 PM

Commack High School - Dedication of memorial and candle lighting ceremony next to Heroes Memorial Track at 6 PM

North Hempstead - Memorial service at Clark Botanic Garden at 8:30 AM

Long Beach - Remembrance Gathering at 8:30 AM at the Long Beach Recreation Center

Islip - Veteran's Memorial Park will read the names of residents who died at 4:30 PM

Huntington - Ceremony at noon at the 9/11 Memorial in Heckscher Park

Babylon - Memorial ceremony at the 9/11 Hometown Memorial at 7 PM

Hempstead - Heroes of 9-11 Panorama ceremony at 7:30 AM at Town Park at Point Lookout

Stony Brook University - Commemoration at noon at the Alumni Memorial Grove

Centereach - Unveiling of monument at 7 PM at the fire district headquarters.



9/11 is a day that has had a lasting effect on all New Yorkers in some way - head over to the LongIsland.com Forum to discuss what this day means to you.