Long Island Centenarian Celebrates 107 Years "Young"
(August 28, 2012; Westbury, NY) Long Island senior Gene Scala, affectionately known as "Gene the Bowling Machine" among friends, has given the "energizer bunny" a run for his money once again, celebrating his 107th birthday where he continues to live his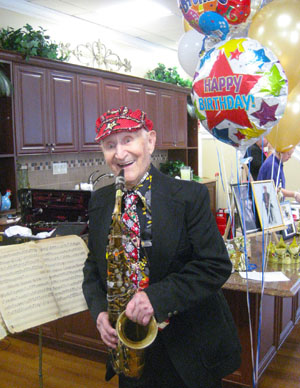 "fountain of youth" at The Arbors Assisted Living Community at Westbury.
Celebrating Scala's colorful life, of which he spent the majority living in East Islip and working as a beautician, musician and tailor, The Arbors at Westbury's residents and staff hosted a special birthday event in Scala's honor.
Much like Scala's handmade beaded hats and ties that are sported by the young-at-heart Arbors' residents, the festivities were rolled out in true style, featuring live music, entertainment, and drawing more than 100 of Scala's friends and extended family from across the country.
"Gene is a remarkable, larger than life individual with amazing agility and a youthful spirit," says Elsa Nelmes, Recreation Director at The Arbors at Westbury. "Each year, we look forward to organizing this grand celebration and everyone appreciates all that Gene has achieved and continues to accomplish in his life. He's an inspiration to us all."
Long before most people on Long Island were alive, Scala was born in Naples, Italy, in 1905. He came to America when he turned 14, where he worked as a barber and tailor in Brooklyn. A seasoned musician for 70 years, Scala played in several bands and performed in a symphony orchestra. He still plays the saxophone today, and can be found every Wednesday showing off his bowling skills at the local bowling alley. Gene has the recognized distinction as the second oldest active bowling member in the United States and most recently graced Astoria Federal Bank's 2012 Calendar as 'Mr. February'.
Scala is representative of only a few Long Island centenarians who have reached 107 years of age. The sole survivor among his five brothers and two sisters, Gene has been married three times and has had three children as well as one grandchild, all of whom he has outlived.
The Arbors is one of Long Island's leading assisted living communities with newly renovated locations in Westbury, Islandia, Hauppauge and Bohemia. Each resident's life at The Arbors is enriched through a distinctive approach of compassionate and comprehensive care, coupled with a fulfilling recreation program, individualized attention, fun social activities and extraordinary cuisine. For more information about The Arbors, visit www.thearborsassistedliving.com. For more information regarding The Arbors at Westbury, please call (516) 333-6400.