Homeowners How To: Remodeling your Kitchen
So you are finally going to update your kitchen… you've been clipping pictures of cabinets, colors and styles for years and would love to get the best possible job for your budget. Where to start?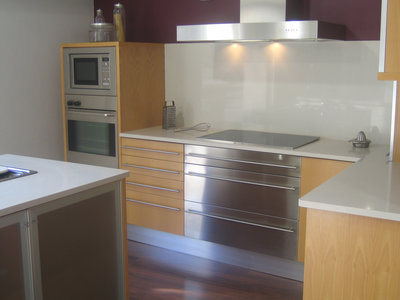 First, sit down with a professional kitchen designer, interior designer or architect. Yes, you can afford it… it will save you money and help you avoid costly errors. They will help you select the right items that fit within your budget and you will get more bang for your buck with their knowledge and experience steering you in the right direction. They have designed and overseen the installation of hundreds of kitchens and baths and they know the pitfalls, errors and silly ordering mistakes to avoid that can make the difference between a long and painful, eating-take-out-dinner-every- night-for-a-year, expensive job … and having a well-planned, timely and budget conscious project that is well worth the design fee. Knowledge is power! Empower your renovation. Use a professional.

Once you decide on the plan and budget, a good kitchen designer will help you select a reputable company to install it. If you choose to oversee the construction, be sure to do your homework on the companies you choose to hire. Make sure they are licensed and insured. Check out their reputation with your local consumer affairs office and carefully scrutinize the contract to be sure that everything you want is included. Never pay a large cash deposit; use your credit card or a check… your deposit should not be more than 20% of the construction cost and 50% of the cabinetry cost. Compliance with all local laws is mandatory…so they should be checking for lead paint in your home prior to demolition.

What kind of professionals will you need to complete your kitchen?

Demolition and Carpentry – A good carpenter can make or break your project. Make sure to have your carpenter thoroughly review the plans and go over the installation details with your designer.

Flooring – You will need a flooring installer that specializes in installing your choice of flooring; most of the time you will need a tile installer, for either the floor or the backsplash, or both.

Painter – coordinate your painting professional with your carpentry trades to make sure they have included for spackling any newly installed wallboard, priming and preparing the newly installed windows, doors and trim so that they are ready for the painter and can be done at the same time. This will be most cost effective and efficient.

Cabinetry – cabinetry is expensive! Let a qualified professional install them. A poorly installed kitchen will result in doors that won't open or hang crookedly and drawers that aren't adjusted or scrape against adjacent surfaces. Professionally installed cabinetry stands the test of time and will include a proper fit to the wall and to other cabinets, adjusted and clean interiors, installed shelving and appliances, and drilled and installed handles and door pulls.

Countertops – there are a variety of quality countertops available in a wide range of price catagories. Consult with your designer or architect to see which type of surface is the best fit for your home, family and lifestyle. A qualified installer is licensed and insured and will install the project in a timely and professional manner. Most countertops require a template of the cabinetry for an exact fit. Always make sure to have your sink, faucet and soap dispenser available for the templater to examine. They may need to take your sink with them to ensure a perfect fit. If you are unsure about the template, have your kitchen designer review and oversee the templating process. Countertops can be expensive and if you sign off on an incorrect template, it's yours to keep, whether it fits or not! Make sure it's right the first time. Consult your professional.

Lighting and Electrical – a qualified, licensed and insured electrician is critical for every successful kitchen renovation. Select your appliances and light fixtures in coordination with your cabinetry, and be sure to order them as soon as you order your cabinetry. In order to plan the electrical layout correctly, your electrician will need to review a copy of the plans, consult with your designer, have access to the lighting fixtures and appliances when the electrical is being installed and the walls are open. Plan for outlets and light switch locations and review those with your designer to ensure proper wall placement and a seamless fit.

Any kitchen renovation involves coordinating a team… that usually requires at least 4 or 5 professional contractors. Effectively coordinating your team is critical to a smoothly running job and a budget friendly project. A good construction management firm, general contractor or kitchen designer has experience with juggling multiple professionals and ensuring a timely, budget friendly project. Choose your team wisely… and enjoy your beautiful, new kitchen!