LI Football Fans Gain NFL Network
Six years after the channel's inception, the National Football League's NFL Network has come to Long Island's most popular television service provider. The network had previously only been available through Verizon FiOs and satellite, marking this new deal as the first time Long Islanders can gain access to it through almost any available television service.
As part of Cablevision's iO Preferred, iO Gold, iO Silver, and iO Sports and Entertainment packages, viewers can now watch both the NFL Network's 24/7 football coverage as well as the much touted NFL RedZone program, which covers major plays and every touchdown from every game on Sunday afternoons. The network is also the sole provider of up to thirteen out-of-market Thursday Night Football games throughout the season—one of the channel's greatest features and selling points for avid sports fans.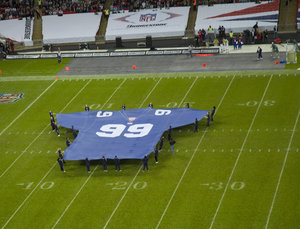 The deal comes just in time for the 2012-13 season, which will be kicked off by reigning Super Bowl champions and hometown favorites, the New York Giants (well, favorites for those who aren't Jets fans, but champions nonetheless). In celebration of the Giants' previous exploits, the NFL Network will be airing its Emmy-winning program, America's Game: The Super Bowl Champions, on September 4th, one night before the Giants play their first game against division rivals, the Dallas Cowboys. While much of the early attention will inevitably go to the current holders of the Lombardi Trophy, Jets and Giants fans alike can look forward to a season full of coverage on their favorite players and teams. Even out-of-towners who now call our Island home can look forward to analysis of their old hometown heroes as the channel covers all 32 professional teams. High School fans can can join in the fun too and look forward to the Senior Bowl, as it will be aired by the NFL Network.
With a multi-year contract between Cablevision and the NFL, rabid football fans no longer need to choose a provider based on the availability of key NFL games and coverage. Though the major networks will continue to air most Giants and Jets games, this partnership affords fans of the whole league a more immersive experience throughout the season.
Are you a big football fan? Tell us what you think about the new NFL/Cablevision deal below or on the Long Island Lounge.