Huntington, NY - April 19, 2018 - Max Robins is a senior at Huntington High School and the captain of the Huntington Mock Trial Team, a group that is headed up by seasoned legal professionals who volunteer their time to run student participants through the trying ins-and-outs of courtroom proceedings.
While the Mock Trial Team represents a great opportunity for budding attorneys to learn their craft and hone their skills in a real-world setting, there's more to it than that, Robins said; student members participate for a variety of reasons, some wholly unrelated to the legal field.
"The thing about the Mock Trial Club is that it's a fantastic thing for so many different types of people," he said. "Only about a quarter of the dozen kids on the team are interested in law…being on the Mock Trial Team can help you develop in other ways, such as public speaking, confidence, or any number of other things. So even if you don't want to go into law, the program can help you in a great many other ways as well."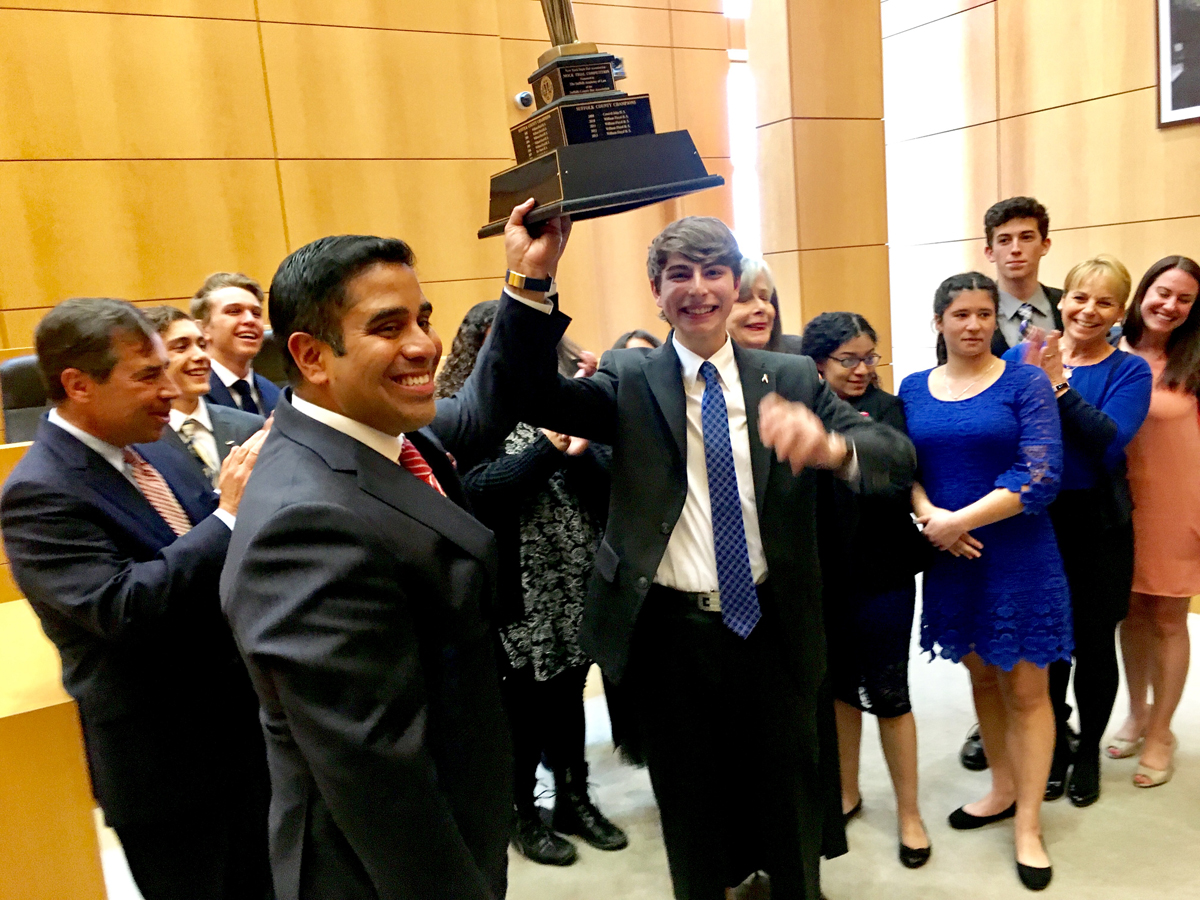 The Huntington Mock Trial Team (Max Robins, center) celebrates their winning of the Suffolk County Mock Trial Championship. Photo Credit: Huntington Mock Trial Team
After a hard-fought competition, the Huntington Mock Trial Team this April captured the Suffolk County Championship of the New York State Bar Association's Mock Trial Tournament; they now have their sights set on competing for the prestigious state title in Albany, NY next month.
For Robins, the idea of fighting battles of justice and ideology in a courtroom setting is an enticing career goal, and one that he intends to pursue when he graduates high school this year and heads off to college.
"I'm personally and definitely interested in going into law...I definitely have the aspiration of going to law school and becoming an attorney," he said. "In terms of the specific area of law I want to get into I'm not positive yet, but I do have a knack for litigating and I'm pretty confident in a courtroom while speaking to strangers and judges. So I definitely see myself as a trial attorney."
The Huntington Mock Trial Team is only in its fourth year of existence, with Robins having been involved with it for the past three; despite being made up of students from the high school, the team is actually considered an outside club run by several volunteers, both from the school district itself and by professionals from the local area law community.
"The team was founded by Xavier Palacios – a local Huntington-based attorney and a member of the Huntington School Board – and John LoTurco, also a local attorney. And although not a founding member, Huntington-alum and attorney Jack Piana has been significantly involved with the team's growth as well," Robins said. "And we're also aided by Susan Biagi, one of our business teachers who also teaches some law courses, and Sarah Buchalter, who is a social studies teacher. Also, Huntington senior Alyssa Befumo serves as co-captain, and is additionally one of the student attorneys."
The Huntington Mock Trial Team getting ready to compete at the Suffolk County Mock Trial Championship. Photo Credit: Huntington Mock Trial Team
Since the Huntington School District currently possesses no trial advocacy courses, the bulk of the team's preparation comes outside of school hours; in season, the team normally meets three to four times a week for several hours each session. At each meeting, the students work with legal volunteers on numerous aspects of trial preparation, including trial run-throughs, materials, presentation, delivery, and every other component of the legal system pertaining to courtroom proceedings.
Last year, the Huntington Mock Trial Team engaged in the New York State Bar Association's championship tournament where, according to Robins, they unfortunately came up short. However, after redoubling their efforts, the team overcame some very tough competition this year to win the Suffolk County championship, qualifying for a shot at the State title in Albany this coming May.
"The competition is separated into eight different regions throughout the State of New York, including Suffolk and Nassau Counties. At the start of the pre-season we had four competitions with other schools where we act out mock trials based on a fictitious 'fact pattern' created by the Bar Association, such as a student who has been arrested for disorderly conduct," Robins said. "The two opposing teams act out both sides of the trial, the prosecution in the defense, and our job is to convince the judge to rule in our favor, and to get high scores based on performance, zealousness, mastery of the material, the overall professionalism of the team, and more."
After this initial pre-season competition, the winning teams are seeded into brackets and go into playoffs, where Huntington entered undefeated this year and ranked fourth of the 30 high schools competing in Suffolk County. After overcoming tough schools such as West Babylon, East Islip, and William Floyd, Huntington finally defeated previous two-time champion Ward Melville in a hotly-contested bout in April, claiming the Suffolk County Championship. After a month off where they will engage in intense preparation, the Huntington Mock Trial Team will travel to Albany in mid-May to compete for the state title against the winners of the other seven New York regions.
"Oftentimes, the Suffolk and Nassau teams are among the strongest, and have won the state championships...a high school from Nassau County won them last year," Robins noted. "We are very confident in our ability to win the State title this year."
The Huntington Mock Trial Team celebrates their winning of the Suffolk County Mock Trial Championship. Photo Credit: Huntington Mock Trial Team
The feeling of being upset early in the season last year, and subsequently avenging that loss by steamrolling over the competition to claim the Suffolk title in 2018 – and with a very real shot at the state title to boot – is something that's a little hard to describe, Robins said. However, all of the intense preparation work, studying, and sacrifice was well worth it, and he and his team are looking forward to giving it their best shot in Albany next month against all courtroom comers.
"It really feels absolutely amazing, and we couldn't have done it without the help of Xavier and John, and especially the team itself. We all rely on each other and it's amazing how much better we've all become," he said. "In addition to having these victories to back us up, we have pride that we've come this far as a team. We're currently at a very high level of competition, and the differences between the competing teams are so close at this point that even just getting to the state championships is an honor. But we're confident we can win the state, and we're just happy to be together as a team."